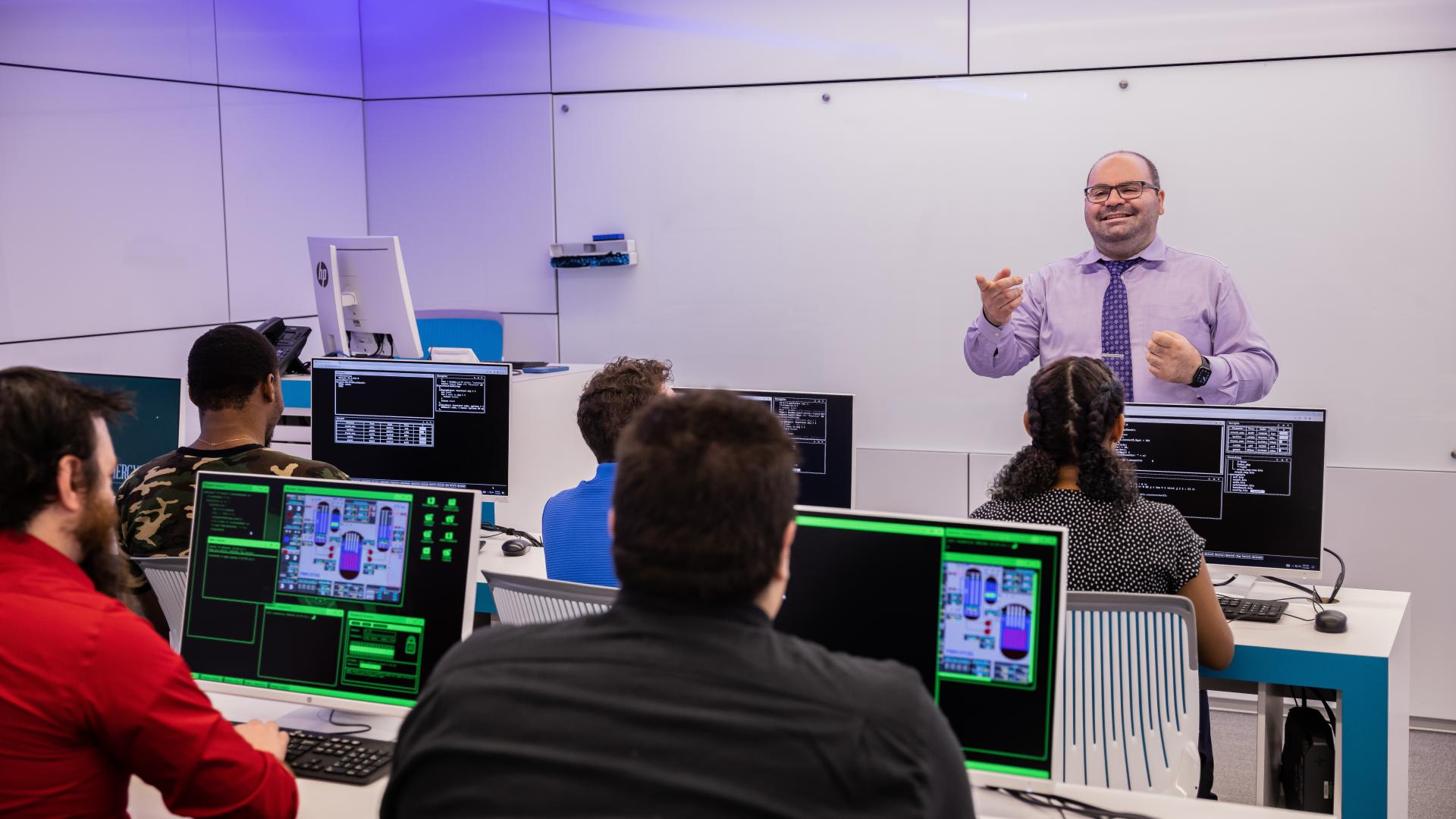 The School of Intelligence, Computing, and Global Politics
A complex world demands sophisticated analysis.
What's going on in the world? That's a question our students and faculty are eager to address, whether from the perspective of technology, politics, or strategic analysis. Our students devote themselves to studying problems that have impact on real world decision-makers, e.g. protecting information systems from cybercrimes and data breaches, mapping out a winning campaign strategy, interpreting events such as the war in Ukraine, or helping a business develop a competitive edge. 
The 21st century work environment is more intelligent, fast-moving, and intricate than ever before. We empower our students with critical thinking, collaborative decision-making, and the application of technology to assist in information management. Whether you choose Business and Competitive Intelligence, Cyber Security, Data Science, or one of our other majors, minors, and programs, this much is clear: Mercyhurst will prepare you for what's next. 
Our three departments—Intelligence Studies, Computing and Information Science, and Political Science—each have their own distinct intellectual approaches, dedicated faculty, and top-notch students who are known to think outside the box. Students master a range of analytical techniques and effective communication skills whether as advocates or analysts and are often called upon to advise decision-makers in industry, government, or nonprofit organizations. Many of our graduates have gone on to top law schools, graduate programs (including Mercyhurst's Applied Intelligence or Computing and Information Sciences program) or begin post-graduate work in government agencies or the private sector.
Fast Facts
The School of Intelligence, Computing, and Global Politics is home to the Innovation Entente Lab (also known as "the Beehive") which offers student analysts the opportunity to work on projects with real-world community clients, providing valuable skills and networking along the way.
The Center for Intelligence Research and Analysis and Training (CIRAT) hones and professionalizes the skills of students in Intelligence Studies and Computer Information Science programs by providing real world projects for students to gain applied experience.
The CIRAT develops opportunities with business and government entities through contracts, grants, and academic partnerships. The CIRAT has worked with more than 250 government entities, private sector companies, nongovernmental organizations giving nearly 1,200 students marketable applied experience in their fields of study before they graduate.
Our students complete 18,600+ hours of research and analysis projects per academic year.
20+ law schools have recently accepted our graduates.
Bachelor's Programs
Mercyhurst's Business and Competitive Intelligence program graduates in-demand research analysts skilled in data extraction, data analysis, and data interpretation. Our students are adept at presenting findings to business decision-makers. With a curriculum rooted in the functional areas of business and data analytics, students are capable of discovering future growth opportunities for organizations, identifying competitive advantages, and predicting industry trends and market demands. 

Mercyhurst University's Cyber Security bachelor's program is one of the first stand-alone programs in the nation to follow the Accreditation Board for Engineering and Technology (ABET) undergraduate curriculum guidelines for cybersecurity, and the National Security Agency and the Department of Homeland Security cybersecurity certifications. Already home to one of the nation's most respected Intelligence Studies programs, Mercyhurst leverages our experience, faculty expertise, cutting-edge resources and industry connections to provide an unparalleled undergraduate cybereducation. 

Mercyhurst's Data Science undergraduate major is designed to equip you with the skills you need to become a data scientist. This multidisciplinary program combines techniques from computer science and statistics to clean, manage, analyze and interpret data. Data Science majors will be well prepared for careers in a number of fields, skilled at determining actionable insights about the meaning of data for decision-makers in businesses, public agencies and nonprofits.

Mercyhurst has pioneered intelligence education since launching the nation's first Intelligence Studies program in 1992. Today, our program is the largest and among the most prestigious. We graduate in-demand, entry-level analysts who are skilled in preparing assessments based on the collection, correlation and analysis of intelligence data for employers both in government and private sectors, especially those in business, law enforcement, national security and the military. This unique and academically challenging multidisciplinary program combines a liberal arts core with a foreign language or computer requirement, as well as national and international studies, an internship experience, and intelligence courses. 

As a Political Science major at Mercyhurst, you'll study political theory, comparative politics, public administration, international relations, public law and political methodology. In addition, you'll also have the option of earning a concentration in one of several subfields of the discipline including international relations, pre-law, applied politics, or environmental studies and politics. 
Graduate Programs
Gain the theoretical and practical foundations you need to succeed as an applied intelligence analyst and leader in top government agencies, such as the FBI and CIA, through the master's in Applied Intelligence program at Mercyhurst University. Both the M.S. and graduate certificate in Applied Intelligence emphasize hands-on experience through real intelligence casework before you graduate, providing you with the knowledge, skills, and abilities you can use directly in your applied intelligence job.

Prepare for in-demand jobs in cybersecurity with the M.S. and graduate certificate programs in Cyber Security at Mercyhurst University. As an international leader in applied intelligence and cyber education, Mercyhurst University offers an online or on-campus cybersecurity master's program that will prepare you for these roles, even if you have no prior experience in computer science. When you study cybersecurity at Mercyhurst, you'll gain the knowledge and skills you need to excel in your career, including Cloud Security Skills, Web Security Skills, Ethical Hacking, how to evaluate legal, regulatory, and ethical cyber issues, and communicate information effectively. 

Mercyhurst's Master of Science in Data Science program prepares students to collect, analyze, visualize, and communicate actionable insights for data-driven decisions in business, nonprofit, and government organizations. Data analytics can be used to maintain competitiveness, adapt business strategies, increase sales, or enhance security. Offered on campus, students in the M.S. in Data Science program benefit from state-of-the-art Federal Resources Corporation Cyber Education Center.
Certificates
Mercyhurst's Municipal Police Officers' Training Academy (MPOTA) exists to provide the police officer with quality training, motivation and a positive philosophy of understanding about our society and its value systems. This academy is committed to continue this trend toward professionalism in its training programs so the officer can function in the community as an important member of the law enforcement team. This full-time, 940 plus hour intensive course satisfies the Pennsylvania Municipal Police Officer's Education and Training Commission (MPOETC) minimum training requirements for Pennsylvania entry-level law enforcement officers. 
Mission
The School of Intelligence, Computing, and Global Politics brings together complementary academic disciplines that stress critical thinking, data analysis, and collaborative decision-making. A Mercyhurst education helps make sense of the complex behaviors of people, organizations, and governments through the application of principles, theories, and technologies in innovative and exciting ways. Graduates of the Intelligence, Computing, and Global Politics learn about the world, develop strategic insights and technical skills, and then go forward determined to make the world a better place.