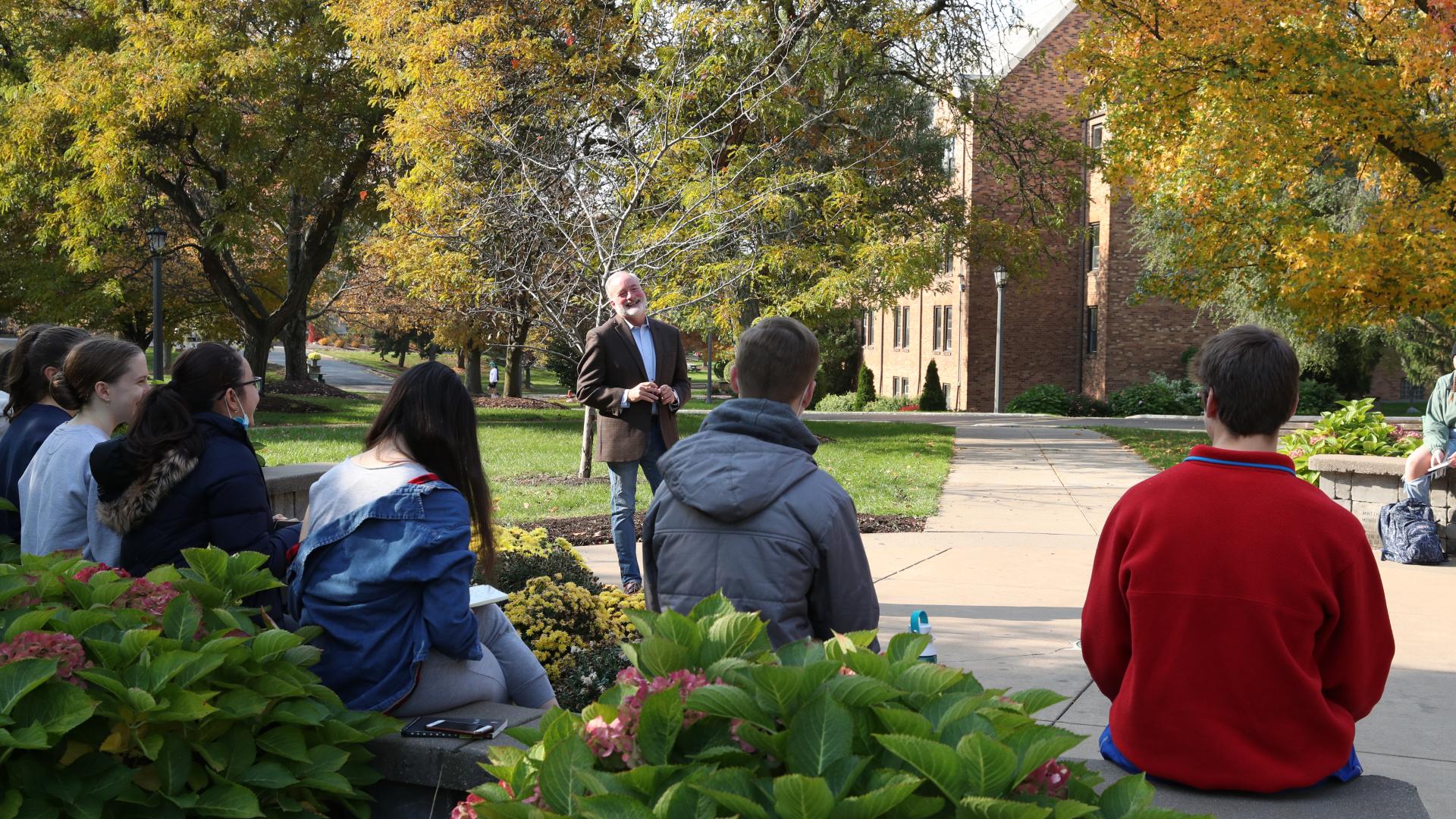 The School of the Humanities
Explore the diversity and meaning of the human experience.
The humanities live at the heart of Mercyhurst University, exploring a range of vital topics, including anthropology, history, literature, philosophy, religious studies, and world languages. The School of the Humanities also provides students essential skills that employers repeatedly say they want: the ability to communicate well in speaking and writing, analyze information and ideas critically, understand diverse perspectives, and bring an ethical perspective to decision-making. These crucial human skills never go out of style, and they prepare students well for life after college. 
The School of the Humanities hosts numerous compelling events to deepen our students' engagement with the world, from the annual Literary Festival, featuring nationally known writers, to the International Film Festival, to the lecture series in ethics and society, which has in the recent past brought presentations on the war in Ukraine, sustainability and social justice, and Native American history. You can even take a class sailing on the U.S. Brig Niagara!
Mercyhurst is distinctive because every department combines a classic humanities education with opportunities to apply what you've learned in a practical setting. With this background, our recent graduates have pursued careers in content creation, web marketing and editing, technical and professional writing, and museum curation, to name just a few. Many also continue their professional education as they become lawyers, doctors, teachers, and so much more. Explore the Humanities to see what you can achieve!
Fast Facts
Sail on the U.S. Brig Niagara with the history department! Students have the opportunity for a three-week experiential learning trip as they sail Lake Erie, visit ports, and learn about maritime and Great Lakes history as members of the crew of a fully-functioning ship.
Mercyhurst's annual Literary Festival welcomes essayists, novelists, and poets to campus for several days of readings and workshops for our creative writing students.
Anthropology students participate in hands-on field research to improve their excavation techniques, conduct research projects to enhance their analytical skills, and go on field trips to learn about prehistoric artifacts in museums. 
The Department of Religious Studies and Philosophy houses both the William C. Sennett Institute for Mercy and Catholic Studies and the Evelyn Lincoln Institute for Ethics and Society.
Each year, Mercyhurst students contribute to, edit, and design Lumen, our award-winning literature and arts magazine.
 
Bachelor's Programs
Anthropology/Archaeology students explore the four major subfields of Anthropology: Archaeology, Sociocultural Anthropology, Biological Anthropology, and Linguistic Anthropology. Our emphasis on highly individualized mentoring, hands-on instruction, intercultural research, and communication skills affords excellent career versatility and leads to work and educational opportunities in a wide variety of corporate, government, non-profit, museum, educational, and other settings. Our program's career-oriented approach and flexible curriculum offer students abundant opportunities to match their coursework and experiences to their desired post-graduate outcomes.

Mercyhurst's English major is designed to immerse students in the constantly evolving discipline of literature and expression. From analyzing classic British literature to writing a thesis on applied linguistics, the English Department offers a focus of study for any student who loves to read and write. We emphasize the importance of thorough literary research, as well as individual thought and practice in theory development. English majors at Mercyhurst graduate with the writing, analysis and presentation skills needed for graduate programs at high-caliber universities, or to secure employment with this flexible and marketable degree.

Mercyhurst's Thomas B. Hagen Department of History prepares students for a successful and rewarding future with studies in traditional history, public history and museum studies, or preparing to teach history at the secondary level. A wide-ranging curriculum, coupled with an outstanding faculty, equips students with skills sought by employers in virtually any field: to research, analyze, and evaluate information; and to produce sound, convincing arguments orally and in writing. Our graduates pursue a wide range of career paths including teaching, research, journalism, law, public service, museums, and historic sites. 

The Philosophy Department plays a crucial role in the fulfillment of the University's mission, offering a major and a minor and contributing several courses to the University's Core Curriculum. In both endeavors, the Philosophy Department's goal is to educate and train the next generation of individuals to achieve personal, professional, and civic success by cultivating the intellectual skills and abilities of effective communication, critical thinking, creative thinking, logical reasoning, and ethical reasoning. The philosophy major is designed to prepare students for professional and graduate study in philosophy or some allied field, such as law or political science.

Through diverse course offerings, the Department of Religious Studies cultivates understanding of the religious experience of human kind. We provide students with a breadth of knowledge in the field and essential skills for full participation in a globalized world. Students will cultivate reflective and critical thinking skills through the study of religion's broad impact on human life and society.

Mercyhurst's Russian Studies major encourages the development of strong critical thinking and communication skills through immersion in Russian language and grammar, literature, culture, and history. The working relationships Mercyhurst has developed with several study abroad programs also offer students the opportunity to earn credits abroad in a variety of formats, so we encourage all of our Russian studies majors to spend some time abroad. 

Majoring in Spanish allows students to be immersed in Hispanic language, literature and culture while developing strong analytical thinking and communication skills. The Spanish Education major offers the opportunity to combine these skills with the coursework and practicum experiences necessary to earn a teaching certificate in Pennsylvania. In both majors, you'll find countless opportunities to sharpen your language skills and challenge your cultural assumptions while experiencing the world from a different vantage point.
Associate Degrees
By taking a variety of courses through the Liberal Studies Associate of Science program, you'll learn to think critically, communicate effectively, and problem solve efficiently, all while discovering your true calling. Plus, with concentrations in communications, new media, and science, you can get a jumpstart on a career in advertising, marketing, public relations or other fields. 
Post-Baccalaureate Programs
The post-baccalaureate certificate in Global Awareness promotes a holistic education on the human experience through classes in anthropology, history, sociology, religion, and psychology. Students are encouraged to step outside of their comfort zones to gain a deeper understanding of our world. 

Earn an advanced certificate in World Language Education (K-12). The program is intended for students who have already completed a bachelor's degree in French or Spanish (exceptions may be made for native speakers of French or Spanish) seeking a world languages (K-12) teacher certification in the State of Pennsylvania. Each certification requires a course sequence of study and clinical practicum experiences. 
Mission
The disciplines within the School of the Humanities provide students the opportunity to explore the human experience in all its richness and complexity. Our dynamic, wide-ranging programs in English, World Languages (including Spanish, French, Chinese, Russian, and Arabic), Religious Studies, Anthropology/Archaeology, History, and Philosophy challenge students to ask big questions about who we are, where we came from, and where we're heading. In all our endeavors, the School of the Humanities seeks to broaden students' horizons, encouraging them to think deeply about the crucial issues that make us human and shape our contemporary world.
Meet the Dean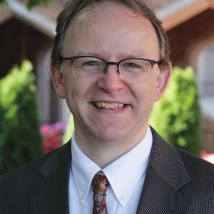 Dean, The School of the Humanities; Professor