Benefits and Services for Veterans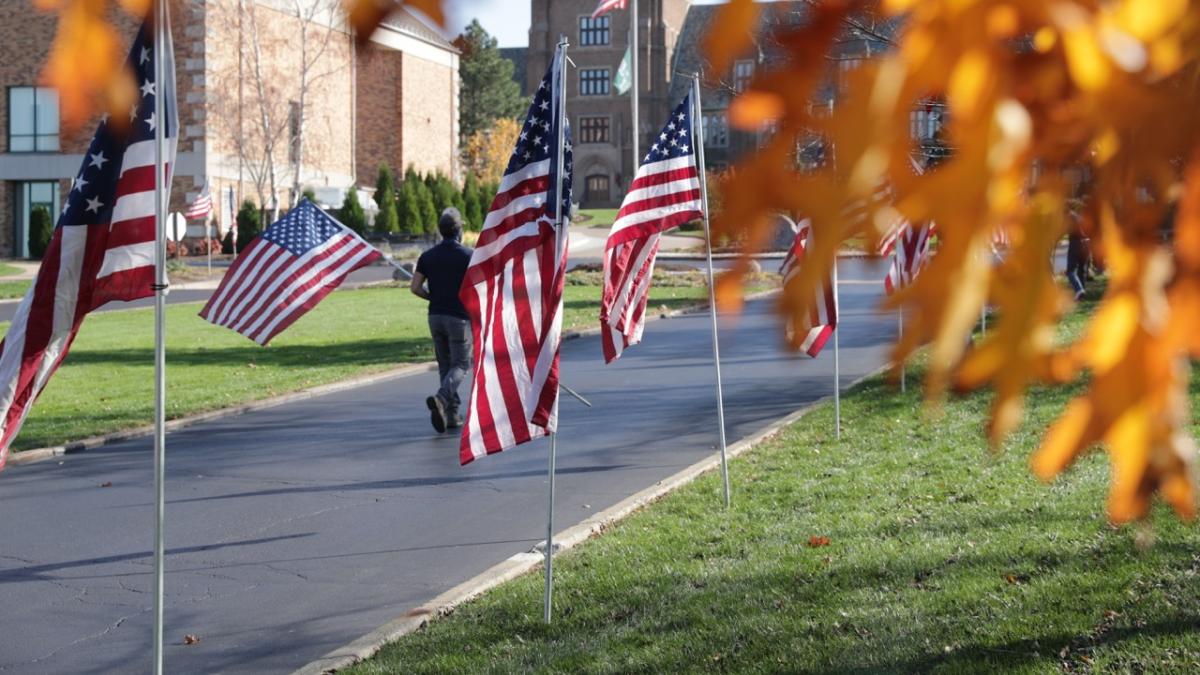 Mercyhurst University appreciates the sacrifices you've made serving our country. Let's put your benefits to work for you with our veterans career transition program!
We know that identifying and accessing your veterans education benefits can be a challenge. Our dedicated staff knows firsthand the issues you face in transitioning from service. We provide the resources and support you need to pursue your educational goals. Mercyhurst's Office of Veteran Services demonstrates our commitment to you. Our full-time Veterans Services coordinator can help you with everything from applying for admission to education grants for veterans to serving as your liaison to other university offices.
The Support You Need
We know that identifying and accessing your veterans education benefits can be a challenge. Our dedicated staff knows firsthand the issues you face in transitioning from service. We provide the resources and support you need to pursue your educational goals.
The Veterans Services Coordinator works with a single point of contact at Student Financial Services (SFS) on all matters regarding military members or veterans.
You can rest assured that we have the best interest of our veterans and military members at heart: Mercyhurst University does not pay commissions, bonuses, or other incentive payment programs to employees or contractors for the purpose of securing enrollments of Military Service Members. Mercyhurst University's Enrollment Coordinators are paid bi-weekly or monthly as part of a set annual salary. They are not incentivized in any way, specifically no bonus structure, for signing up students. In addition, Mercyhurst University does not employ high-pressure recruitment tactics for military members or veteran students. For the purpose of securing Service-Member enrollments, multiple unsolicited contacts of potential students identified as Service Members will not be accomplished, nor will same-day recruitment and registration of Service Members.
During the recruitment process, our prospective military members and veterans will be assisted by admissions counselors, student financial services counselors, and a Veterans Services Coordinator. Offers of financial aid are created by both the Office of Undergraduate Admissions and the Office of Graduate and Professional Admissions in accordance with federal, state, and institutional guidelines. Prior to federal loan disbursement, new students are required to complete both the federal loan entrance counseling and a Master Promissory Note for Mercyhurst University. Highly trained Student Financial Services counselors are readily available to discuss all types of financial aid prior to, during, and after a military member's or veteran's enrollment at Mercyhurst University.
We provide military friendly resources to help you feel supported. In fact, we've set aside a place just for you—the Veteran Student Resource Center. It's a quiet place to socialize with other veterans, study, grab a snack, enjoy a complimentary coffee, and relax on the comfiest couches on campus.
These are a few of the other advantages that veterans enjoy at Mercyhurst University:
Priority Registration
To ensure you are able to enroll in the courses necessary to complete your degree in a timely manner, and as a sign of our commitment to elevate the veteran student experience, we provide priority registration to all eligible veterans.
Military Leave Policy
We know your life as a Service Member can be unpredictable. If you are called to active duty, your academic advisor and Veterans Services Coordinator will assist with all the paperwork involved so you can take a temporary leave from your studies.  In addition, should you have to disenroll from Mercyhurst University due to military service, Mercyhurst University aligns its readmissions policy with Chapter 3 Vol 2 of the Federal Student Aid Handbook.  Mercyhurst University will promptly readmit a service member with the same academic status as he/she had when last attending the school or accepted for admission to the school.
Graduate School Scholarships for Veterans
Mercyhurst is a proud participant in the Yellow Ribbon Program and is honored to be just one of two in Pennsylvania designated a Purple Heart University. Our participation in the Yellow Ribbon Program offers veterans and their dependents help paying tuition that the Post-9/11 GI Bill® doesn't cover.
In 2018, we were named a Purple Heart University by the Military Order of the Purple Heart for our support of U.S. military men and women wounded or killed while serving in the line of duty. Purple Heart recipients (or their spouse/dependents) receive a $1,000 credit on each graduate course. The up to 40% savings on tuition is in recognition of the veteran's service to our country.
One of the best graduate schools for veterans hoping to become teachers, Mercyhurst offers a special tuition rate for veterans pursuing teaching certification (grades 7 thru 12) through our Secondary Education master's degree program.
See why we're among the best graduate schools for veterans!
Disabled veterans education benefits by state may vary but don't struggle through the process alone. Our veterans services staff is here to help you determine the benefits available for you and your spouse and dependents. We are committed to helping you maximize your benefits, learn how to apply for those benefits, and see how Mercyhurst administers those benefits.
Benefits listed in the accordion section below are subject to change based on current and ongoing legislation, as well as federal and state budgetary considerations. Our list is not all-inclusive, so if you have questions, please contact our Office of Veterans Services at 814-824-2617 or the U.S. Department of Veteran Affairs, 888-442-4551. More information is available on the Veterans Administration website.
Graduate Degree Options
We respect the experience you gained in the military. Our graduate programs allow you to build on your knowledge and successfully transition from service. Popular graduate degrees among veterans are Applied Intelligence, Criminal Justice Administration and Organizational Leadership:
Applied Intelligence Master of Science (M.S.)
Applied Intelligence Online 12-Credit Graduate Certificate
Criminal Justice Administration Online Master of Science (M.S.)
Criminal Justice Administration Online 12-Credit Graduate Certificate
Organizational Leadership Online Master of Science (M.S.)
Organizational Leadership Online 9-Credit Graduate Certificate
 
Undergraduate Degree Options
Our military friendly university also provides educational opportunities for undergraduates. Career transition programs cover a range of interests:
Certificates including our Municipal Police Training Academy
Associate degrees including Hospitality Management
Bachelor's degrees including health-related careers
Meet Veteran Services Coordinator Chris Popa
Chris Popa is a full-time employee dedicated to delivering veterans educational benefits and services at Mercyhurst. Chris attended Edinboro University for both his undergraduate and master's program. He worked in education for over 25 years prior to joining Mercyhurst.
Chris served in the Army National Guard, Army Reserve, and in support of Operation Enduring Freedom. He held the position of Senior Army Reserve Career Counselor at the Fairview Armed Forces Center, until he retired in 2021 as a Master Sergeant. He's excited to be supporting veterans and being part of the Mercyhurst University team.
Put your benefits to work at Mercyhurst today!
Start your transition from service while you make the most of your education grants by pursuing your degree at Mercyhurst. Request more information or apply now.
"GI Bill®" is a registered trademark of the U.S. Department of Veterans Affairs (VA).  More information about education benefits offered by VA is available at the official U.S. government website.
We're here to support you as you apply for VA benefits to attend Mercyhurst University. Veterans, or those using Chapter 33, should complete an online application to the Department of Veterans Affairs:

Chapter 1606, 1607, 30, and 33 - New students should use VA Form 22-1990.  Transfer students should use VA Form 22-1995.
Chapter 35 - Use VA Form 5490 (Application for Survivors and Dependents Educational Assistance) for new applicants and VA Form 5495 for transfer students.
Chapter 31 - Your VA Rehabilitation Case Manager must provide you with VA form 28-1905 (Authorization and Certification of Entrance or Reentrance into Rehabilitation and Certification of Status). A new form must be provided to Mercyhurst for each semester you wish to claim VA educational benefits.
Reservists or members of the National Guard obtain a Notice of Basic Eligibility (NOBE) from their unit. Then complete an online application to the Department of Veterans Affairs.
All VA beneficiaries should provide the Veterans Services Program Manager with a copy of your Certificate of Eligibility (this document will be mailed to you from the VA after your application has been processed and your educational benefits have been approved). National Guard beneficiaries should provide the Veterans Services Program Manager with a copy of your Notice of Basic Eligibility (NOBE) provided to you by your unit.
All Active Duty, Reserve, and Veterans should provide Mercyhurst with a copy of your Military Transcript for review. Army, Coast Guard, Marine Corp, and Navy affiliates can obtain their transcript from the Joint Service Transcript System. Air Force affiliates can obtain it from the Air Force.
Veterans must provide Mercyhurst with a copy of your DD214 (Member 4 copy).
Apply for financial aid by submitting a Free Application for Federal Student Aid (FAFSA). If you've never applied, first obtain a Federal Student Aid (FSA) ID. Use Mercyhurst's school code, 003297, when completing these materials.

You don't have to wait! Apply for your benefits and apply to Mercyhurst at the same time. Doing this will help expedite the admissions process.

For individuals who entered the military on or after July 1, 1985, had their basic military pay reduced by $100 per month for the first 12 months, and have an honorable discharge.

Provides training and rehabilitation for veterans with a service-connected disability with a rating of at least 20%.

For individuals who served 90 aggregate days of active-duty service on or after September 11, 2001, and have an honorable discharge. Starting in 2009, active-duty service members may be eligible to transfer their Post 9/11 GI Bill entitlement to dependents and/or spouses. Under the Post 9/11 GI Bill, students may be eligible for the Yellow Ribbon Program.

For dependents of a veteran who is 100% disabled or who has died from a service-related injury or illness. A dependent may be a child under 26 or a surviving spouse.

For persons who have enlisted, reenlisted, or extended an enlistment in the Selective Reserve on or after July 1, 1985, and served for a period of not less than 6 years following the date of such action.

Public Law 111-32, the Marine Gunnery Sergeant John David Fry Scholarship, amends the Post-9/11 GI Bill® (Chapter 33) to include the children of service members who die in the line of duty after Sept. 10, 2001.

In addition to standard veterans education benefits you may also be eligible for non-VA military benefits such as:

Tuition Assistance (TA) for Active Duty and Reservists through their military branch and the Department of Defense (DoD)
Pennsylvania State Grants for children of POW-MIA
Pennsylvania State Grants for eligible veterans
Pennsylvania National Guard Education Assistance Program (EAP) for members of the Pennsylvania National Guard attending a Pennsylvania college or university
If you want to use Non-VA Military Benefits, contact your base's Education Office, Education Service Officer (ESO), or an education counselor within your military service prior to enrolling at Mercyhurst University.

The Mercyhurst Veterans Services Coordinator processes the enrollment verification for all VA and DoD beneficiaries, assists in the admissions process for veteran applicants, and helps as needed with the admissions process for VA and DoD beneficiaries.

Considering using VA or DoD education benefits? Contact our Veterans Services Coordinator to ensure that you receive proper certification.
Contact Us
Chris Popa
Veteran Services Coordinator
Main 204