Commuters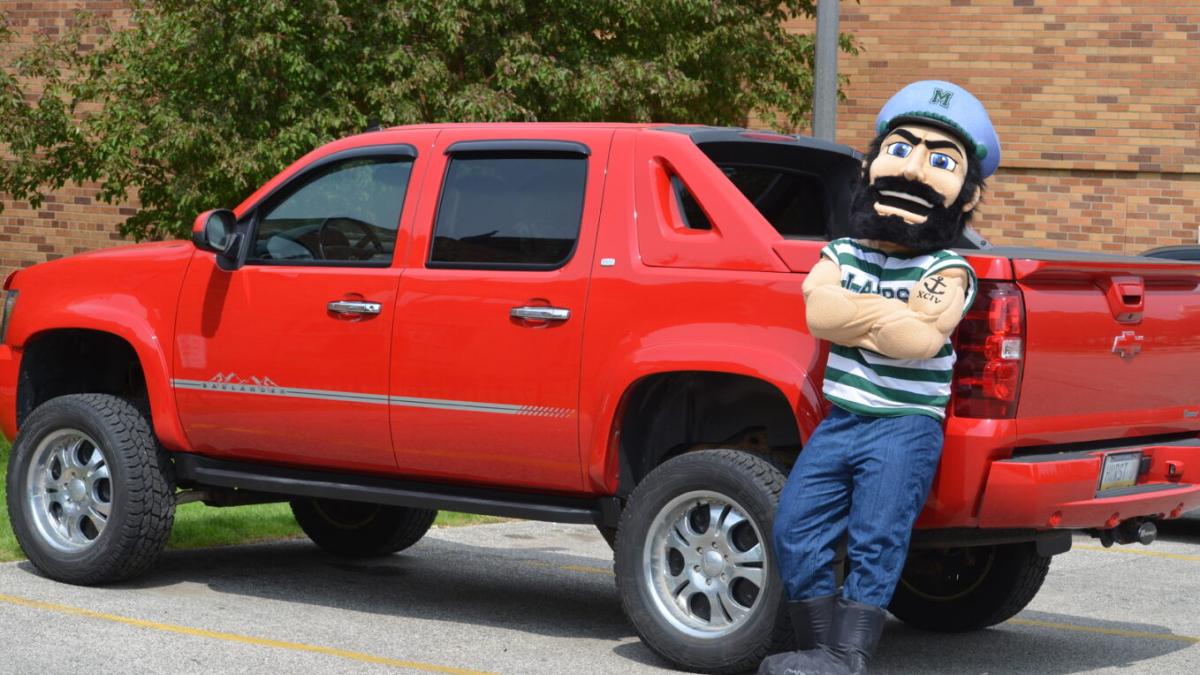 Students who commute to campus from the surrounding region are valued members of the Mercyhurst community and offer a unique perspective to campus life. As a commuter student, please know that you are more than welcome to share your energy and enthusiasm by getting involved in some of the wonderful activities and organizations Mercyhurst has to offer! The time that you spend participating in the cultural, spiritual, and recreational activities can be as rewarding and vital to your education as your academic experiences.
Commuter Student Services assists commuter students with involvement, an ease of access at Mercyhurst by providing professional staff support, commuter-only spaces, and resources for students to feel supported while on campus. 
Commuter Lounge
The Commuter Lounge is located on the first floor of the Carolyn Hermann Student Union.  It is a comfortable place to study, hang out with friends in between classes, or simply relax.
The Commuter Lounge offers a range of amenities, including:
Large-screen television with ROKU access
Microwave
Refrigerator
Study Room
The lounge is open during the Student Union building hours. Additionally, commuter student lockers, extra seating, and a meal prep area are available on the second floor of the Student Union.
The Commuter Lounge is located above The Roost and The Roost Express, two popular dining spots on campus. 
Programs and Events
The Campus Involvement Center sponsors events and programs throughout the year. All commuter students are encouraged to attend as many programs as their schedules will allow. If you have suggestions on how to improve a program or would like to see a new program, don't hesitate to let our team know by emailing rsco@mercyhurst.edu.
Here are some of the programs that are sponsored by Campus Involvement:
Commuter Welcome Week Registration and Meet and Greet
Monthly Events for Commuter Students
Commuter Appreciation Day 
Commuter Student Association
Comm-YOU-ter Monthly Newsletter
Commuter Welcome Week Registration & Meet and Greet introduces new first-year commuter students to their Commuter Student Liaisons, the Campus Involvement Center staff, and other new commuter students. The session occurs on the first day of Welcome Week in August, while residential students are moving into their campus residences. At this event, commuters receive meal tickets for every meal during Welcome Week and pick up their Spirit Shirts. During Welcome Week, students will attend presentations that will aid in their transition to Mercyhurst. They will also have the opportunity to tour campus and participate in fun team-building activities.
At Mercyhurst University, we understand the diverse dining needs of our students. One day you might need a quick bite on the way to class, and the next you might have more time to relax and enjoy a meal with friends.

Mercyhurst offers a range of convenient, flexible, and affordable meal plans to meet the preferences and habits of our commuter students. We encourage our commuter students to explore our block meal plans, which provide an affordable set number of meals at our all-you-care-to-eat dining facilities on campus, Grotto Commons in Egan Hall and the 501 Grille in Ryan Hall. Both facilities provide an excellent selection of fresh, handcrafted culinary options every day. In addition, Grotto Commons is open late every day, with a special late-night menu, making it an ideal hangout spot for meeting up with friends. 

Commuters can also participate in the Hurst Dining Club, through which you can purchase and use Dining Dollars at any on-campus dining facility (Grotto Commons, Ryan Hall dining facility, Laker Inn, Coffee Bar, or Convenience Store). With Dining Dollars, students are eligible for a discount on every transaction.

 

At Mercyhurst University, every student who parks a vehicle on campus property must register that vehicle with the Office Police & Safety and must have a university parking permit issued and affixed to the registered vehicle. The person registering the vehicle must be the registered owner or an immediate family member of the registered owner. Any person registering a new vehicle must provide a student ID card or driver's license, a current state registration card, and proof of insurance before their parking permit can be issued.

In addition, students can ride the "e" buses through the Erie Metropolitan Transit Authority for free using their Mercyhurst ID.

Bike racks are located throughout campus in front of most buildings, if you plan to use alternate and environmentally friendly transportation, like bikes! Students are responsible for the safety of their bikes and must provide their own bike locks. Additionally, we encourage all students who ride a bike to wear protective gear, such as helmets. 

The Commuter Student Liaison plans and hosts various opportunities for commuter students to get together and participate in on-campus events throughout the year. The Commuter Student Liaison advises the Commuter Student Association, monitors the CSA Facebook Page, and sends out a monthly digital newsletter to keep commuter students updated on what is happening on campus! 

Getting involved in Recognized Student Clubs/Organizations (RSCO), participating in intramurals, studying with classmates, and attending programs hosted on campus are crucial to your success and happiness at Mercyhurst. You are welcome to stop into the Student Union to learn more about the opportunities available to students.

For campus-wide events, visit Laker Launchpad or check out The Weekender located on the Hub. Both resources are consistent ways to learn more about what is happening on campus.
Contact Us
Campus Involvement Center
Office: Student Union 200