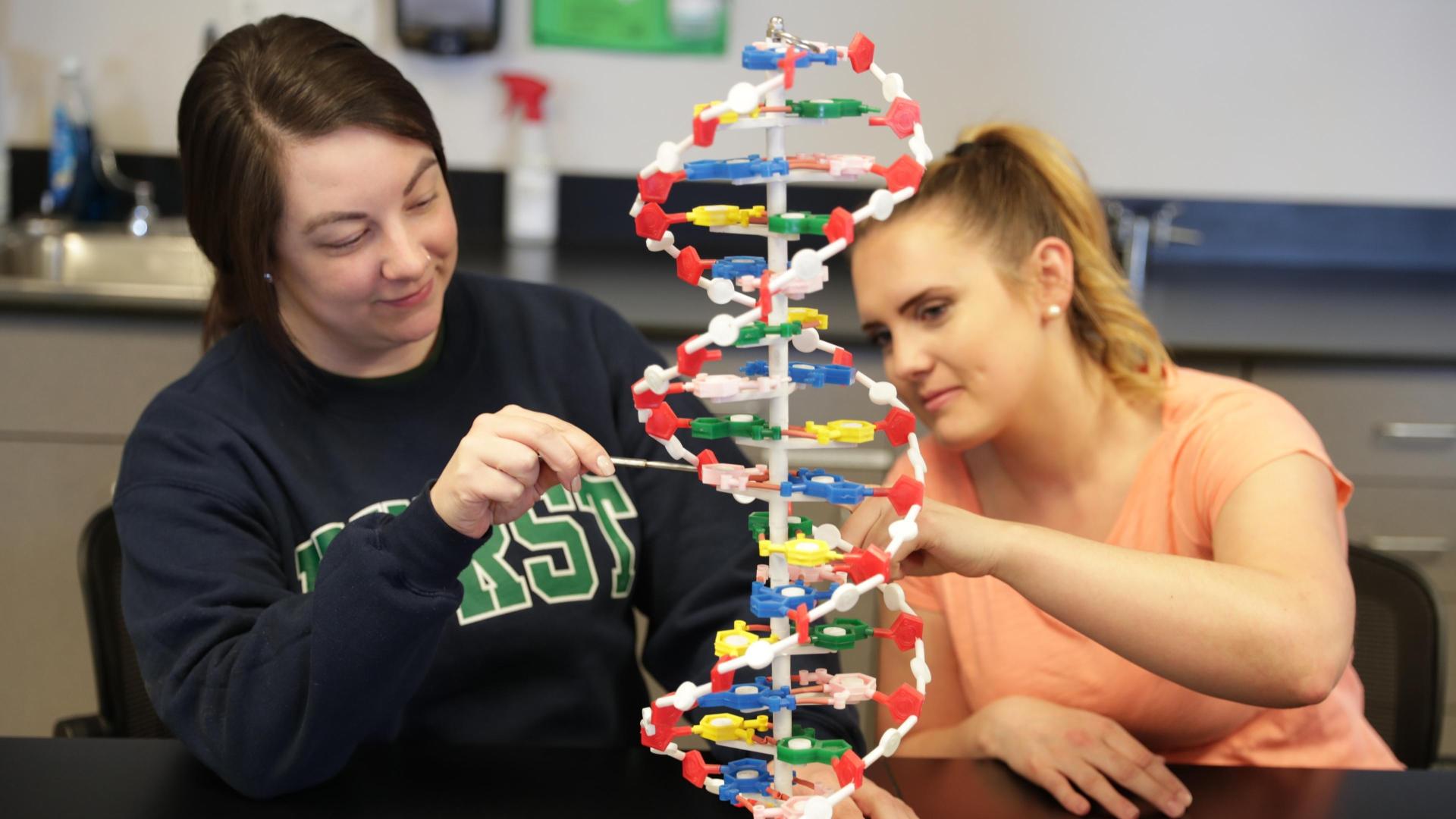 Biology
Bachelor of Arts | Bachelor of Science
In the Department of Biology, the emphasis we place on personal attention and close interaction between faculty and student provides our majors with a solid core of learning and preparation within biology as well as mathematics, physics and chemistry. Experiential learning is key, and we encourage every student to pursue hands-on field and laboratory experiences, opportunities to participate in faculty-student collaborative research, travel courses, professional conferences, community service, and professional practicum training.
Study the science of life.
We emphasize experiential learning as part of our curriculum so students can gain experience through job shadowing, internships, volunteering, and entry-level employment.

Don't just learn from a classroom—escape to exotic locations and take advantage of opportunities like the biannual tropical marine biology trip to the Caribbean islands.

Capstone projects require each senior bio major to conduct their own research, with help from a faculty member, to present at the end of their senior year.
Biology Core

BIO 146/147 Ecology and Evolutionary Biology of Organisms
BIO 142/143 Cellular and Molecular Biology
BIO 310/311 Genetics
BIO 370/371 Cellular Biochemistry
BIO 466 or BIO 474 Biology Senior Capstone

 

Biology Thematic Courses
take one course in each of the following thematic areas

Anatomy
Physiology
Organismal Biology
Ecology


Biology Elective Courses
take 2 based upon your interests

Cognate Courses:

MATH Course 1 (MATH 170 Calculus I required for B.S. degree)
MATH Course 2 (usually statistics)
CHEM 121/122 General Chemistry I
CHEM 222/223 General Chemistry II
CHEM 240/241 Organic Chemistry I
CHEM 242/243 Organic Chemistry II (not required for B.A. degree)
PHYS 101/103 or 201/203 Princ. or General Physics I
PHYS 102/106 or 202/206 Princ. or General Physics II (not required for B.A. degree)

The Biology Department at Mercyhurst University has three teaching laboratories, one teaching/research laboratory (the Donald and Judith Alstadt Laboratory for Molecular and Cellular Research), two preparatory laboratories and the recently constructed Orris C. Hirtzel and Beatrice Dewey Hirtzel DNA sequencing center.  All of our teaching laboratories are outfitted for 18-24 students and all laboratory courses are taught by faculty.  Many of our laboratory courses also utilize undergraduate teaching assistants to ensure that each student receives the guidance they need.

Study in our new Orris C. Hirtzel and Beatrice Dewey Hirtzel DNA Sequencing Center, which features two DNA sequencers allowing for the rapid and robust amplification of DNA sequences from any organism.
Within six months of graduating, 89 percent of our grads find placement in graduate school or a career in their chosen field.
Get your hands dirty in the department-owned Jean B. and J. Douglas James Ecological and Wildlife Preserve, a 35-acre forest and wetland habitat.

LI-COR Portable Photosynthesis System:  This system measures the rate of photosynthesis and carbon dioxide concentration in plant (leaf) samples.  Used to measure normal rates of photosynthesis, as well as rates produced by changes in light intensity, carbon dioxide concentration, and temperature. Because it measures carbon dioxide concentration, this system can also be used to measure metabolic rate of insects or small amphibians.

Leica DME compound microscope, equipped with digital camera:  This microscope uses transmitted light to visualize, analyze and photograph a wide range of biological specimens.

Leica L2 Stereomicroscope, equipped with digital camera:  This microscope allows the visualization of biological samples that cannot be made into slides, such as insects, wood and fiber, or large plant material.  Used to visualize and photograph such samples.

Leica DMLB fluorescence microscope,equipped with digital camera:  This microscope allows the visualization of biological specimens using both transmitted light and fluorescent light.   Used to visualize, analyze and photograph a wide range of biological specimens.

Biopac Student Systems: These systems measure a variety of physiological responses, such as heart rate, blood pressure, EKG and EEG. Used to measure these responses in laboratory courses and well as in research projects.

Sorvall RC-6 Plus Ultracentrifuge: This ultracentrifuge is a high-speed centrifuge (up to 22,000 rpm) used to separate substances of different densities at controlled temperatures (-20 to 40 degrees Celsius).  Used in a variety of applications to isolate particular components of specimens for further study.

ThuraMed UV/Vis Spectrophotometers: These spectrophotometers measure the absorbance of visible or UV light in biological or chemical samples.  Used to measure the absorbance of specific wavelengths of light, which can be correlated with particular molecules, such as DNA.

 

Housed within the Orris C. Hirtzel and Beatrice Dewey Hirtzel DNA sequencing center

Applied Biosystems RT PCR: This instrument amplifies and simultaneously quantifies targeted DNA molecules.  Used to isolate and quantify specific DNA sequence in water samples and plant specimens.  

Applied Biosystems ABI Prism 310 Genetic Analyzer:  The study of genetics and molecular biology often depends on determining the sequence of nucleotides (A, T, C and G) in a piece of DNA. The ABI Prism 310 Genetic Analyzer is a fully automated machine for determining the sequence of DNA using modern reagents and techniques based on the classic Sanger (Chain Termination) DNA sequencing technique. In addition, this machine can be used to both size and quantify fragments of DNA.

Illumina MiSeq:  The Illumina MiSeq is a Next-Generation sequencing machine that performs high-throughput sequencing of DNA. This machine can generate up to 25 million 300 bp paired-end sequences in a single run, allowing molecular biology and genetics researchers to analyze DNA at the scale of an entire genome. Application of this data include genome sequencing, determination of genome-wide gene expression and identifying genome-wide protein binding sites.

Agilent 2100 Bioanalyzer:  The Agilent 2100 Bioanalyzer is a versatile piece of equipment that can be used to determine the quality of biological samples in a number of different contexts. This machine can be used to determine the size distribution of DNA fragments before sequencing on the MiSeq. Additionally, the machine can be used to determine the quality and progress of protein expression and purification experiments in addition to a number of other specialized uses in both the molecular biology and biochemistry laboratory settings.

Bio-Rad Chemi-Doc XRS+:  This is a multi-functional instrument, allowing the visualization and quantification of both nucleotide and protein gels.  This instrument is used for both laboratory coursework and research purposes.  

Biotek Synergy H1M Microplate Reader: This is spectrophotometer that allows quantification of samples at individual wavelengths in the UV-Visible light range. It is equipped to read a variety of specimen plates as well as the ability to analyze nanoliter-sized samples.  This instrument is used for both laboratory coursework and research purposes.  
 

The Biology department maintains a working relationship with many of the other colleges and universities in the Erie Region, allowing our faculty and students access to the following instrumentation.

Leica SP5 Confocal microscope, housed at Penn State the Behrend College: This microscope uses lasers to visualize specimens that have been processed for fluorescence microscopy. Confocal microscopy offers improved resolution and the ability to visualize multiple labels simultaneously. 

The Biology Department has identified four learning outcomes that all biology majors should meet before they earn their degrees. Those outcomes and the methods by which each is assessed are:

Demonstrate knowledge in three major areas of biology: cellular and molecular biology (including genetics), ecology and evolution, and organismal biology
Critically analyze scientific information.
Demonstrate proficiency in lab, field, and/or clinical techniques.
Communicate scientific findings in a professional manner.
Concentrations
The neuroscience concentration is an interdisciplinary program administered by the Biology and Psychology Departments. Neuroscience is the study of the structure, organization, and function of the nervous system. Only in recent decades has neuroscience become a recognized discipline. It is now a unified field that integrates biology, chemistry, and physics with studies of structure, physiology, and behavior, including human emotional and cognitive functions. This is an exciting field of study with great potential for new discoveries and rewarding careers.

Core Classes:

BIO 142/143 Cellular and Molecular Biology
BIO 146/147 Ecology & Evolutionary Biology of Organisms
BIO 450 Neurobiology
PSYC 101 Introduction to Psychology
PSYC 252 Biopsychology
BIO 466 Senior thesis  OR BIO 474 Biology Practicum

Choose Five of the Following:

BIO 310/311 Genetics
BIO 320/321 Comparative Vertebrate Anatomy
BIO 330/331 Immunology
BIO 334/335 Human Anatomy
BIO 344/345 Human Physiology
BIO 370/371 Cellular Biochemistry
BIO 430 Molecular Biology
PSYC 211 Abnormal Psychology
PSYC 236 Learning and Motivation
PSYC 237 Memory & Cognition
PSYC 253 Drugs & Human Behavior

Biology majors interested in the healthcare field may want to consider choosing the medical technology concentration. This program provides students with the knowledge and skills to become registered medical technologists, healthcare practitioners who work in labs, hospitals, doctors' offices and other medical and scientific facilities, performing diagnostic analytical tests on human body fluids and other specimens.

Requirements
To become a registered Medical Technologist, a student must complete at least three years of college (the equivalent of 90 semester hours), a year of training at an AMA approved school of Medical Technology, and pass a registry examination. During the fall of the junior year, the student applies to one or more approved schools of Medical Technology. Mercyhurst University is affiliated with Saint Vincent Health Center, Erie, PA, and WCA Hospital, Jamestown, N.Y. Other affiliations may be arranged on an individual basis. Upon satisfactory completion of the courses at the affiliated school, the student earns a B.S. in Biology/Medical Technology from Mercyhurst University and is eligible to sit for the registry examination. In consultation with an advisor, a program of study that follows the general plan of core, thematic, elective, and research courses listed below, will be created.
Minors
The anatomy minor is designed so that students may obtain a comprehensive understanding of human morphology from the microscopic to the macroscopic and developmentally ranging from embryo to adult. Students will complete 23-28 credits by taking BIO 142/143: Cellular and Molecular Biology, BIO 146/147: Ecology and Evolutionary Biology, BIO 244/245 Histology, BIO 334/335 Human Anatomy or a combination of BIO 240/241 and BIO 250/251 Human Anatomy & Physiology I & II, BIO 246/247: Embryology, and one anatomy elective.

A 20-credit biology minor is offered to students wishing to enhance their chosen degree program. The minor requirements are BIO143/143: Cellular and Molecular Biology and BIO 146/147: Ecology and Evolutionary Biology of Organisms, plus four Biology electives numbered 200 or higher.  The biology minor can be combined with any major to offer more tailored career options.
Contact Us
Michael Elnitsky, Ph.D.
Chair, Department of Biology
Office: Zurn 113