Our History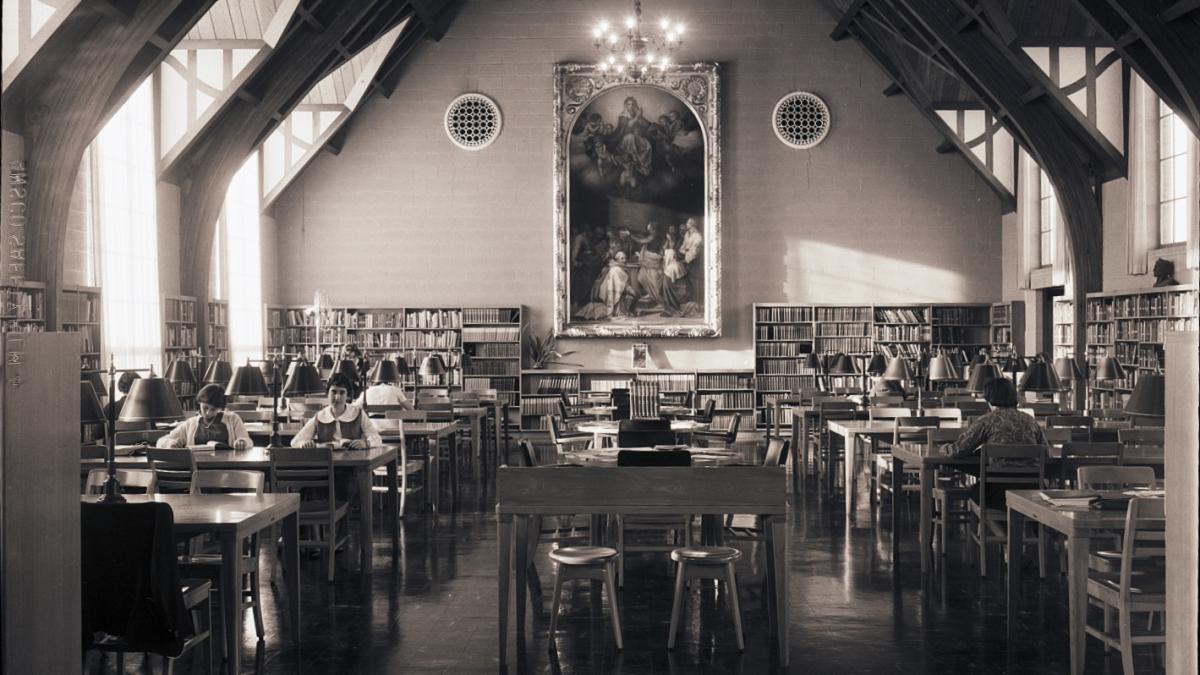 "Mercyhurst College lived first in the desire and will of a remarkable woman"—Mother M. Borgia Egan
Mercyhurst College was founded in 1926 by the Sisters of Mercy of the Erie Catholic Diocese, who trace their heritage to Mother Catherine McAuley, founder of the Sisters of Mercy in Dublin, Ireland.
As Mother Eustace Taylor, RSM, Ph.D., wrote in her 50th anniversary history of Mercyhurst, "Mercyhurst College lived first in the desire and will of a remarkable woman—Mother M. Borgia Egan." She supervised everything, from raising money to selecting and purchasing a site to educating a sister-faculty to teach at the college level. As first president of the college and later as academic dean, she guided Mercyhurst through its formative years.
Mercyhurst welcomed its first 23 students, all women, on Sept. 20, 1926. The school received its charter on Oct. 5, 1928.
On Feb. 3, 1969, the Board of Trustees voted to admit the first class of men to Mercyhurst. Sr. Carolyn Herrmann, RSM, Ph.D., the first president who was not also Mother Superior of the Sisters of Mercy, led the university through the challenge of coeducation.
Today, Mercyhurst covers six blocks and is the largest piece of unbroken real estate in Erie. More importantly, Mercyhurst—which earned university status in 2012—has emerged as a major force in the educational landscape of the region, while remaining true to its mission as a private Catholic comprehensive university in the Mercy tradition. The second-largest Mercy University in America, it is consistently recognized as a top-tier master's university by U.S. News & World Report.
Old Main, the stately English Gothic structure built in 1926, remains the heart of the campus. The campus has grown around it, with the most recent additions being the Center for Academic Engagement, a high-tech learning environment that houses some of Mercyhurst's signature programs, including Intelligence Studies, Hospitality Management and our Center for Applied Politics, and opening in Fall 2018, Ryan Hall, a residence hall exclusive to sophomores.
Mercyhurst opened its first graduate program (administration of justice) in 1978, and today offers dozens of options for master's degrees and graduate certificates. Undergraduate and graduate enrollment on the Erie campus is now near 3,000.
In addition to pace-setting growth on the main campus, in 1991, Mercyhurst purchased the 100-year-old Redemptorist Seminary in nearby North East. This site offered associate degree and certificate programs as Mercyhurst North East for 25 years before all academic programming was transitioned to the main campus in Erie in 2020. Returning to its Irish roots, Mercyhurst also opened a center in Dungarvan, Ireland, where Mercyhurst students can study with Mercyhurst professors, experience Irish culture, and explore other areas of Europe.
Kathleen A. Getz, Ph.D., took office in July 2021 as Mercyhurst's 13th president and the first woman to hold that role in more than 50 years. Poised to lead the university toward its centennial in 2026, Getz conveyed a message of hope and spoke to the consonance of her values with those of the Mercyhurst community. She chose as her inaugural theme "Enriching the Circle of Mercy: Good Today, Better Tomorrow."
Past Presidents
Mother M. Borgia Egan, RSM
1926-1927
Mother M. DeSales Preston, RSM
1927-1933; 1939-1945; 1948-1954
Mother M. Xavier O'Neil, RSM
1933-1939
Mother Agnes Mary McSweeney, RSM
1945-1948
Mother M. Eustace Taylor, RSM, Ph.D.
1954-1960
Mother M. Loretta McHale, RSM, Ph.D.
1960-1963
Sister Carolyn Herrmann, RSM, Ph.D.
1963-1972
Marion L. Shane, Ph.D.
1972-1980
William P. Garvey, Ph.D.
1980-2005
Michael J. McQuillen, Ph.D.
2005-2006
Thomas J. Gamble, Ph.D.
2006-2015
Michael T. Victor, J.D., LL.D.
2015-2021
The first photo taken of Old Main.

Mother M. Borgia Egan, Mercyhurst's first president.

Mercyhurst's first graduating class.