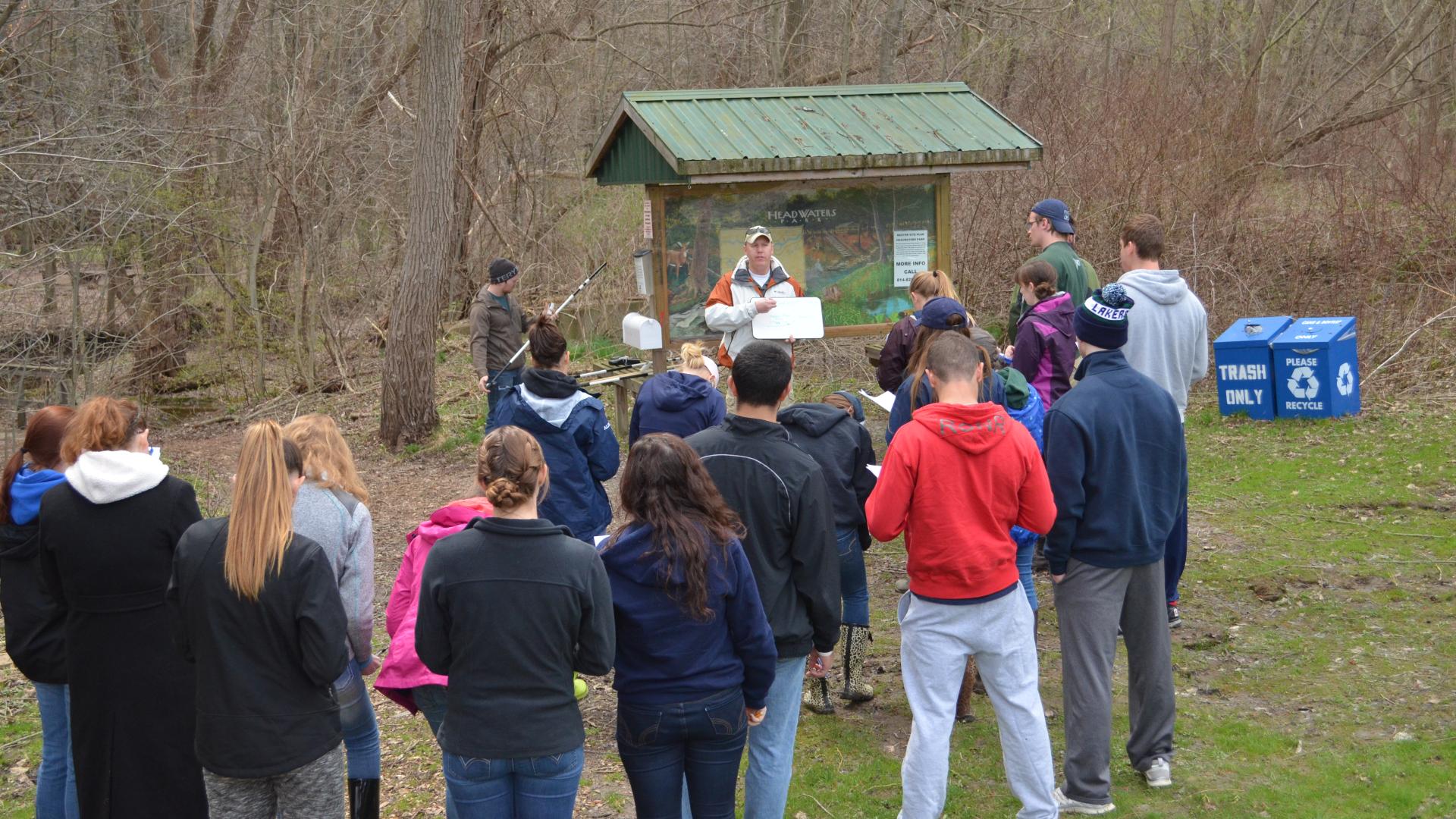 Environmental Science
Bachelor of Arts, Bachelor of Science
Environmental Science explores the intersection between humans and the natural world. This complex field touches upon aspects of the biological and physical sciences, governmental policies, economics, and social issues. Success at addressing environmental issues therefore requires an interdisciplinary approach. Our Environmental Science major educates you in the physical and social sciences, helping you to be reflectively aware of the natural environment in which you live, globally responsible of the Earth and its resources, and prepared to successfully address all types of environmental issues. 
Learning Outcomes
Learn from faculty who live what they teach and are vested in meeting your needs as a student.
Gain hands-on experience through original research and internship opportunities.
Work closely with Mercyhurst's Departments of Biology and Geology to create an educational plan that fits your interests.
Develop a background in the physical sciences while also learning about crucial social science aspect of environmental issues.
Enjoy a close-knit department with small class sizes and access to modern equipment, labs, and classrooms.
Go beyond the classroom to learn by getting out into the field and traveling outside of Erie.
Conduct original research and present your results at local, regional, and national conferences.
Learn by doing when conducting real field tests and surveys.
 
Career Outcomes
With a degree in Environmental Science from Mercyhurst, you get a well-rounded education encompassing the scientific and social aspects of environmental problems, and a deep understanding of the interaction between humans and the natural world. Jobs for environmental scientists range from working for federal and state governmental agencies, to work related to environmental remediation, to academia.
Minors
BIO 146: ECOL&EVOL BIO OF ORGANISMS (3 credits)
BIO 147: ECOL&EVOL BIO OF ORG LAB (1 credit)
ENVS 105: INTRODUCTION TO ENVIRONMENTAL STUDIES (3 credits) 
GEOL 100: DYNAMIC EARTH (3 credits) 
GEOL 102: DYNAMIC EARTH LAB (1 credit)
 

Additional Requirements:
 

Three additional environmental theme courses that are 200 level or higher approved by the minor advisor. 
Two of the additional 200 level courses must be science courses (e.g., BIO, GEO, PUBH, or SCI). 

ENVS 105: Introduction to Environmental Studies (3 credits)
SUST 210: Responding to Climate Change (3 credits)
OR
SCI 335: Climatology (3 credits)
Choose four (4) additional environmental-themed courses, two of which must be 200 level or higher. 
Environmental scientists promote human health and protect animals, plants, and the environment from harmful pollutants.

Major courses are designed to get you hands-on experiences in the field and in the lab, preparing you for a dynamic future career.

Environmental scientists work for governmental agencies, in academia, in environmental remediation, and many other roles.    
Contact Us
Christopher Dolanc, Ph.D.
Co-Director, Environmental Science
Office: Zurn 104