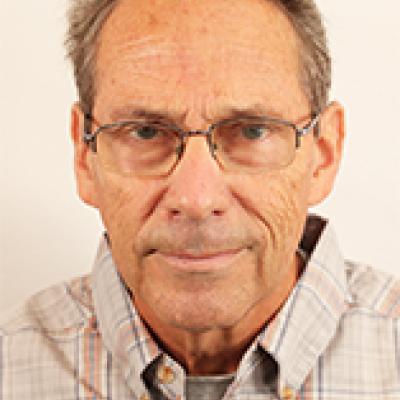 Dr. Campbell enjoys learning while teaching subjects that relate to field biology and environmental science. His training and teaching focus is the study of freshwater lakes, streams, and wetlands, but he grew up in mountain forests of central Pennsylvania and has also investigated terrestrial habitats. Dr. Campbell helped develop environmental science and sustainability-centered courses and projects at Mercyhurst, and mentors students whose research is focused on algae, invertebrates, fish, and wildlife, especially birds. He enjoys gardening, birdwatching, woodworking and writing poetry in his spare time.
About Dr. Campbell
Ph.D., Wildlife & Fisheries Sciences, Texas A&M University, 1983
M.S., Biology, East Stroudsburg State College, 1978
B.A., Biology, East Stroudsburg State College, 1977

Dr. Campbell has taught a variety of organismal-themed courses at Mercyhurst University in addition to ecological-focused upper-level subjects that involve field studies. He believes that training in how to discern the quality and reliability of information sources is centrally important for students at all levels of instruction. He enjoys updating his lectures and classes with the latest news and research, and he tries to immerse his students in primary research literature. Dr. Campbell teaches BIO and SCI courses for the REACH curriculum.

BIO 146/147: Ecology & Evolutionary Biology of Organisms and Lab
BIO 234/235: Ornithology and Lab
BIO 294: Parasitology
BIO 292/293: Field Ecology and Lab
BIO 424: Restoration Ecology
BIO 426/427: Limnology and Lab
ENVS 105: Introduction to Environmental Studies
SCI 100/101: Environmental Problem Solving and Lab

Dr. Campbell's research specialties include the biology of freshwater plankton communities, wetland ecology, invertebrate communities of streams and lake edges, ecology of littoral (nearshore) lake and marine environments, and the acoustic biology of birds. He is also interested in how environmental quality of aquatic habitats affects aquatic parasite-host interactions. He also engages with his students in regional citizen science activities, contributing to the online platforms iNaturalist and eBird.

Dr. Campbell was active in community organizations in Erie that advanced regional conservation and habitat protection/restoration work, including the inclusion of Presque Isle Bay as an Area of Concern in the Great Lakes. He contributed to scientific work and planning programs to restore the bay, and he remains actively involved in the Pennsylvania Lake Erie Watershed Association (PLEWA), serving as volunteer watershed representative for several Lake Erie tributary streams.