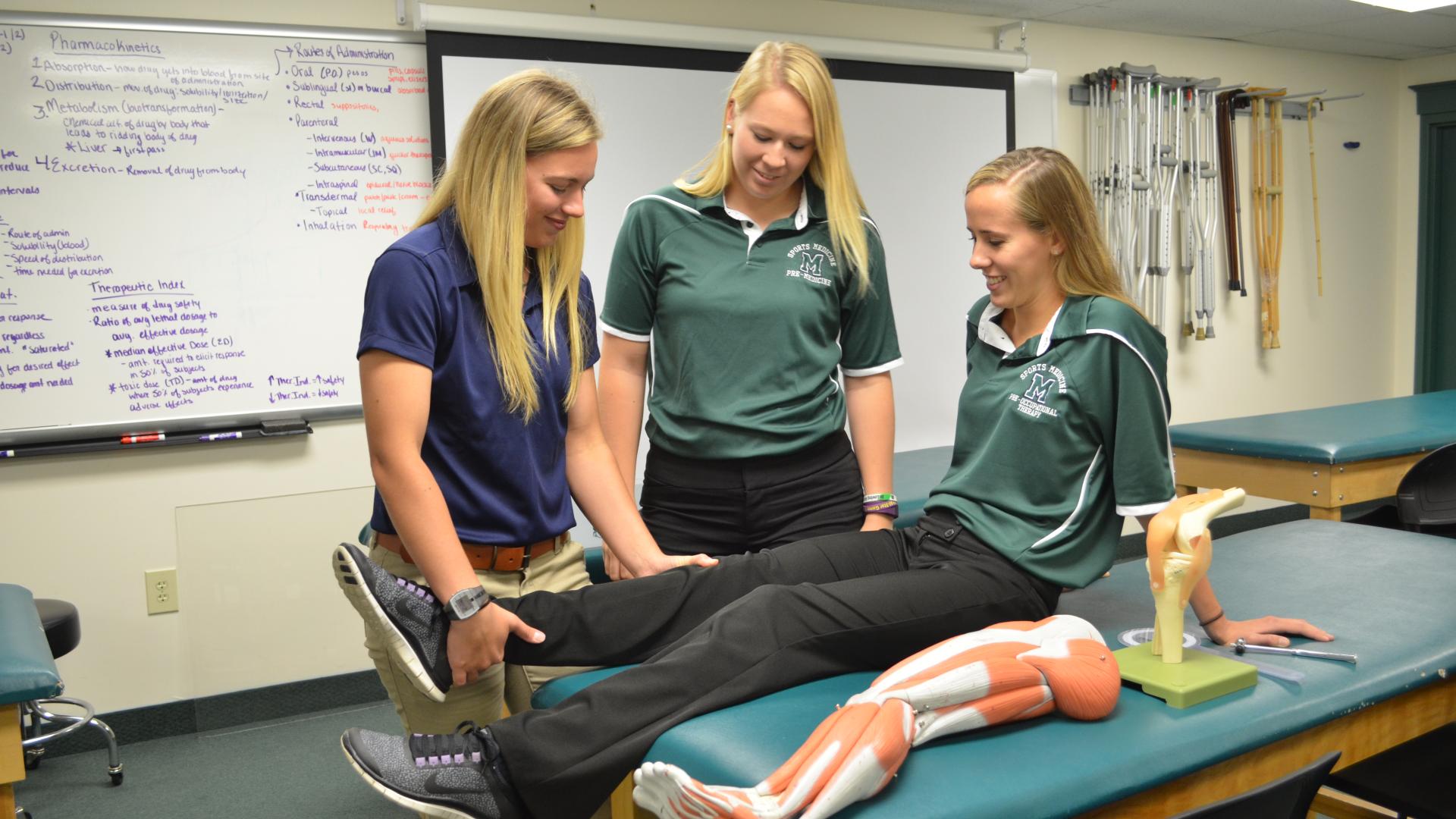 Mercyhurst offers a bachelor of science degree in sports medicine to meet a growing need for educated practitioners in this important field. The sports medicine major at Mercyhurst encompasses the health-related professions that prevent and manage injuries and illnesses affecting active individuals and athletes. The program's curriculum emphasizes evidence-based medical principles, personal and professional responsibility, teamwork and cooperation, problem solving, decision making and improvement of communication skills. In addition, Mercyhurst students learn their discipline from a hands-on clinical approach, which includes: on-campus experiences with certified athletic trainers, off-campus clinical experiences at local hospitals, physical therapy and occupational therapy clinics, all while observing employed health professionals. Mercyhurst sports medicine students also complete a self-directed baccalaureate research project with the assistance of a department faculty member. The sports medicine major at Mercyhurst is interdisciplinary in nature; it's designed to prepare students for graduate studies and/or licensure or certification needed to be hired in the areas of athletic training, exercise science, physical therapy, occupational therapy and medicine. A Mercyhurst student who is interested in pursuing a sports medicine major must declare a professional concentration upon entrance into the department. Students have the option of declaring a dual concentration. In all concentrations there is a strong emphasis on sports medicine, the sciences and the social sciences.
Concentrations
Students enrolled in the pre-medical concentration offered through Mercyhurst University's Sports Medicine program will focus and learn evaluation, hands-on skills to prevent, manage and recognize sports-related injuries. This Mercyhurst Sports Medicine concentration will prepare students for medical school or chiropractic school, as well as help them to work toward a special emphasis in the field, especially orthopedic medicine.

Sports Medicine students enrolled in the pre-medical concentration will meet regularly with the university's pre-health advisory committee and the Sports Medicine department to arrange for MCAT preparation, shadowing and the pre-med advisory board interview. Mercyhurst students in this Sports Medicine program are required to complete at least 100 hours of work, service or observation in an appropriate health or medical setting. Pre-Medical students are strongly encouraged to acquire certification and employment as either an EMT, phelbotomist, or CNA. This gives opportunities to provide medical services to patients and acquire direct patient contact hours. Pre-medical students should also arrange observation of numerous physicians with different specializations both in their local region as well as the Erie area. The pre-medical student is required to observe one orthopedic surgical procedure.

This concentration provides the student with the necessary course pre-requisites and clinical hand-on experience for entrance into a master's or doctoral degree program in Occupational Therapy. Students who choose this educational pathway will be exposed to the special needs physically active population. This population may include military veterans, pediatric orthopedic patients, head-trauma victims and other orthopedic special needs patients. Pre-occupational Therapy students have clinical observation opportunities at Shriners Hospitals for Children and the Barber National Institute.

The Pre-Physical Therapy concentration is a highly competitive option within the Sportsmedicine department for those interested in the field of physical therapy. Students are prepared to gain acceptance into physical therapy doctoral programs across the nation upon graduation through a comprehensive background in allied health science, orthopedic assessment, therapeutic modalities and health and wellness of the physically active population.

Upon graduation, this concentration offers guaranteed placement into D'Youville College's Doctoral of Physical Therapy program along with Gannon University's Doctoral of Physical Therapy program. Graduates of this concentration have also attended University of Pittsburgh and Duke University as well as other Doctoral of Physical Therapy programs across the nation. Pre-physical therapy students are strongly encouraged to arrange physical therapy observation hours with numerous physical therapy clinics in their home geographical vicinity, as well the Erie area.  

This concentration will provide the student with the necessary course pre-requisites and clinical hands-on experience for entrance into master's degree level Physician Assistants curriculum. The pre-physician assistant student will learn orthopedic evaluation skills and recognition of injuries associated to the physically active individual. Pre-Physician Assistant students are strongly encouraged to acquire certification and employment as an EMT, phlebotomist, or CNA. This gives opportunities to provide patient care, as well as acquire direct patient contact hours through employment. Pre-physician Assistant students should also arrange and acquire observation of various licensed physician assistant providers.

Pre-physician Assistant students graduating from the Sports Medicine Department will have the opportunity for acceptance into the Physician Assistant Studies Masters Program at Mercyhurst University. The Physician Assistant allied health profession is an ever-growing specialty in today's medical fields. The Physician Assistant provides medical services to the expanding healthcare population. These services include initial evaluation and assessment of the patient, writing of prescriptions and follow-up care. A physician oversees the healthcare provided by the Physician Assistants.
Learning Outcomes
List and describe the duties, responsibilities, and skill set of health professions that compose the Sports Medicine field
Recognize and evaluate the anatomical and physiological processes of the physical active individual
Apply the specific hands on skill set that Sports Medicine health professionals utilize
Describe and apply the management, organizational and leadership skills of health professionals
Think critically and solve problems about medical and scientific concepts
Comprehend, synthesize and apply the proper research methodology process for health professions
Equipment:

2 Human Performance labs with Biodex Isokinetic System 4
Biodex Balance System
Bod Pod
2 Parvo Med Gas analyzers
Treadmills
Contact Us
Joshua Long, M.S., ATC, CSCS, CES
Chair, Department of Sports Medicine
Office: Mercyhurst Athletic Center 203