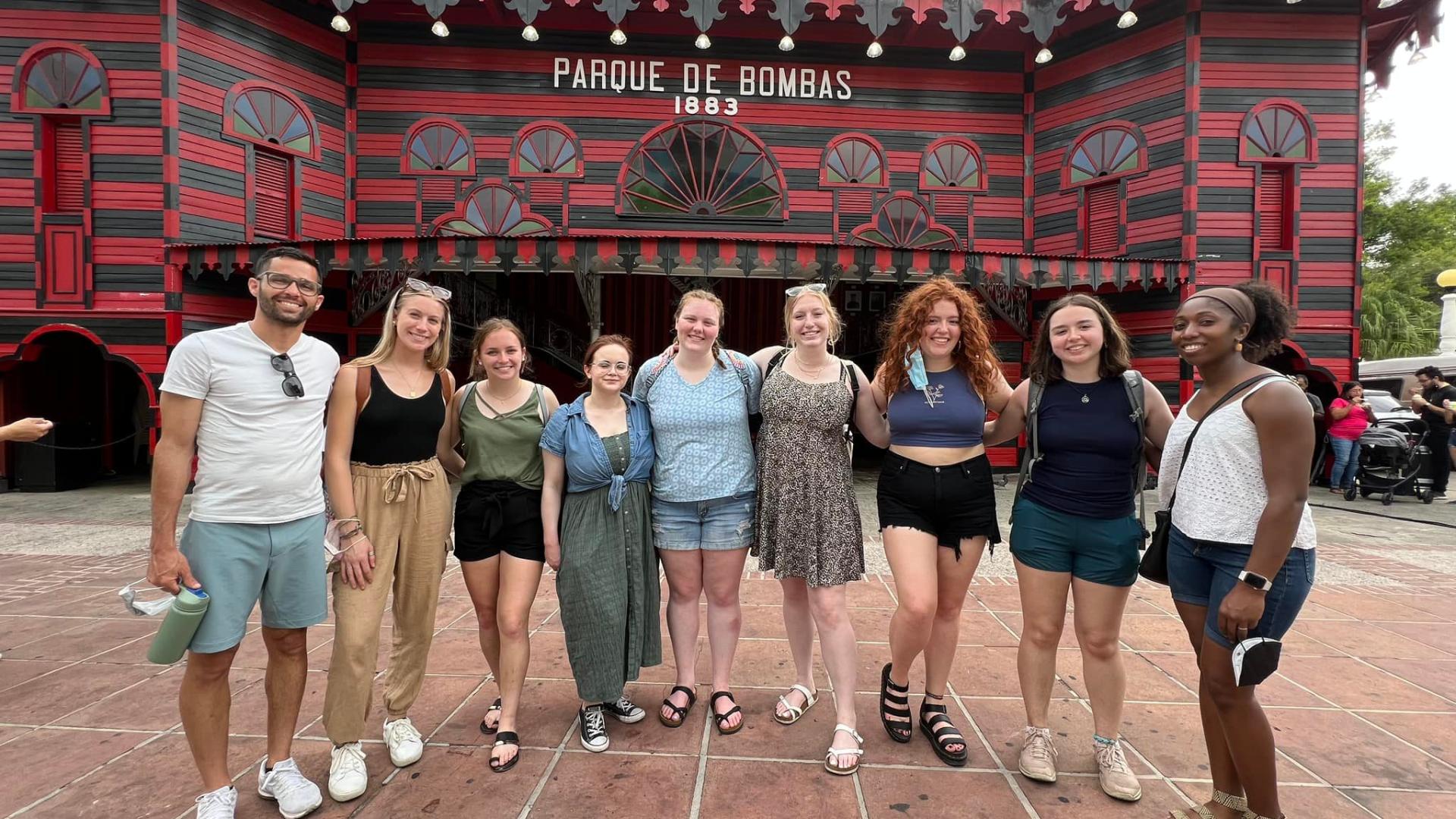 Spanish | Spanish Education
"Do you know what a foreign accent is? It's a sign of bravery." — Amy Chua
We welcome brave students who want to experience the world in another language, challenging themselves to explore new ideas and forge lasting relationships with their global neighbors. Majoring in Spanish allows you to immerse yourself in Hispanic language, literature and culture while developing strong analytical thinking and communication skills. The Spanish Education major offers the opportunity to combine these skills with the coursework and practicum experiences necessary to earn a teaching certificate in Pennsylvania. In both majors, you'll find countless opportunities to sharpen your language skills and challenge your cultural assumptions while experiencing the world from a different vantage point.
Fast Facts
We strongly encourage students to study abroad, and work with each student to find the program that will make this possible.
Mercyhurst's diverse international student body and faculty ensure that Spanish students can practice the language in real-world settings without leaving campus.
The Bachelor of Arts in Spanish pairs well with many other degree programs for a double major.
Studying a foreign language is excellent preparation for careers in many different fields, such as business, education, human services, government or international relations, as well as graduate school.
Phi Sigma Iota is an international honor society for the study of foreign languages and cultures, and is one of the highest honors one can achieve in the field. Language majors and minors are nominated in their junior or senior year based on their GPA, a faculty recommendation, and completion of a 300-level language course (or equivalent). Induction is held each spring at the annual dinner.
Minors
Students may pursue a minor in this area by taking seven courses, a minimum of four in Arabic language, and the rest in related coursework in religious studies, political science, history, archaeology, etc., and must maintain a 2.5 in the minor.

 

 

Mercyhurst University's Asian Studies minor program is an interdisciplinary, interdepartmental minor. Students take four classes in Mandarin and four courses in either Asian culture, literature, religion, comparative politics, world geography or history. 

Mercyhurst students who are interested in pursuing a minor in language may choose to minor in Chinese, French, or Spanish. These minor programs offered through Mercyhurst University's World Languages and Cultures Department offer students courses in language, literature and culture in the student's respective field of study. In addition, Mercyhurst students will have the opportunity to delve into the history of the culture they choose to study.

Students minoring in Chinese take eight courses in language, culture, and literature. Arabic and Islamic Studies requires seven courses in language, culture, and religious studies; Spanish and French minors take eight courses, unless they begin at the intermediate level, in which case they take seven courses in language, culture, literature, phonetics.

 

Mercyhurst students who are interested in pursuing a minor in language may choose to minor in Russian Studies. This minor program offered through Mercyhurst University's World Languages and Cultures Department offers students courses in Russian language, literature and culture. In addition, Mercyhurst students will have the opportunity to delve into Russian history.

Students minoring in Russian Studies must take eight core courses and two upper level Russian language courses. Students must maintain a 2.5 GPA in the minor.

Whether you're planning to work in school districts in the U.S. or travel and work overseas, the ability to effectively teach students the English language will open employment opportunities across the board. Students in the Teaching English-Language Learners minor will learn not only the methods for teaching English as an additional language, but also the language acquisition theories, socio-cultural influences, and program development strategies that make for more culturally sensitive and effective instructors (and leaders) of English language education. The minor includes six core courses, one elective, and more than 60 hours of practicum experience working with trained education professionals in preK-12 and adult education.
Explore World Languages and Cultures
Learning Outcomes
Speak and understand Spanish at the Intermediate High level or better as detailed in the ACTFL Proficiency Guidelines.
Read and write in Spanish at the Intermediate High level or better as detailed in the ACTFL Proficiency Guidelines.
Demonstrate cultural proficiency in cultures that use Spanish.
Discuss in both spoken and written Spanish, literary and visual texts or cultural artifacts of the target culture.
Conduct and produce research in Spanish.
Demonstrate understanding of second-language acquisition and the history of foreign-language pedagogy (education majors only).
Demonstrate the ability to apply understanding in practice teaching situations and to analyze and critique the teaching of others (education majors only).
Karen C. Williams Scholarship
Karen Williams, Ph.D. was a beloved member of the Department of World Languages and Cultures for 23 years. The scholarship, established by her family in her name, seeks to support students who have a passion for studying language and culture with a goal of making the world a better place. The $1,000 scholarship is awarded to junior Spanish education majors, Spanish major, or Spanish minor (preference in that order) who demonstrates academic excellence and commitment to this field. Students may apply for the Karen C. Williams scholarship in the fall of each year. For more information, please contact Dr. Alice Edwards at aedwards@mercyhurst.edu.
Oral Proficiency Interview
All language majors sit for the Oral Proficiency Interview in their senior year. The OPI is an independent evaluation of a student's language proficiency level by an outside evaluator. Students can use the OPI rating, which is recognized internationally, on their resumes and employment or graduate school applications.
Sophomore Review
Early in the spring semester of the sophomore year, the department reviews the student's academic record, their language portfolio, and recommendations from professors to determine academic progress. At this time, students are formally invited into the major and are informed in writing of the department's decision.
Course Spotlights
An introduction to the culture and history of Spain. Literature, lecture, film, and art introduce the student to geography, history, and cultures of Spain as well as contemporary issues such as regionalism, immigration, and the membership in the European Union which are shaping contemporary Spain.

An upper-intermediate seminar that will use lecture, readings, movies, and lively discussion to examine how gender and ideas of femininity and masculinity have been constructed in Hispanic cultures throughout the present day, with particular attention to the historical, social, and cultural roots of women's present-day realities in Spain, Latin America, and Hispanic communities in the U.S.

Students will hone their skills in composition, writing descriptive, narrative, expository and argumentative essays. Students will examine several basic differences in the structure of Spanish and English languages before addressing problems of translation.

This course examines the different varieties of Spanish spoken in the United States, from a sociolinguistic and cultural perspective. We will discuss linguistic, cultural and historical differences across dialects of Spanish (Cuban, Mexican, Nicaraguan, etc.) and across regions of the U.S. (Northeast, Southwest, etc.); the role of language contact with English on language change, language/cultural maintenance and language loss; language identity; language policy; and how Spanish is perceived across the U.S., while also exposing students to authentic U.S. Latino culture.
Contact Us
Alice Edwards, Ph.D.
Chair, Department Anthropology and World Languages
Office: Preston 206
Meet the Faculty
World Languages and Cultures