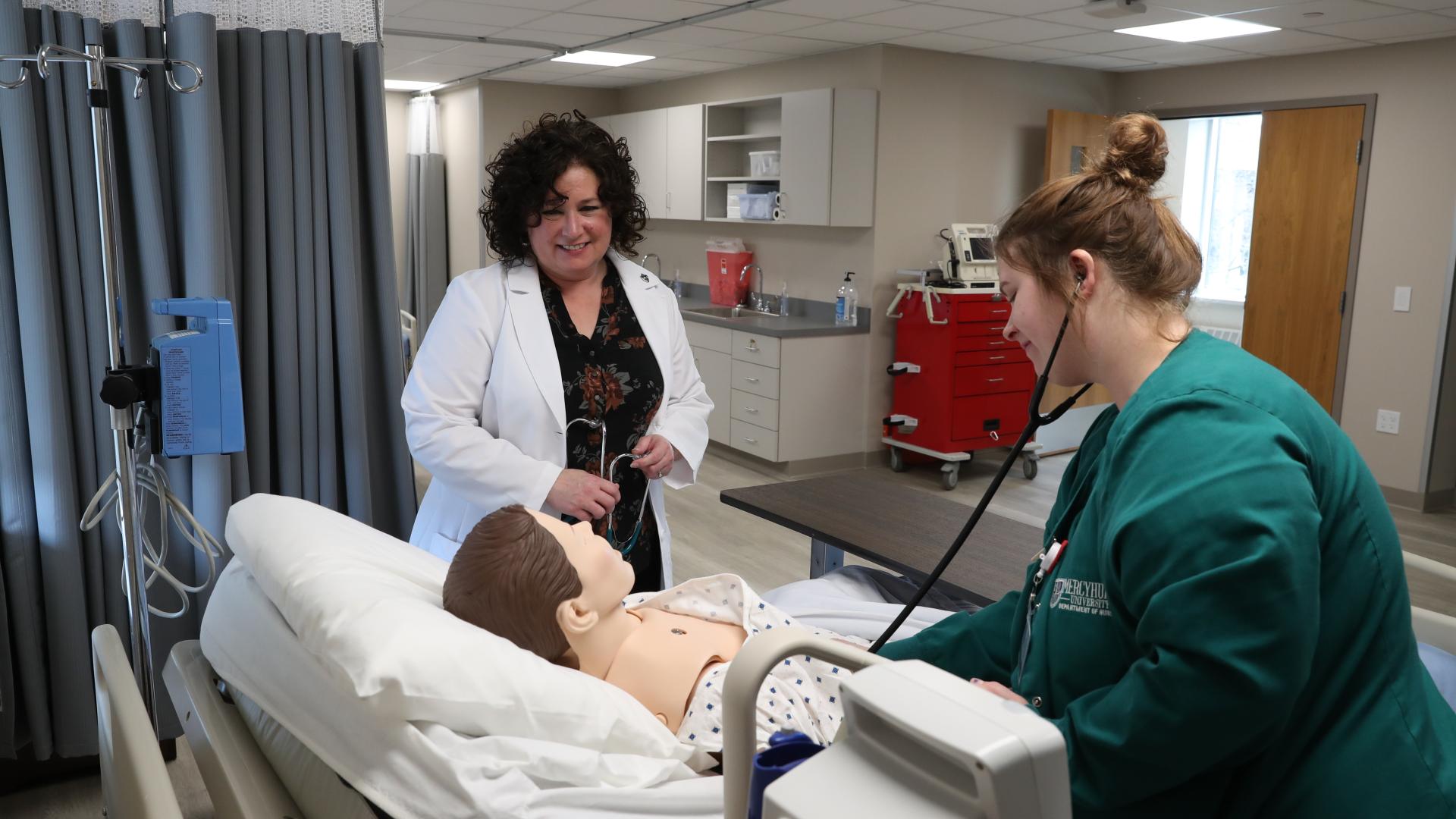 Nursing (RN to BSN)
Bachelor's Completion Program
If you're a registered nurse (RN) with an associate degree in nursing or diploma in nursing, a BSN from Mercyhurst will prepare you to deliver enhanced outcomes for your patients and advance your career as a clinician, manager, educator or scholar. Mercyhurst's blended RN to BSN program combines online courses with in-person learning, making for a flexible program that works with your schedule. With a new discounted tuition rate, plus tuition benefits for employees of certain area hospitals, there's never been a better time to build on your education and experience and earn your BSN!
Program Overview
The RN to BSN completion program is a flexible option for registered nurses who wish to earn their Bachelor of Science in Nursing degree in two additional years. As part of our professional identity, we value interdisciplinary collaboration and teamwork to promote effective communication and shared decision-making. We believe nurses use information and technology to communicate, access resources, promote patient safety, and engage in continuous quality improvement. Professional nurses adhere to the established standards of practice and are accountable within the legal and ethical framework of the profession. Inherent in this is the belief that professional education is a continuous life-long process necessary to integrate the best current evidence for clinical practice. In keeping with the core values of Mercyhurst University, we believe nurses are ambassadors of service demonstrating the values of social mercy, global responsibility, intellectual creativity, and reflective awareness.
We believe learners are self-directed and build on prior knowledge and life experiences. Learning is facilitated by various teaching strategies which consider individual learning preferences and varied teaching and educational methodologies, including synchronous and asynchronous distance learning. The faculty encourages and supports the spirit of inquiry to challenge the status quo and question underlying assumptions.
Fast Facts
Your online experience includes opportunities to interact with classmates and professors in real time through applied projects, review sessions and presentations.
You'll be a full Mercyhurst student, with the same access to the university's amenities, library system, writing center, career services, health services, etc., as a traditional student.
Whether you're attending class meetings in person or online, you'll benefit from a supportive atmosphere and meaningful connections with your peers.
Balancing Work, Family, and Education
Earning a BSN is a major step in advancing your nursing career, and we understand that fitting coursework and study time in your schedule can be a challenge. Mercyhurst's RN to BSN program strives to accommodate working nurses, with online coursework and class meetings structured to work around your schedule, leaving you time for family and career commitments.
Students and professors in the program benefit from the close-knit community and sense of camaraderie in our department. Each student will have the support of an experienced full-time Mercyhurst RN to BSN professor to advise and mentor you throughout your time in the program. We'll get to know you as an individual—your strengths and challenges, and personal and professional goals—as we work together to make the most of your time at Mercyhurst.
More and more hospitals are requiring the majority of their Registered Nurses to be educated at the BSN level. In fact, the Institute of Medicine's reports recommend the nursing profession increase the number of nurses with a BSN to 80 percent. The report found that BSN-prepared nurses are better equipped to handle the increasing complexity of 21st century nursing care. In The Impact of Education on Nursing Practice, The American Association of Colleges of Nursing (AACN) cites a number of studies that demonstrate better nursing education is linked to better quality of patient care.

Applicants for the RN to BSN completion program must have an unencumbered RN license (any state), all official transcripts from accredited higher education institutions, and an Associate of Science in Nursing (ASN) degree OR diploma.

Employ strategies to minimize risk of harm to individuals, groups, and communities by methodically addressing system problems in health
Integrate best current evidence with clinical expertise and patient (and their family) preferences and values for the achievement of quality nursing and patient outcomes.
Function effectively within nursing and inter-professional teams, fostering open communication, mutual respect, and shared decision-making to achieve quality patient care at the individual and group
Utilize technology and innovation that supports evidence-based decision-making, the management of information, and safe, quality patient care.
Engage in nursing actions that reflect integrity, caring, advocacy, and a commitment to influence evidence-based practice to improve the care of diverse patient populations.
Demonstrate a knowledgeable, holistic, caring, and culturally aware professional demeanor with patients, families, and communities across all care settings.

Mercyhurst REACH and outREACH (39 credits)

Some major requirements may also fulfill components of the REACH curriculum.The RN to BSN curriculum builds on the student's associate degree or diploma in nursing and requires a total of 120 Credits. All previous student transcripts will be reviewed, and the student may need to take specific liberal arts courses to fulfill the REACH curriculum. Each student will be advised of specific requirements at the beginning of the program.
 

Nursing (BSN) Major Core Courses (8 courses; 31 credits)

NURS 300: PROFESSIONAL ADVANCEMENT (3 credits)
NURS 301: RESEARCH & EVIDENCE-BASED PRACTICE (4 credits)
NURS 302: INTRODUCTION TO NURSING INFORMATICS (3 credits) 
NURS 303: THE EXPERIENCE OF CHRONIC ILLNESS (3 credits)
NURS 400: HEALTH PROMOTION & PREVENTION (3 credits) 
NURS 401: NURSING IN THE COMMUNITY (6 credits) 
NURS 402: MULTI-CULT & GLOBAL PERPSP HLTH CARE (3 credits) 
NURS 404: LEADERSHIP IN NURSING (6 credits)

The RN to BSN program at Mercyhurst University is accredited by the National League for Nursing Commission for Nursing Education Accreditation (NLN CNEA) located at 2600 Virginia Avenue, NW, Washington, DC 20037. 202-909-2487.

Image
Nursing Facilities
Our recently renovated nursing space on Mercyhurst's campus in Erie, Pennsylvania, houses one of the best nursing facilities in the region. Two clinical skills labs provide the abilities necessary for you to have a safe transition from classroom learning to a real-world setting. You'll practice critical nursing skills using computer-controlled mannequins, medical equipment, task trainers, and low-fidelity mannequins in the clinical skills lab. Our simulation suite contains high-fidelity mannequins, debriefing rooms, video-recording equipment, and medical equipment that closely mimics the clinical environment.
Contact Us
Michael Meyer, MBA, MSN, RN, PHRN
Chair, Department of Nursing