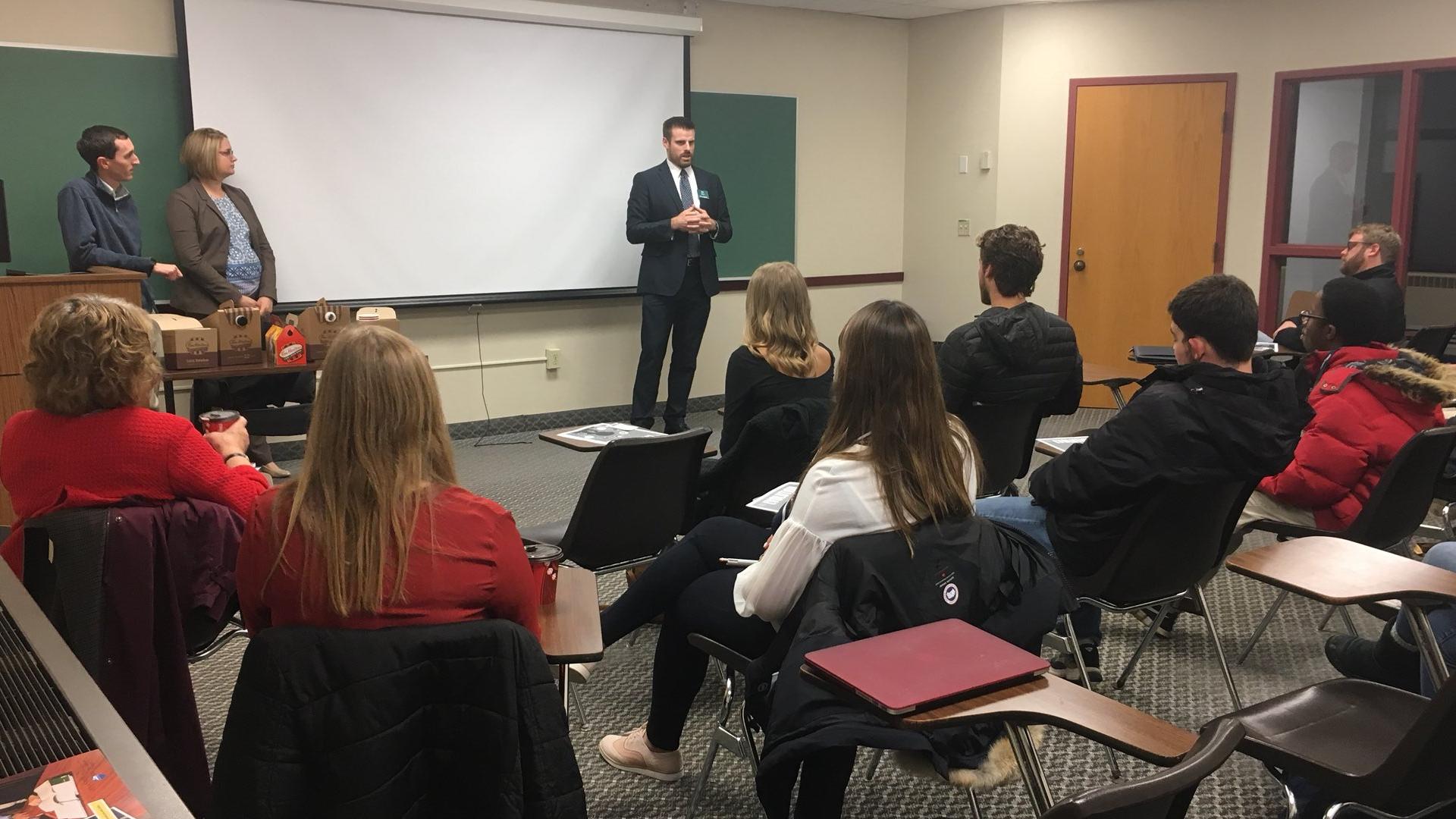 Human Resource Management
A Human Resource Management degree qualifies you to work in virtually every industry since every business needs strong human resource leaders. Every organization needs strong human resource leaders to administer and oversee programs that benefit employees, as well those to manage the fast-changing, complex employment laws. From determining staffing needs, to recruitment and training, to keeping employee records, overseeing benefits, and managing compensation, HR managers play an integral role in business. As the demand rises for HR managers, so does the competitive nature of these positions. That's why the people best poised to land these types of jobs are college graduates, especially those with bachelor's degrees in human resource management. Students who graduate with a major in Human Resource Management will be able to provide their skills, knowledge and understanding of human resource functions to organizations in the for-profit, nonprofit, and public sectors of the workforce.
Fast Facts
Mercyhurst's Human Resource Management program is currently aligned with the Society for Human Resource Management (SHRM) and has been approved for an additional four years of alignment by SHRM, through 2025.
Graduates can earn advanced credentials in HR. After gaining at least one year of field experience, graduates of the HR program may qualify to sit for the Society for Human Resource Management (SHRM) Certified Professional (CP) certification exam. After four years, HR personnel may sit for the Senior Certified Professional (SCP) certification exam.
According to the U.S. Bureau of Labor Statistics, the job outlook for human resource managers will grow faster than average — by 6% each year for the next decade. The bureau reports a median salary of $121,220 per year for human resource managers. Human resource managers and recruiters are the fastest growing jobs in Human Resources for recent years.
Human Resource Management students have held internships at corporations and organizations such as Modern Industries, Country Fair Corporate Headquarters, Chautauqua Institution, and Peek n' Peak Resort, Federal Resources Corporation, Erie Homes for Children and Adults, Constellation Brands, Westlake Woods Assisted Living, MacLean-Fogg Company, Scott Enterprises, Caplugs, and Aramark.
According to careerbuilder.com, Human Resource Management is one of the most in-demand careers to pursue once you have a college degree.
Program Overview
The Human Resource Management program at Mercyhurst offers an environment with smaller class sizes that encourages more discussion and engagement between students, allowing for more individual attention and the opportunity to complete more involved exercises and projects. Some examples of the projects that are undertaken by students in Human Resource Management classes include:
Writing a job description for their ideal position with the tasks, duties, and responsibilities required of the job, as well as the knowledge, skills, and abilities candidates must possess. Students then develop a real recruitment advertisement for the position and advertise it appropriately.
Creating a personal LinkedIn profile following preset requirements to join groups, connecting with others, and networking.
Planning and writing a training program which includes selecting the topic of the training, choosing presenters/speakers for the keynote and break-out sessions, picking a training facility, and planning each event, including the type of seating and training materials to be used. 
Forming a budgeted training event at a specific facility for their given firm's employees, with selections of real-world facilities such as the Marriott City Center in Pittsburgh, Pennsylvania, or the Kimpton Hotel Wilshire in Los Angeles, California. Students plan all aspects of the training from obtaining nationally recognized speakers, planning general and break-out sessions, and organizing seating and food arrangements. 
Students in the program are also given the opportunity to attend conferences with faculty, including recently the Society for Human Resource Management Conference, the Women in Leadership Conference, and the Diversity in Leadership Conference.
Business Core Curriculum
The defining element of a Mercyhurst business degree is a series of core courses that all business majors take, which provide a curriculum designed to foster well-rounded business leaders through hands-on learning in a variety of disciplines. Business students will build a foundation in six different areas of study, which prepares our graduates to be adaptable, collaborative leaders that are ready for today's market. Adding a double major or minor in another area can also add marketability across industries! 
In the Classroom
Image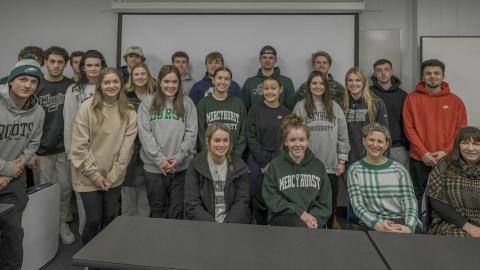 Raychel Adiutori, Senior Marketing Communications Specialist at Erie Insurance Group, a local Fortune 500 company. Adiutori visited Assistant Professor Kimberly Zacherl's Principles of Marketing class to help students bring course material to life. She discussed her diverse professional background, including her experiences as a former reporter and news anchor, and provided students with examples of her advertising and branding work for Erie Insurance. Adiutori also presented a variety of advertising methods, including YouTube, TikTok, blogs, and various public relations techniques.
Minors
The minor in business administration is open to non-business majors only. This minor includes eight courses (24 credits) designed to prepare students with general knowledge of the world of business, along with the communication skills and decision-making tools needed to succeed in business.

No minor course may be taken on a pass-fail basis, and students must earn a minimum GPA of 2.75 in the required business courses to meet minor program requirements.

Minor Requirements

ACCT 101: Principles of Accounting I/Financial
ACCT 102: Principles of Accounting II/Managerial
BADM 310: Business Law I
ECON 105: Macroeconomics
ECON 106: Microeconomics
FIN 280: Financial Management
MGMT 120: Principles of Management
MKTG 162: Principles of Integrated Marketing
 

HRMG 206: Human Resource Management (3 credits)
HRMG 300: Compensation and Benefits (3 credits)
HRMG 316: Labor and Management Relations (3 credits)
HRMG 340: Recruitment and Selection (3 credits)
HRMG 345: Training and Development (3 credits)
MGMT 120: Principles of Management (3 credits)
 

Choose one (1) additional course:

BADM 310: Business Law I (3 credits)
BADM 325: Business Law II (3 credits)
MGMT 226: Human Behavior in Organizations (3 credits)
HRMG 475: Human Resource Management Internship (3 credits)
PSYC 294: Industrial Organizational Psychology (3 credits)
Contact Us
Kim Zacherl, MBA, SPHR, SHRM-SCP
Program Director, Human Resource Management
Office: Preston 324