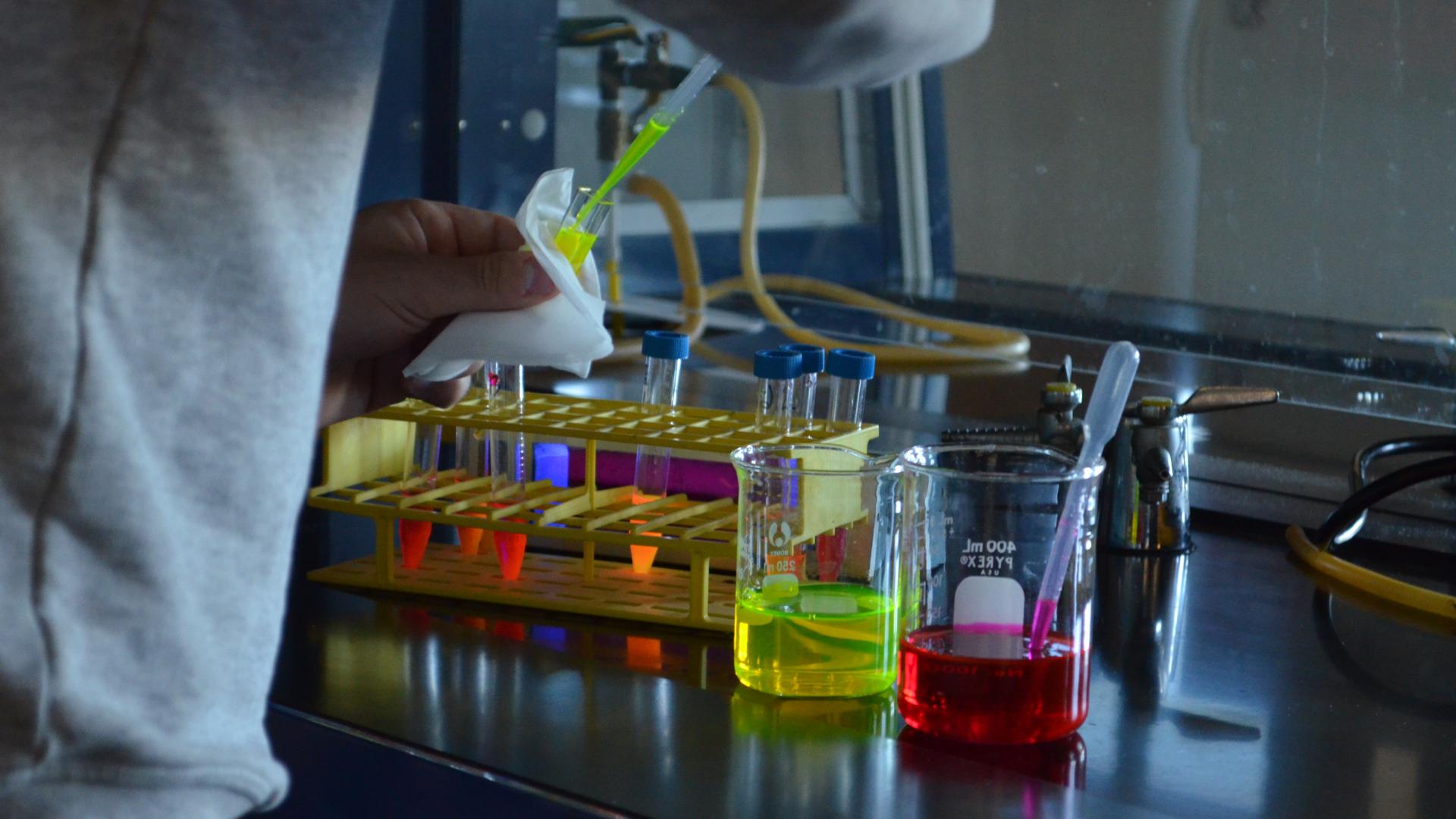 Chemistry & Biochemistry
Bachelor of Arts & Bachelor of Science
Further your scientific curiosity.
Chemistry plays a role in virtually every part of the scientific process. If you're curious about the chemical reactions, molecular structures and biochemical processes that underlie our world and everything in it, discover the study of Chemistry or Biochemistry at Mercyhurst! Accredited by the American Chemical Society, our programs take you from the basics in chemistry, mathematics and physics through advanced organic and inorganic chemistry, experimental physical chemistry, instrumental analysis or chemical biology.
As a Chemistry or Biochemistry student, you'll hone independent reasoning skills and problem-solving abilities. In addition to content knowledge and laboratory skills, we focus on transferable skills such as research analysis, searching scientific databases, written and oral communications, and teamwork. This ensures you'll graduate with opportunities not only in chemistry or biochemistry, but virtually every other field as well.
Our department houses three majors: a Chemistry Bachelor of Arts, a Chemistry Bachelor of Science, and a Biochemistry Bachelor of Science. Minors in Chemistry or Biochemistry are also available. Please review the Course Catalog under Resources at the bottom of this page for a detailed breakdown of the required courses for each program.
Fast Facts
All Chemistry and Biochemistry students participate in research and one-on-one training with a faculty member.
Mercyhurst has affiliations with LECOM (Medicine 4+4, Pharmacy 4+3, Dentistry 4+4) and PCOM (Medicine 4+4), which would be ideal for Biochemistry majors interested in the health professions.
For students interested in teaching chemistry at the secondary school level, the Chemistry Education certification includes a segue to our online Master of Science in Secondary Education, which is available as a 4+1 program.
Our accreditation by the American Chemical Society (ACS) means that all degrees earned from the department are ACS-accredited.
Minors
To apply for a Biochemistry Minor, please contact a faculty member in the Department of Chemistry and Biochemistry. A student must accrue at least 27 credit hours in the minor before graduation. All courses must be taken for a letter grade and completed with a C or better. No more than five courses in the Biochemistry Minor may be the same as those required within a student's major curriculum.

To apply for a Chemistry Minor, please contact a faculty member in the Department of Chemistry and Biochemistry. A student must accrue at least 25 credit hours in the minor before graduation. All courses must be taken for a letter grade and completed with a C or better. No more than four courses in the Chemistry Minor may be the same as those required within a student's major curriculum.
Certifications
The Chemistry Education program at Mercyhurst University is a two-step process designed to give students a strong content knowledge before they master the pedagogical tools necessary to become expert teachers at the secondary level. Students interested in the program will first pursue a BA or BS degree in Chemistry, and then a Master of Science in Secondary Education: Pedagogy and Practice. For more information, click here.
Chemistry and Biochemistry students graduate with the scientific backgrounds to succeed in a number of scientific disciplines, as well as the transferrable skills needed for careers in business, education, or intelligence-related fields.

Over the past five years, our majors have gone on to great things!

38 percent are in Ph.D. programs in chemistry, biochemistry or a related field at institutions including the University of Wisconsin-Madison, Texas A&M, University of Southern California, University of Georgia, Georgia Tech, University of West Virginia, University of Pittsburgh, Florida State University, University of Florida, Ohio State University, and Case Western Reserve University.
34 percent are in graduate-level health professional programs (M.D., D.O., pharmacy, dentistry, physician assistant) at institutions including LECOM, Mercyhurst University, University of West Virginia Temple University, University of Pittsburgh, and University of Buffalo.
17 percent are in master's programs in other disciplines (secondary education, forensic science, intelligence, MBA programs) at institutions including Mercyhurst University, Townson University, and West Virginia University.
3 percent began careers in chemistry-related fields with employers such as Lord Corp.

Recognized in the Journal of Chemical Education, our approach to student research experiences ensures students have the prerequisite knowledge and faculty guidance to conduct quality, thoughtful projects. Our curriculum prepares you with information literacy skills, safety and ethical considerations, and research design abilities before giving you the opportunity to work closely with a faculty member on an original project.

Recent research projects include:

Synthesizing molecules and testing them for their ability to modify bacterial behavior
Testing combinations of chemotherapies on breast cancer cells for synergistic effects
Monitoring pollutant levels in Lake Erie
Building computer models of chemical systems 
Analyzing natural products from a variety of plant sources
Students are encouraged to present their research at national and regional conferences, such as:

American Chemical Society National Meetings

American Society of Biochemistry and Molecular Biology National Meetings
Pennsylvania Academy of Sciences Meetings
Sigma Xi Regional Meetings

And publish in peer-reviewed journals, including:

Journal of the Pennsylvania Academy of Sciences
Journal of Chemical Education

Facilities

Most of our labs have 16 or fewer students, and many also have undergraduate teaching assistants to make sure that each lab student gets the guidance they need to learn the modern techniques and concepts featured in our lab courses.

General Chemistry Lab

Our lab space for introductory chemistry courses includes an open floor plan with comfortable amounts of bench space for groups of students to work through experiments. The lab also includes fume cabinets for working with volatile chemicals, and the space is supplemented with a variety of specialized pieces of equipment for specific labs.

Organic Chemistry Lab

Organic labs take place in a dedicated room with 8 modern fume hoods that can easily accommodate 2 students working side-by-side on their experiments. The lab also has two demonstration hoods - 1 for prep work, and 1 for the rotary evaporator (rotovap). The lab is conveniently located near the NMR, GC-MS, and chemical storage areas.

Biochemistry Lab

The biochemistry lab was recently renovated to a dual use space that allows it to double as a classroom for upper division seminar courses, or for combined lab/lecture activities. The space includes all of the traditional aspects of an undergraduate biochemistry lab, but is also located adjacent to the departmental stock room and the biochemistry research space.

Instrumentation

The department of chemistry and biochemistry currently houses the following instrumentation upon which students are trained in their coursework and are used extensively in student-centered research. These instruments are used continuously in Organic Chemistry, Biochemistry, Instrumental Analysis, and Quantitative Analysis

Atomic Absorption Spectrometer - Accusys 211

The AA is used primarily for the identification and quantification of metals in samples. Our AA is equipped with lamps to detect most metals including Hg and Pb.
Electrochemistry. The Chemistry and Biochemistry Department now has the capability to perform electrochemical analysis with the addition of a VersaStat III potentiostat with a computer interface.

Calorimeter

The calorimeter is used to measure the combustion energy of chemical samples. We have an IKA C200 calorimeter that is used in our Thermodynamics course and for research.

Dynamic Light Scattering (DLS) Spectroscopy

The DLS spectrometer is used to determine the size and abundance of colloidal solutions containing matter ranging in size from 4 nanometers - 2 microns in diameter. The instrument has a temperature-controlled sample compartment with a working range of 5 - 70 degrees Celsius. DLS is commonly used in the fields of materials chemistry and biochemistry for determining the sizes of nanoparticles and proteins under variable solution conditions.

Fourier Transform Infrared Spectrophotometer (FTIR)

The spectrometers are used primarily for structural identification of pure compounds in the solid, liquid or gaseous states. They are useful for determining the functional groups present in a pure compound and their chemical environments. Our PerkinElmer Spectrum 1 FTIR is equipped to handle a variety of samples. The Attenuated total reflection accessory (which may soon become a standard in the drug industry) facilitates the analysis of small solid samples.
UV-Vis Spectrometers

We currently have a Thuramed T60 UV-Vis Spectrometer with UVWin software to perform quantitation, kinetics and DNA purity tests. In addition, three Shimadzu 1201 spectrometers are equipped with kinetics and quantitation software programs.

Fourier Transform Nuclear Magnetic Resonance Spectrometer (FT-NMR)

The NMR is the preferred method for the precise structural determination of organic molecules. For this reason, its use is widespread in structural determinations. Our department uses an Anasazi EM 360 Fourier Transform Nuclear Magnetic Resonance Spectrophotometer (FTNMR). The wideband probe upgrade allows us to investigate a range of nuclei (such as Si, C, N, P, Al).

Gas Chromatograph and Gas Chromatograph/Mass Spectrometers (GC/MS)

Hewlet Packert 5890 Gas Chromatograph with 5970 mass selector (GCMS)
PerkinElmer XL Gas Chromatograph (FID)with HS40 autosampler for headspace analysis
HP5890 Gas Chromatograph with Flame Ionization detector (GCFID)

The GC/MS is an instrument that is used to separate and "fingerprint" components in complex organic mixtures. A typical application for the GC/MS would be for the identification and quantification of a specific compound in a mixture. For this reason, the GC/MS is used widely in the analysis of drugs and for matching specific compounds to known libraries. GC/MS or GC with an electro capture detector (ECD) is the currently accepted method for detecting polycyclic biphenyls (PCBs) in environmental water samples. An ECD detector usually comes standard on most research-grade instruments and may be easily interchanged with a flame ionization detector (FID) for additional analytes.

HPLC-Waters 1525

The HPLC separates and identifies compounds in mixtures in the liquid state. Much like the GC-MS, its applications include the identification and quantification of substances in mixtures. HPLC is the most commonly accepted instrument for environmental water analysis involving polyaromatic hydrocarbons (PAHs); our instrument is capable of detecting these hazardous compounds to the parts-per-billion level in water. Our HPLC system is equipped with a Photodiode Array (PDA) (Waters 2296) with Binary pump system and Empower™ software. The columns include C18 and Princeton SpherC30 Reverse Phase as well as a Spherisorb that is organic and salt compatible.

Raman Spectroscopy

The Raman Systems R-3000-785 Raman spectrometer was purchased with aid from the Pittsburgh Conference Memorial National College Grant fund. This portable Raman spectrometer is an additional tool in the structural analysis of compounds and allows for the identification of samples with very little sample prep.

Students and faculty in the Department of Chemistry and Biochemistry look out for one another and encourage each other's' successes. This sense of camaraderie, along with our small class sizes, encourages valuable one-on-one interactions and mentoring relationships between students and faculty. Each student has a faculty advisor for academics and a faculty advisor for research.

The on-campus Chemistry and Biochemistry Club hosts fun events throughout the year, as well as outreach events in regional schools.

Recently, our department competed in a campus-wide "Lip Dub Challenge" competition, with great success!
 
Contact Us
Ronald Brown, Ph.D.
Chair, Department of Chemistry/Biochemistry
Office: Zurn 305
Meet the Faculty
Chemistry and Biochemistry