Mercyhurst takes Bomba on the road to celebrate Hispanic Heritage Month
Thursday, September 30, 2021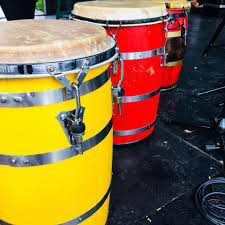 Mercyhurst takes bomba from campus to the Erie community as it celebrates the rich culture and varied contributions U.S. Hispanics have made to the nation during Hispanic Heritage Month Sept. 15-Oct. 15.
Bomba con Buya, a Chicago-based Puerto Rican group, will give a workshop on traditional bomba music and dance at Mercyhurst's Taylor Little Theatre on Thursday, Oct. 7, at 7 p.m. Then, on Friday, Oct. 8, at 7 p.m., Bomba can Buya will perform at the Martin Luther King Center, 312 Chestnut Street, as part of the Mercyhurst Institute for Arts & Culture's (MIAC) community outreach program. Both events are free and open to the public.
Bomba dates back to the early European colonial period in Puerto Rico and is one of the oldest traditions on the island, said Dr. Alice Edwards, chair of the Department of World Languages and Cultures. Its roots stem from musical traditions brought by enslaved Africans for whom bomba music was a source of political and spiritual expression. Bomba is still a vibrant and important art form in Puerto Rican communities, fostering a sense of community and identity, she said.
The event is sponsored by the Hafenmaier College of Humanities, Arts, and Social Sciences, MIAC, the Office of Mission Integration, the Office of Student Life, and a generous donation to the Department of World Languages and Cultures by alum Sara Jaecks '04.