Twenty years of Fulbright gives Mercyhurst language, cultural clout
Tuesday, October 04, 2022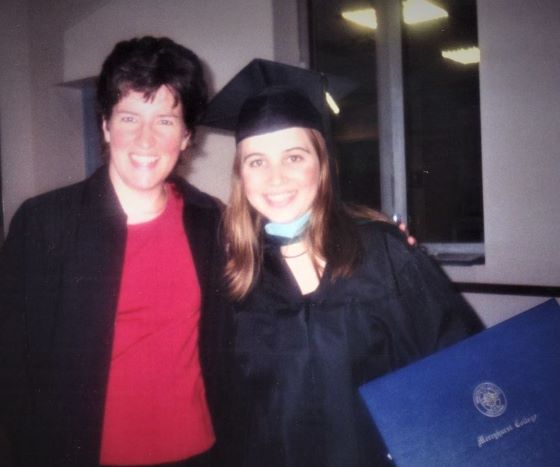 Ulviye Sener, Mercyhurst University's first Fulbright Foreign Language Teaching Assistant (FLTA), was in for a surprise when she left Turkey for Erie. As a FLTA, she fully expected to tutor Mercyhurst students in Turkish, teach two classes in her native language, and even host cultural events.
What she wasn't sure of was what classes she would take. A requirement of her Fulbright assignment was that she not only teach but take university courses. She decided she would pursue a master's degree but, at the time, Mercyhurst had few offerings. Knowing little about Special Education, but thinking it might be interesting, she enrolled.
That was 20 years ago. Today, Sener is a regional expert on dyslexia in Turkey who still publishes with her mentor and chair of Mercyhurst's graduate program in Special Education, Dr. Phillip Belfiore.
That's just one of the many enduring professional and personal relationships forged at Mercyhurst through Fulbright during the past two decades, said Dr. Alice Edwards, chair of the Department of World Languages and Cultures. From the beginning, Edwards has overseen the program and the more than 40 FLTAs it has welcomed to Mercyhurst from countries like France, Spain, Morocco, Tunisia, Jordan, Iraq, Libya, Egypt, Mexico, Russia, Turkey, and Taiwan. 
"Because of Fulbright, we've been able to support a wider range of language and related cultural offerings than any other university in our region," Edwards said. "Having FLTAs has enriched our students' academic experience and cultural awareness. Our FLTAs have opened doors to graduate schools and travel abroad opportunities for our students and provided them with contacts all over the world. Most of all, the program has created deep, rich relationships for students and faculty."
Besides Sener, another FLTA who comes to mind for Edwards is Ulises Ayala Vasquez of Mexico, who wasn't assigned to Mercyhurst originally but ended up here after being displaced by Hurricane Katrina. Or, Funda Bilgen of Turkey, whose tenure at Mercyhurst culminated in marriage to a man she met in Erie. Or, Kynnyey Innokentyeva of Russia and Fatiha Tachakourt of Morocco, who were quarantined on campus during the COVID-19 shutdowns of 2020 and had to wait until July to get flights home.
Then there was Natalia Krivosheeva of Russia. She made such an impression on Natalia Joseph '19 that Joseph later traveled to Russia to visit her.
For Joseph, who is Russian-born but grew up in Cleveland, seeing her birthplace as an adult forged a deep connection to her heritage. As for her mentor and friend, Krivosheeva, she put a human face on all Joseph had learned in class. 
"When I was in Russia visiting her family, it wasn't just her and my professors explaining that family was important in Russian society. I got to see it firsthand when her uncle and his family invited us over to go snowmobiling and eat cooked duck on Christmas," she said.
As a student, Joseph said she benefited immensely from the Fulbright program. "Fulbright is valuable because it provides that cross-cultural connection and adds the human element that you can't get from a textbook or film," she said.
This year, Mercyhurst welcomes three FLTAs: Kristina Smagina of Russia, now in her third year at Mercyhurst, Samira Bahadi of Morocco, and the university's first teaching assistant from Taiwan, Sharon Nien, who is teaching Mandarin and working with the Asian Studies program. 
While Mercyhurst already houses a robust language program, native speakers serve to enhance it. Plus, Edwards said, with "less commonly taught languages" like Arabic, Russian, and Chinese, the program provides even more choices for students. For instance, students from Intelligence Studies, Political Science, and Anthropology are eager to learn languages that support their majors. Students whose parents and grandparents came to the U.S. as immigrants take advantage of the opportunity to learn the language of their heritage. 
On the flip side, Mercyhurst has also produced Fulbright scholars, including Cole Lowe '18, who taught English in Argentina, Maya Bauer '20, who earned a Fulbright Open Study/Research Grant to investigate peatland degradation in rural Ireland, and Jack Kelly '20M, who earned the Fulbright-Schuman Antall József Brussels Award to do research in Brussels regarding the techniques used in open-source investigations by European Union investigators to track and follow nuclear material in black markets and on the Dark Web.  
PHOTO: Dr. Alice Edwards with Ulviye Sener of Turkey, Mercyhurst's first Fulbright Foreign Language Teaching Assistant, 20 years ago.