Tony nominee and MIAC favorite Melissa Errico headlines annual Summer Soirée
Thursday, May 18, 2023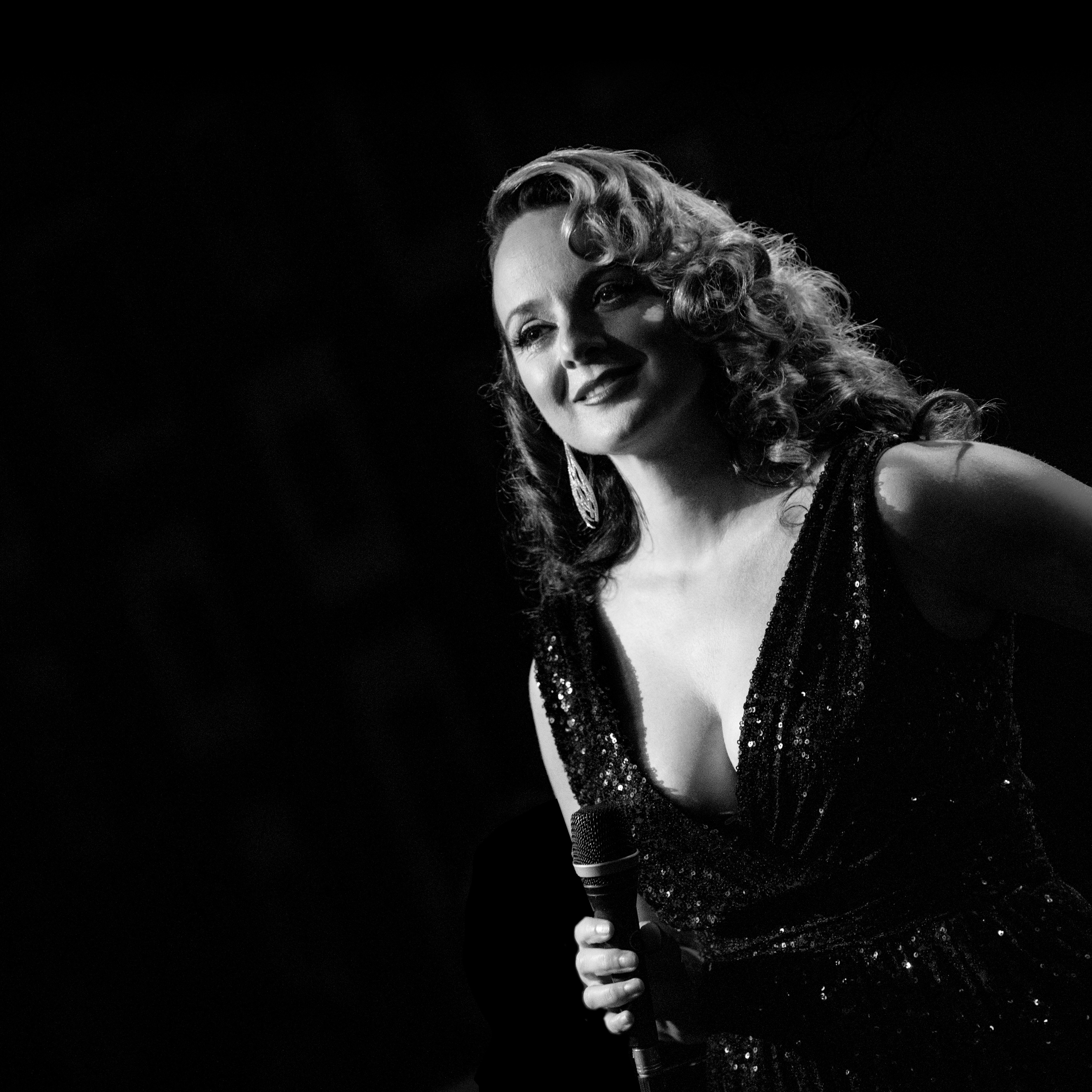 Tony-nominated Broadway singer, actress, recording artist, and author Melissa Errico returns to Mercyhurst University to headline the Mercyhurst Institute for Arts & Culture's annual Summer Soirée on Saturday, Sept. 9, at 7:30 p.m.
The New York Times opined that "any chance to hear her sing is a chance worth taking," and the late drama critic Terry Teachout summed it up by saying that "she's so sexy you won't believe your eyes and sings so beautifully you won't believe your ears and talks so charmingly you won't believe it's happening!"
Her Mercyhurst concert, titled "A Noir Romance," is yet another original evening from an international artist at the peak of her powers. Errico made her first Erie appearance in October 2020 when she joined MIAC Artistic Director Dr. Brett D. Johnson via livestream for a special hour-long program of songs and stories from her celebrated career. In April 2022, accompanied by longtime musical director Tedd Firth, she performed a ravishing concert on the stage of the beautiful Mary D'Angelo Performing Arts Center, captivating a crowd of MIAC supporters with Broadway, film, and jazz favorites by the multi-Oscar-winning composer Michel Legrand with additional songs by Cole Porter, Stephen Sondheim, Randy Newman, and others.
Errico is a Tony-nominated Broadway star—an actress, singer, and author who contributes regularly to The New York Times with humorous and illuminating essays on the performer's life. The Wall Street Journal recently referred to her as a "nonpareil cabaret singer" and BroadwayWorld said that "Melissa is piercing, probing, and at the absolute height of her vocal and interpretive powers. [She] reaffirms her status as one of the most intuitive musical theatre actresses of her generation."
Known across the world for her starring roles on Broadway—"My Fair Lady," "High Society," "Les Misérables," "Dracula," "White Christmas," "Anna Karenina," and "Amour"—Errico has long been celebrated by audiences and critics alike for her live concert and cabaret performances, as well as her award-winning recordings, including "Sondheim Sublime" ("the best all-Sondheim album ever recorded" – The Wall Street Journal). Her history with Sondheim began when he selected her to star as Dot in "Sunday in the Park with George" at The Kennedy Center. She has since co-starred as Clara in "Passion" at Classic Stage Company and as Leona in the New York City Center Encores! production of the Sondheim/Rodgers musical "Do I Hear a Waltz?" In April 2020, she sang "Children and Art" in the Sondheim 90th birthday concert "Take Me to the World," and was featured on PBS television in a documentary special in which she sang "Finishing the Hat" and discussed Sondheim and his lyrics with Adam Gopnik and Raúl Esparza for "Poetry in America." She is currently recording a second Sondheim album, due November 2023.
In addition to Sondheim, nothing in her work has been more constant than her association with composer Michel Legrand, whose work Errico sang in Paris twice this year in national broadcasts on France Musique. Having starred in his sole Broadway show, "Amour," she collaborated with Legrand on the iconic album "Legrand Affair." After his death in 2019, she was asked to write his eulogy by The New York Times and was then invited to be the sole American performer in the extraordinary two-day memorial to Legrand held in April 2019 at Paris' Le Grand Rex Theatre. Warner Music/Ghostlight Records reissued her symphonic album, which Legrand arranged and conducted, as "Legrand Affair (Deluxe Edition)." She is widely regarded as one of the best living interpreters of his work and continues to release unpublished material due to ongoing collaborations with lyricist Alan Bergman. 
Errico is ever-creating. At the height of the pandemic, with the world locked away in lonely rooms and only old movies to watch at midnight, Errico suddenly returned to one of her life-long obsessions—noir! Along with her collaborator Adam Gopnik, she curated a series of film noir classics at New York's FIAF, appeared in the New York Times with an essay on having a black sequined gown specially made to play the role of the femme fatale on stage, and offered Manhattan a concert of noir songs.
Her latest album, "Out of the Dark: The Film Noir Project" (Warner Music), brings together those threads in a single masterly sequence, a song cycle that offers an unforgettably sexy, sensual, and sophisticated arc, all black-velvet piano and vibraphone tones, telling a complete story of hope, despair, and hope renewed. In no sense a retro project, her choices reach from noir classics, like "Laura" and "The Bad and The Beautiful," into the French chansons of the fifties and sixties and includes the debut of four entirely new songs by Michel Legrand, David Shire, and the late Peter Foley, as well as Broadway music by Rodgers & Hart and songs from the musical "City of Angels"—all with arrangements by her sublime musical director, pianist Tedd Firth.
Errico has toured her noir concert to London, Paris, Singapore, and coast to coast in America, including a sold-out, week-long residency at Birdland Jazz Club in New York City, and an engagement with The Ronnie Scott's Band in London. Critics have called it "utterly phenomenal" and "a romantic evening with an edge."
Patrons can secure tickets to "A Noir Romance" and The Summer Soirée by joining The 501 or The Silver Circle.
The 501 and The Silver Circle are membership societies for patrons who wish to enhance their performing arts experience while also supporting the Mercyhurst Institute for Arts & Culture. Members enjoy exclusive benefits, including first access to tickets, premium seats at star-studded performances, private receptions, valet parking, and more.
One hundred percent of each 501 and Silver Circle membership supports MIAC's mission of strengthening the vibrancy of the Erie region through richly varied, inclusive cultural experiences.
"Our 501 and Silver Circle members are philanthropic leaders who cultivate and support the performing arts," said Johnson. "Their generosity enables us to bring world-class performing arts experiences to the Erie region, year after year, and to make those programs available to the broadest possible audience."
The signature 501 and Silver Circle event is the annual Summer Soirée. In previous years, members have enjoyed world-class performances from Max von Essen, Audra McDonald, Mike Super, Betty Buckley, and Nick Adams and Eden Espinosa, along with cocktails in the garden, a picnic in the park, and a street fair.
This year's Soirée is inspired by film noir: the sound of a lonely saxophone, the melancholy patter of midnight rain, the velvet black of a city at night, and one lonely—and very witty!—chanteuse in a strapless gown. Guests will enjoy noir-themed cocktails, hors d'oeuvres, and an intimate concert on the stage of the Mary D'Angelo Performing Arts Center. The program, titled "A Noir Romance," will include classic movie and Broadway standards—a night that is musically swinging, sexy, and soaring.
For more information about The 501 and The Silver Circle, visit the MIAC website.