Students sustain success of Mercyhurst Graphic Design program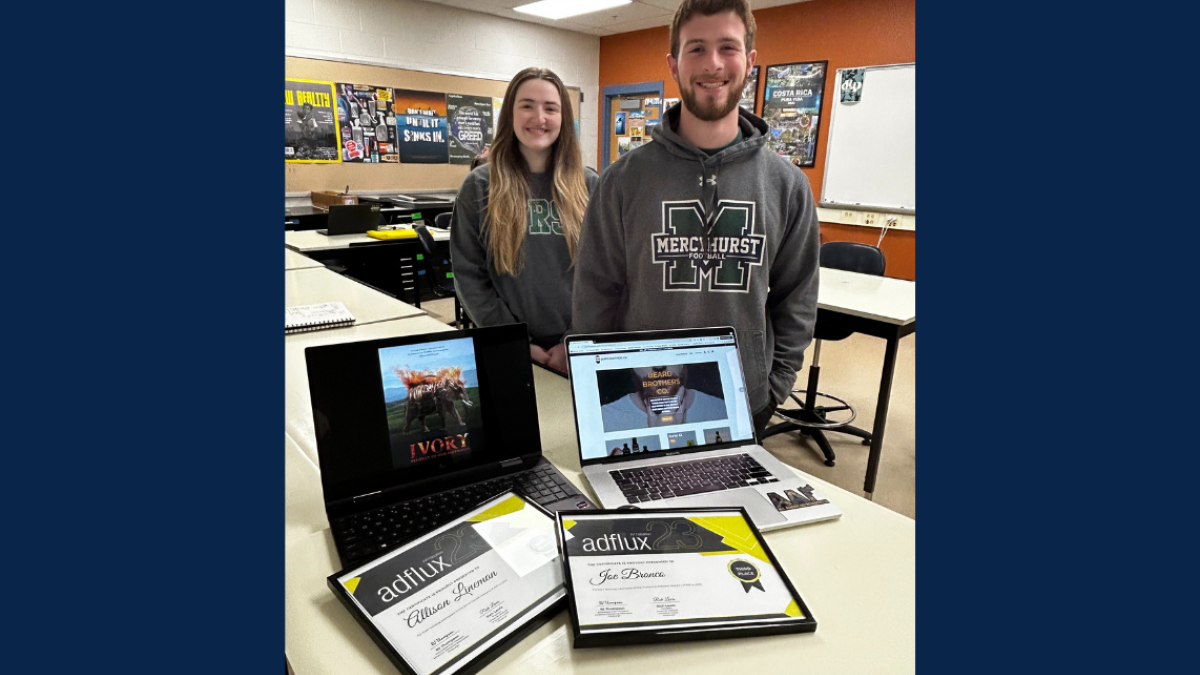 Two senior Graphic Design majors, Joe Bronco and Allison Lineman, came away winners in the recent 2023 AdFlux Intercollegiate Advertising and Design Competition.
In the category of "Websites," Bronco took third place for his website design for Beard Brothers Co., while in the category of "Social Causes," Lineman placed third for her activism poster, Ivory Belongs to Our Elephants. Both works were created in Peter Stadtmueller's Intro to Website and Digital Imagery courses, respectively.
The AdFlux competition is part of Pittsburgh Advertising Week, an event sponsored by a coalition of professional associations. The organizers judged more than 300 entries, including nine from Mercyhurst students.
"I'm so proud of the work Mercyhurst Graphic Design students do and to have it acknowledged by the Pittsburgh AIGA and AMA is tremendous," said Jodi Staniunas Hopper, dean of the School of the Arts. "The Adflux contest looks at submissions from Pennsylvania, West Virginia, Virginia, New York, and Ohio. It's nice to be a recognized contender in such a large arena."
Mercyhurst's Graphic Design program has another reason to be proud this month. Once again, it has been ranked #4 in the nation by CollegeChoice (Please scroll to bottom to see listing of top five programs.). The top schools are: University of Florida, Harding University, Judson University, Mercyhurst, and Michigan State University.
CollegeChoice measures weighted values such as a school's retention, affordability, and reputation in tandem with other assorted data to generate its recommendations and rankings.
Students pursuing the Bachelor of Arts in Graphic Design at Mercyhurst can take advantage of the university's state-of-the-art graphics lab, iMac computers, GoPro cameras, Adobe editing software, and 3D printer.
Graphic design students take courses such as basic computer design, typographic foundations, and digital imagery. The program's comprehensive curriculum integrates web and print design, which fosters versatile graduates. Students also consult with actual clients, providing a tangible community service while building robust professional portfolios. Mercyhurst graduates have worked for companies such as Wegmans, Dick's Sporting Goods, and L'Oréal.
"We're honored to be recognized for this quality program," said Staniunas Hopper. "Our students are fortunate to receive considerable input from industry designers and marketers as well as actual clients to help prepare them for the rigors of a design life. Our alumni success reflects their investment in the program plus their individual talents." 
 
PHOTO: Allison Lineman and Joe Bronco show off their award-winning entries.