Sennett Institute speaker to address inclusive spirituality at Mercyhurst Oct. 4
Friday, September 16, 2022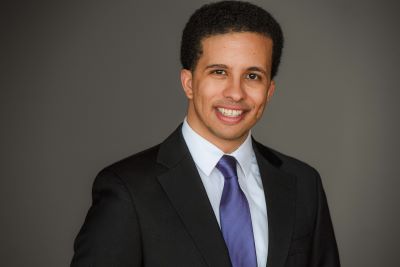 Dr. Andrew Prevot, associate professor of theology at Boston College, will bring his message of social justice and inclusion to Mercyhurst University on Tuesday, Oct. 4, when he delivers the annual lecture hosted by the William C. Sennett Institute for Mercy and Catholic Studies.
The lecture at 7 p.m. in Walker Recital Hall is free and open to the public. No tickets are required.
In his presentation, "Freedom and Wholeness: Howard Thurman's Inclusive Spirituality," Prevot explores how Christian spirituality can inform our commitments to social justice and practices of inclusion through a reflection on the life and work of Howard Thurman, a Black preacher, writer, and mystic.
Born and raised in the Jim Crow South, Thurman became a major spiritual leader of the Civil Rights movement and a mentor to Dr. Martin Luther King, Jr. He dedicated his life to the pursuit of nonviolent resistance, interreligious dialogue, and racial justice. 
"Prevot suggests that Thurman's spirituality has many lessons to teach us about creating diverse and inclusive communities today," said Dr. Elizabeth Pyne, Sennett Institute director and assistant professor of Religious Studies.
Prevot earned his doctorate in philosophy and his master's in theological studies from the University of Notre Dame, and graduated summa cum laude with a bachelor's degree from The Colorado College, where he studied philosophy and history.
He is the author of "Thinking Prayer: Theology and Spirituality amid the Crises of Modernity" (2015), "Theology and Race: Black and Womanist Traditions in the United States" (2018), and "The Mysticism of Ordinary Life: Theology, Philosophy, and Feminism" (forthcoming), along with numerous essays on topics in spiritual, philosophical, and political theology.
He is also a sought-after speaker, having given presentations across the United States and internationally, including engagements in Belgium, the United Kingdom, Switzerland, Austria, and Italy.
For more information, contact Dr. Elizabeth Pyne at epyne@mercyhurst.edu.