Public History pair pursues 'capstone experience of a lifetime'
Monday, December 05, 2022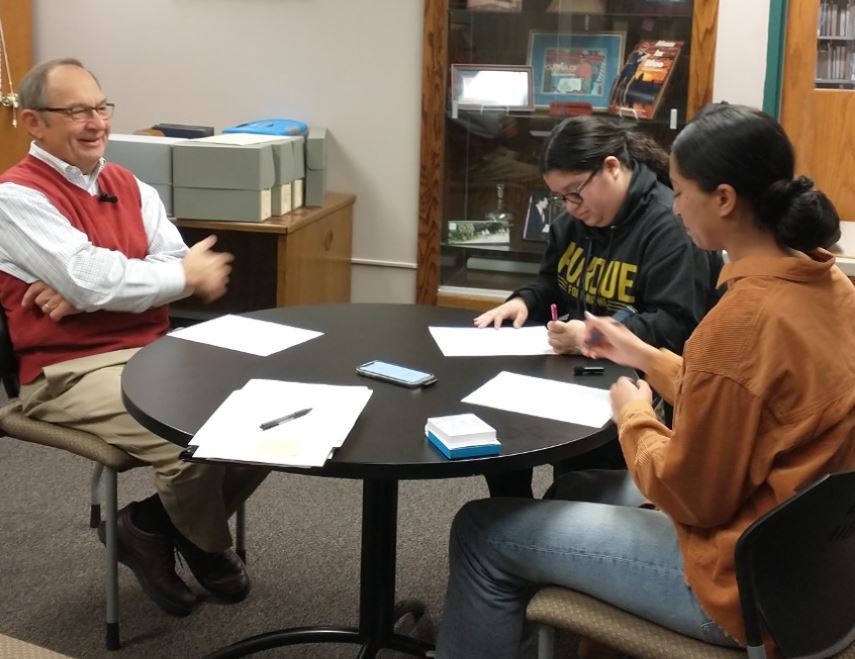 It's not every day that Mercyhurst University students get to play a vital role in preparing for the university's centennial, which will be celebrated in the 2026-2027 academic year. But, for Public History students Lily Smith and Isabella Lee, their senior capstone project affords just that opportunity.
In an undertaking that is as unique as it is historic, Smith and Lee are collecting oral histories from key individuals who, during their decades-long tenures at Mercyhurst, were catalysts in advancing the university. The students have completed interviews with Allan Belovarac, Tom Billingsley, and Pat Weschler. The pair is scheduled to interview Sheila Richter this month.
The project is an initiative of the historical subcommittee of the Mercyhurst Centennial Task Force, established by President Kathy Getz in 2021. Subcommittee Chair Chris Magoc said when all the interviews are completed, they will be added to the more than 40 oral histories created by the late Larie Pintea, managing editor of the former Erie Morning News.
"The Mercyhurst history and memories being offered by our interviewees have been substantive, colorful, and often deeply moving," Magoc said. "Lily Smith and Isabella Lee, two of our finest Public History students and Mercyhurst Lakers down to their bones, are getting the senior capstone experience of a lifetime."
The students agreed. "My favorite part of this experience has been learning about the contributions these people have made to the Mercyhurst community," Smith said. "It is also enlightening to hear how much Mercyhurst has changed over the years, and how specific initiatives started with one person grew into an important part of our university."
Lee added, "This has been such a rewarding experience for me because I feel that I am able to witness and help contribute to the history that the university holds as so important. Mercyhurst has grown exponentially in the past almost 100 years, so the fact that Lily and I have been given this opportunity to conduct these interviews is a great honor bestowed upon the both of us."
Interviewees
Allan Belvarac '73 held numerous positions at Mercyhurst before retiring in 2014. He was director of institutional research, registrar, professor of History, Department of History chair, and head rowing coach. Concurrently, from 1984 to 2014, he was mobilized four times as an intelligence officer with the U.S. Naval Reserve. As a student, he majored in American History; was a member of the pioneering rowing team, becoming captain in 1973; served as senior representative for student government; features editor for The Merciad; and on the executive committee of the College Senate.
Tom Billingsley began his full-time career at Mercyhurst in 1969—the first year the university admitted men— becoming the inaugural male admissions counselor. During the next 40 years, he would assume an integral role in nearly every operational function aside from academic affairs. He was director of administrative services, overseeing everything from the physical plant to student life and athletics. He retired as executive vice president in 2010. Billingsley earned his bachelor's degree in history from Gannon University and his master's from the University of Virginia. As a commissioned officer in field artillery, he earned the Bronze Star and Army Commendation Medal for Valor.
Mercyhurst Trustee Pat Weschler '78 had an early connection to Mercyhurst as the nephew of esteemed Chemistry Professor Sister Mary Charles Weschler. As a child, he would come to Mercyhurst with his family to visit her, ultimately enrolling as a freshman in 1974. He majored in political science and, much like his aunt, was skilled in science and math, the latter he would pursue as a minor. At graduation, he was honored with the Bishop's Award for Academic Excellence. He graduated from the University of Virginia School of Law in 1981, and has been a partner with Buckingham, Doolittle & Burroughs, LLC, in Akron, Ohio, for the past 31 years. In 2010, he became a member of the Mercyhurst Board of Trustees and has served actively in that capacity for more than 12 years.
Sheila Walsh Richter '77 graduated from Mercyhurst with a bachelor's degree in social work and immediately began a career at the university that has lasted 45 years. Currently, she is director of institutional research. Among her earlier positions were admissions counselor, director of admissions operations, transfer admissions coordinator, and director of financial aid. She also served as a Middle States Self Study subcommittee member, Presidential Search Committee member, and has chaperoned a mission trip to Honduras and a Habitat for Humanity trip to North Carolina. As a student, she was an RA in Baldwin Hall, varsity tennis team member, and administrative member of the Student Judicial Board.
The interviews are expected to be finished by April, Magoc said, adding that they will "greatly enrich the overall institutional history of Mercyhurst as we head toward our centennial."
PHOTO: (Clockwise, from left) Allan Belovarac '73 is interviewed by Public History students Isabella Lee and Lily Smith.