Mercyhurst wrestling coach takes one for the OTHER team
Wednesday, March 22, 2023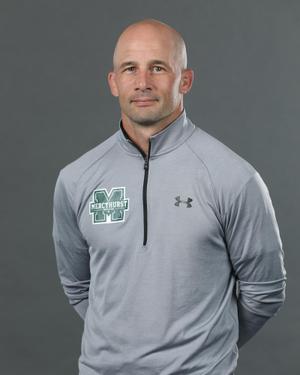 In a sport like wrestling, athletes rely on their own individual abilities and, still, the competitiveness and camaraderie of a team sport through training, development, and support are ever apparent.
So, when Mercyhurst University Wrestling Coach Mike Wehler stepped out of his team's inner circle to coach a wrestler on another team at the NCAA Division II Wrestling Championships in Iowa earlier this month, it was a moment that sparked both surprise and admiration.
Aaron King, NCAA championship manager for the Division II Wrestling Championships, tells it this way:
"During Session II, the Shippensburg head coach was transported to the hospital for treatment. Shippensburg had a 157 LB wrestler that was preparing for an enormous quarterfinal bout. Without hesitation, Mike stepped up to make sure the Shippensburg student-athlete was taken care of and offered to coach the student-athlete in the absence of any other representation from Shippensburg. Mike continued to coach the student-athlete throughout the remainder of the tournament.
Knowing Mike, he will play this off as if it is not a big deal, but to me this embodies the epitome of sportsmanship and I know it is something the student-athlete will never forget. I am very appreciative of Mike stepping up and want to commend him for what he did."
King's account was sent to Mercyhurst Assistant Vice President for Athletics Brad Davis, who reached out to Wehler to add, "To provide this support at a championship for another team is first class. Congrats on getting two All-Americans."
That's right. Mercyhurst's wrestlers earned top-eight finishes that weekend. Eric Bartos earned fourth place while Jake Niffenegger placed seventh. Both were named All-Americans.
As for the Shippensburg wrestler Wehler helped coach, Avery Shay took eighth place in the 157-pound bracket and earned All-America honors for the first time.
Wehler, meanwhile, did downplay his role, saying, "It was the right thing to do, and he (Shippensburg coach) would've done the same for me if the roles were reversed.  All worked out for the best, he got released from the hospital and his boy became an All-American."