Mercyhurst transfers land to Asbury Woods for conservation
Tuesday, December 20, 2022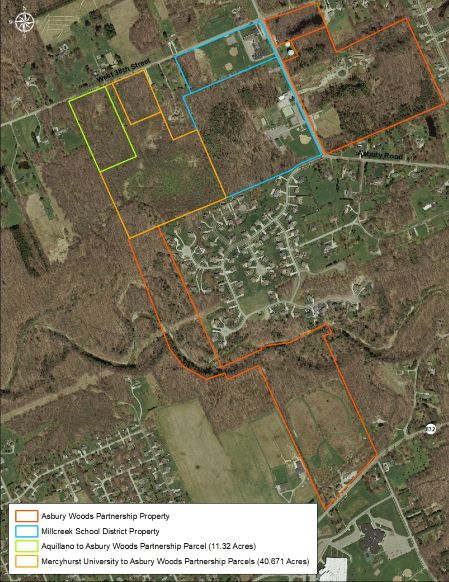 Mercyhurst University and Asbury Woods today announce the transfer of 40 acres of land from the university to the nature center, a move that ensures the property will be placed in permanent conservation status.
The land being transferred was gifted to then-Mercyhurst College in 1992 by local businessman Douglas James for the creation of a nature preserve. Mercyhurst and Asbury Woods have had a longstanding agreement that allowed for the development of a public-access trail through the James Preserve to establish the Asbury Woods Greenway, which connected properties around the nature center on the west side of Asbury Road with Asbury Woods' Browns Farm parcel on Sterrettania Road.
Asbury Woods staff and volunteers maintained the trails and Mercyhurst students and faculty used the property for biology classes and research projects. This decades-long partnership allowed the James Preserve to serve as an educational tool while providing broad public access to natural environments.
In recent years the administrations of Mercyhurst University and Asbury Woods began conversations on transferring ownership of the James Preserve to Asbury Woods.
"Mr. James had a vision of a permanent nature preserve that provided our faculty and students with a living laboratory for scientific inquiry and hands-on learning," said Mercyhurst President Kathleen Getz, Ph.D.
"Asbury Woods has a mission at the intersection of education and conservation. Their status as a land trust makes them the organization best positioned to continue to steward this land. Mercyhurst students and faculty will still have access to the property for student field trips, faculty research, and hands-on learning, while Asbury Woods will make sure the 40 acres is permanently protected along with its other 176 acres of property."
Jennifer Farrar, executive director of Asbury Woods, added, "Asbury Woods is grateful to Mercyhurst University and their foresight to permanently conserve this greenspace. Generations of Erie County residents and Mercyhurst students benefit from this land being conserved, and it will help ensure that plants and wildlife are protected."
The transfer of the land to Asbury Woods was made possible thanks to Mercyhurst University's generosity in donating half of the appraised value of the 40 acres, equal to a $117,000 donation.  The acquisition was also supported by a Pennsylvania Department of Conservation & Natural Resources grant, Erie Insurance, the Erie Community Foundation, Bill & Sally DeWitt, the John M. & Gertrude E. Petersen Foundation, and several other private donations.
The 40 acres purchased is adjacent to 11 acres that Asbury Woods purchased in April 2021 that was supported through the same grant and funders. This brings Asbury Woods total acreage to 216. (See accompanying map.)