Mercyhurst Theatre Program stages madcap murder mystery
Monday, August 15, 2022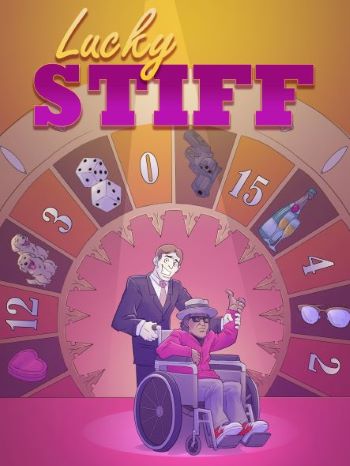 (EDITOR'S NOTE: Due to illness, the original performances of "Lucky Stiff" are canceled. The new dates are Oct. 21-22 at 7:30 p.m. and Oct. 23 at 2 p.m. We regret any inconvenience.)
The Mercyhurst Theatre Program opens its 2022-2023 season with the musical farce "Lucky Stiff," running Sept. 8-11 in Taylor Little Theatre.
Based on the novel "The Man Who Broke the Bank at Monte Carlo" by Michael Butterworth, "Lucky Stiff" is a hilarious murder mystery farce, complete with mistaken identities, six million dollars in diamonds, and a corpse in a wheelchair. The story revolves around an unassuming English shoe salesman, Harry Witherspoon, who is forced to take the embalmed body of his recently deceased uncle on a vacation to Monte Carlo. Should he succeed in passing his uncle off as alive, Witherspoon stands to inherit six million dollars. If not, the money goes to the Universal Dog Home of Brooklyn or his uncle's gun-toting ex.
"Lucky Stiff," which premiered at Playwrights Horizons in 1988, was the first show from the Tony-winning team of Lynn Ahrens and Stephen Flaherty, who went on to write "Once on This Island," "Ragtime," "Seussical," and "Anastasia," among other shows. Their first collaboration earned Ahrens and Flaherty the Richard Rodgers Award and the Helen Hayes Award for Best Musical.
"'Lucky Stiff' is a brilliantly crafted show that ranks with 'A Funny Thing Happened on the Way to the Forum' in terms of plotting and characterization," says director Dr. Brett D. Johnson. "The physical humor, which includes terrific bits with the wheelchair-laden corpse, is matched by breezy dialogue and a versatile score of Broadway brass, pseudo-French numbers, and light operetta."
The cast includes 10 Mercyhurst students: Braden Rosciszewski (Harry Witherspoon), Tori St. John-Gilbert (Annabel Glick), Nicole French (Rita La Porta), Eli Cowles (Vinnie Di Ruzzio), Jon Reddinger (Luigi Gaudi), Michael Harper (Tony Hendon), Kirk Morrison (Man 1), Ben Vacca (Man 2), Tori Altsman (Woman 1), and Ally Williams (Woman 2).
In addition to Johnson, the creative team includes musical director Andrew Rainbow, choreographer Jennie Cross, scenic designer Tucker Topel, lighting designer Madeleine Steineck, sound engineer Ben Friesen, production stage manager Ash Carr, and assistant stage managers Julianne Johnstone, Lindsey Markiewicz, and O. Perry.
Performances are Thursday through Saturday, Sept. 8-10, at 7:30 p.m., and Sunday, Sept. 11, at 2 p.m. in Taylor Little Theatre on the Mercyhurst campus.
Single tickets are $15 for adults; $10 for senior citizens and non-Mercyhurst students, and $5 for youth and Mercyhurst students with I.D. Each order is subject to a $1.50 per ticket processing fee, regardless of purchase or payment method.
All performances are general admission, with doors opening 30 minutes prior to curtain.
Patrons can reserve their tickets online at miac.universitytickets.com, by phone at 814-824-3000 (Tuesday through Thursday, noon to 5 p.m.) or at the Mary D'Angelo Performing Arts Center box office. Tickets will also be on sale at Taylor Little Theatre beginning 90 minutes before curtain.
For more information, visit the MIAC website.