Mercyhurst Theatre program stages classic play 'Our Town'
Monday, November 14, 2022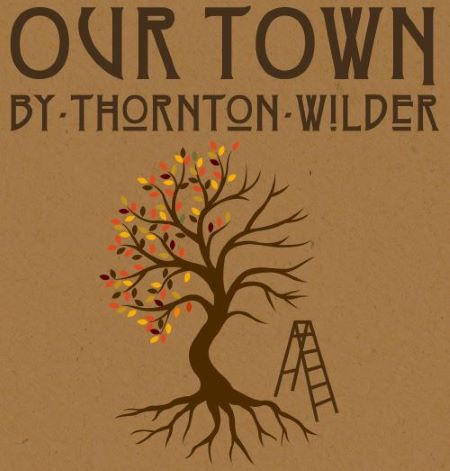 The Mercyhurst Theatre Program celebrates the 125th anniversary of playwright Thornton Wilder's birth with a production of his masterpiece, "Our Town," Dec. 1-3, in Taylor Little Theatre.
Narrated by a stage manager and performed with minimal props and sets, "Our Town" depicts the simple daily lives of the Webb and Gibbs families as their children fall in love, marry, and eventually—in one of the most famous scenes in American theatre—die.
Guest artist Dr. Doug Powers directs the production, having previously helmed the Mercyhurst Theatre Program's productions of "The Tempest," "Dancing at Lughnasa," "Dracula," "Forbidden Broadway's Greatest Hits," "Anne of Green Gables," "Through the Looking-Glass," and "A Midsummer Night's Dream."
"'Our Town' is the great American play," says Powers. "Planted firmly in the cultural landscape, the play still resonates. It also still packs a devastating blow, as we journey through all the stages of living."
The cast of "Our Town" includes Rondale Smith (Stage Manager), Michael Harper (Dr. Gibbs), Mason Reynolds (Joe Crowell/Si Crowell), Vanessa Nolan (Howie Newsome), Bella Lee (Mrs. Gibbs), Tori Altsman (Mrs. Webb), Braden Rosciszewski (George Gibbs), Faith Mackinnon (Rebecca Gibbs), Zach Hansen (Wally Webb), Ali Forsythe (Emily Webb), Ash Carr (Professor Willard), Ben Vacca (Mr. Webb), Katelynn Bizzarro (Woman in the Balcony), Bridget Gedeon (Man in the Auditorium), Maureen Krihwan (Lady in the Box), John Carroll (Simon Stimson), Maya Dildine (Mrs. Soames), Sam Harnum (Constable Warren), Gabby Schmidt (Sam Craig), Cole Lowe (Joe Stoddard), and Abigail Bender, Abby Craig, and Yekaterina Kanazin (People of the Town).
The creative team includes producer Dr. Brett D. Johnson, director Dr. Doug Powers, lighting designer Madeleine Steineck, production stage manager Julianne Johnstone, and assistant stage manager O. Perry.
Performances are Thursday and Friday, Dec. 1-2, at 7:30 p.m., and Saturday, Dec. 3, at 2 and 7:30 p.m., in Taylor Little Theatre on the Mercyhurst campus.
Single tickets are $15 for adults; $10 for senior citizens and non-Mercyhurst students, and $5 for youth and Mercyhurst students with I.D. Each order is subject to a $1.50 per ticket processing fee regardless of purchase or payment method.
All performances are general admission, with doors opening 30 minutes prior to curtain.
Patrons can reserve their tickets online at the MIAC ticketing website, by phone at 814-824-3000 (open Tuesday-Thursday, noon-5 p.m.) or at the Mary D'Angelo Performing Arts Center box office. Tickets will also be on sale at Taylor Little Theatre beginning 90 minutes before curtain.
For more information, visit the MIAC website.