Mercyhurst Theatre Program celebrates 10-year anniversary with one-night-only concert
Wednesday, September 13, 2023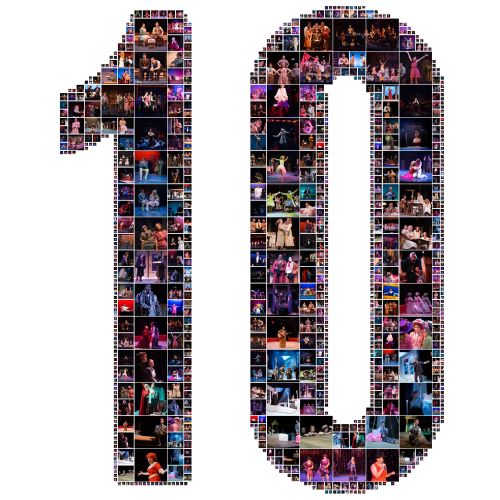 Students and alumni of the Mercyhurst Theatre Program will gather for a one-night-only concert to celebrate the program's 10th anniversary on Saturday, Sept. 23, at 7:30 p.m. in Taylor Little Theatre.
The talented ensemble will perform selections from "Cabaret," "A Man of No Importance," "Guys and Dolls," "Women on the Verge of a Nervous Breakdown," "Saturday Night," and other musicals that have enlivened the stage of Taylor Little Theatre over the past decade.
"I assumed the directorship of the Mercyhurst Theatre Program in the spring of 2013 and selected Sarah Ruhl's 'Eurydice' as our inaugural production," says director Dr. Brett D. Johnson. "Nine students auditioned, seven of whom I cast and two of whom I invited to join the stage management team. Ten years later, the Mercyhurst Theatre Program has produced twelve musicals and nineteen plays, including five world premieres, with anywhere from 25 to more than 50 students auditioning for each show. Additionally, 40 students have graduated with theatre minors and many more have participated in our mainstage productions as actors, directors, assistant directors, dramaturgs, stage managers, and technicians. I'm tremendously proud of our growth, which is a testament to the rigor of our classes and quality of our productions."
Twenty-five theatre alumni will return to Mercyhurst for the Sept. 23 anniversary concert, traveling from Texas, New York City, Washington, D.C., and areas closer to Erie such as Jamestown, Pittsburgh, and Franklin.
"I cannot think of a better way to celebrate 10 years of the Mercyhurst Theatre Program than by showcasing the talents of our current students and alumni, several of whom were in my first cohort of students," says Johnson. "They've transformed our program—and our university— through their talent, creativity, intelligence, commitment, sensitivity, and passion."
The creative team for the concert includes Johnson as director, musical director Andrew Rainbow, choreographer Jennie Cross, and lighting designer Madeleine Steineck.
Single tickets are $25 for adults, senior citizens, and non-Mercyhurst students, and $15 for Mercyhurst students with I.D. Each order is subject to a $4.00 per ticket processing fee, regardless of purchase or payment method.
The concert is general admission, with doors opening 30 minutes prior to curtain. 
Patrons can reserve their tickets online at miac.universitytickets.com, by phone at 814-824-3000 (Tues.-Thurs., 12-5 p.m.) or at the Mary D'Angelo Performing Arts Center box office. Tickets will also be on sale at Taylor Little Theatre beginning 90 minutes before curtain.
For more information, visit miac.mercyhurst.edu.