Mercyhurst shares archival materials at recent Ridge-Schweiker event
Tuesday, August 30, 2022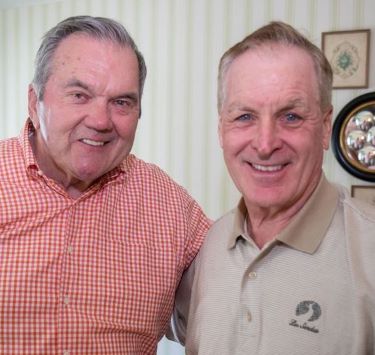 Nearly 140 staff members of the former Ridge-Schweiker administration gathered at the Omni Bedford Springs Resort the weekend of Aug. 26-28 to celebrate the 25th anniversary of their historic tenure.
Erie's Thomas J. Ridge and Mark S. Schweiker served as the 43rd governor and lieutenant governor of Pennsylvania from 1995 to 2001. Their combined leadership came to its conclusion when Ridge resigned in 2001 to become Homeland Security Advisor to President George W. Bush and, ultimately, the first U.S. Secretary of Homeland Security. Schweiker, meanwhile, stepped up to become the state's 44th governor from 2001 to 2003.
On display for the weekend event, which was postponed two years due to the pandemic, were archival materials from the Thomas J. and Michele Ridge Collection at Mercyhurst University assembled by university archivist Bryan Colvin.
Days earlier, Mercyhurst and Erie Insurance hosted a hometown reception in honor of Gov. Ridge, who recently received the 2022 William Oliver Baker Award for his extraordinary contributions to U.S. intelligence and national security. More than 600 members of the Intelligence Community gathered in Washington, D.C., in May for the original presentation from the Intelligence and National Security Alliance.
In addition to housing the Ridge archives at Mercyhurst, the former governor also gave his name to the Ridge College of Intelligence Studies & Applied Sciences at the university.
PHOTO: Ridge and Schweiker at anniversary celebration.