Mercyhurst named to Princeton Review's 'Guide to Green Colleges'
Wednesday, November 02, 2022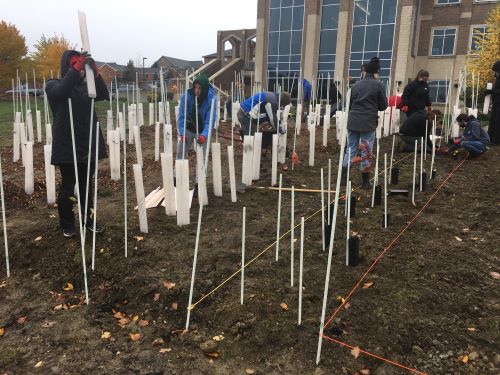 Mercyhurst University has been named to The Princeton Review's annual "Guide to Green Colleges," a free resource for environmentally aware college applicants. The 2023 edition profiles 455 colleges out of nearly 713 schools it surveyed with strong commitments to green practices and programs. 
"Devoted to our mission and the critical concerns of our founding Sisters of Mercy, Mercyhurst strives to be responsible stewards of the earth's limited resources," said Mercyhurst President Kathleen A. Getz, Ph.D. "This recognition is a testament to the tireless advocacy and hard work of our faculty, staff, and students toward promoting a sustainable campus."
The editors analyzed more than 25 data points for the final selection of schools for the guide, covering the schools' academic offerings and initiatives, campus policies and practices, and green-career preparation for students.
"Since we debuted this project 13 years ago, we have seen an increasing interest among college applicants in attending colleges that are committed to the environment and to green practices" said Rob Franek, editor-in-chief of The Princeton Review.
He noted that of the 10,400 college applicants participating in a recent Princeton Review survey, an overwhelming majority—77%—said information about a college's commitment to the environment would affect their decision to apply to or attend the school. Of that cohort, 37% said such information would contribute "strongly" or "very much" to their decision about a school.
"Over the years, we have also seen a significant growth in the number of colleges pivoting to sustainability-related policies and programs," Franek added. "We are proud to shine a light on these schools and to continue serving as a unique resource for students who want their 'best-fit' college to also ideally be a green one. We highly recommend each and every one of the colleges in our guide."
Mercyhurst has a long history of sustainability initiatives and an active Sustainability Club. It is also among the nine founding partners of Erie's Emerging 2030 District, an initiative to promote clean and cost-efficient energy and water use in the City of Erie while reducing transportation emissions.
Recent green initiatives at Mercyhurst include:
Laudato Si' Commitment signed by President Getz in 2021
Sustainability committee working on sustainability measures across campus and community 
Sustainability Fund available for student, faculty, or staff sustainability projects
Tiny Forest grown as a condensed model of ecological research and benefits 
Tower Garden Lending Program offering indoor growing systems to community partners 
Electric lawn equipment purchased to maintain grounds 
Recycling sorted by students to decrease contamination rate
Electric vehicles used by Police and Safety, Maintenance, and the recycling crew
Reusable coffee cups offered to incoming freshmen by Mercyhurst Student Government (MSG)
Pollinator garden grown in honor of Sister Maura Smith 
Solar umbrellas installed by MSG  
Electric and water saving strategies introduced throughout campus 
Plastic bags collected and recycled. 
PHOTO: Students tend to the Tiny Forest in front of Center for Academic Engagement.