Mercyhurst Literary Festival announces 21st season
Monday, March 20, 2023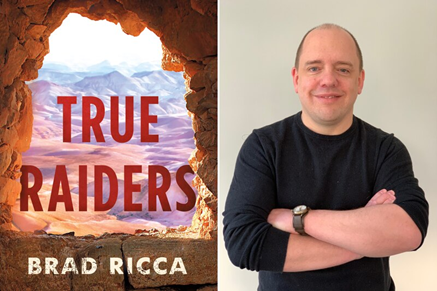 Now in its 21st year, the Mercyhurst Literary Festival kicks off Wednesday, March 29, when popular author and Cleveland native Brad Ricca comes to Walker Recital Hall at 7:30 p.m.
Created by English professors Dr. Jeffrey Roessner and the late Dr. Ken Schiff, the Lit Fest brings renowned writers to campus to read from their works and conduct advanced creative writing workshops with Mercyhurst students. Guests over the years have ranged from Robert Bly and Grace Paley to Martín Espada and Francine Prose.
"We're especially excited to bring nonfiction author Brad Ricca to campus," Roessner said. "He's a widely published author with a number of books about popular topics that should draw a crowd. His most recent work is the story of an expedition to find the Ark of the Covenant, a real-life version of 'Raiders of the Lost Ark.' But he's also written about the creators of Superman and the famous American detective known as Mrs. Sherlock Holmes. He's a terrific writer with compelling stories to share."
Ricca publishes in a wide variety of genres and media, including a number of popular nonfiction works such as "Olive the Lionheart" (2020), "Mrs. Sherlock Holmes" (2017), and "Super Boys" (2013). He also wrote a graphic novel adaptation of Nellie Bly's "Ten Days in a Mad-House" with artist Courtney Sieh (2022), and made a movie, "Last Son," that won a 2010 Silver Ace Award at the Las Vegas Film Festival. His writing has been published in The Washington Post, The Beat, Belt, Book Riot, Narratively, History Extra, and the official Star Wars website. He has also appeared in documentaries on the History Channel, AMC, and as a guest on "Criminal," "All Things Considered," "Innovation Hub," and BBC Radio, among others.
His most recent publication is "True Raiders" (2021), the untold true story of Monty Parker, a rogue British nobleman who, after being dared by Ava Astor, the so-called "most beautiful woman in the world," headed a secret 1909 expedition to find the fabled Ark of the Covenant just outside of Jerusalem. Using recently uncovered records from the original expedition, "True Raiders" is the first comprehensive telling of this group's hair-raising and uncanny adventure as it unfolds in the strange space between fact and faith, truth and fiction, science and conspiracy.
The festival continues on Thursday, April 20, with an Evening of Songs by 21st Century Songwriters. From Brittany Spears to Gnarls Barkley to Tom Petty, the event pays tribute to the vital music being made in our times.
Featuring performances by Mercyhurst faculty, students, alums, and friends, along with featured guest Jim Tometsko and his band, the event takes place at 7 p.m. at Luke's Landing in the lower level of the Carolyn Herrmann Student Union. 
Then, according to tradition, the Literary Festival concludes with the presentation of the P. Barry McAndrew Awards for excellence in student writing and the unveiling of "Lumen," the student-produced, award-winning multimedia magazine of the creative arts at Mercyhurst. It's all happenings on Thursday, April 27, at 7:30 p.m. in Taylor Little Theatre.
Lumen is co-produced by the English and Art departments. Students in creative writing and graphic design produce a stunning new design each year, filled with the best of student writing, as well as art and photography from juried art shows, and student performances of music and dance (available in the online version). This year's editors-in-chief are Marley Ramon and Elizabeth Plummer. The designer is Alex Simpson. Faculty advisors are Dr. Greg Brown and Jodi Staniunas Hopper.
The writing awards, which honor retired professor Barry McAndrew who taught in the Mercyhurst English Department for more than 40 years, showcase the year's three best pieces of creative writing and the best critical essay on literature by students. The awards carry cash prizes generously endowed by the McAndrew family. During the evening, students are also invited to share their works during an open mic session.
All festival events are free and open to the public. For additional information, contact Dr. Jeffrey Roessner at 814-824-2136 or jroessner@mercyhurst.edu.
The Literary Festival is made possible by the gracious support of Mercyhurst University. Special thanks to Vice President for Academic Affairs Dr. Joanne Hosey-McGurk and Dr. Christina Riley Brown, dean of the Hafenmaier College of Humanities, Arts, and Social Sciences.