Mercyhurst intelligence team to brief U.S. State Department
Wednesday, August 03, 2022
Student analysts identify most dangerous countries for U.S. diplomatic personnel, facilities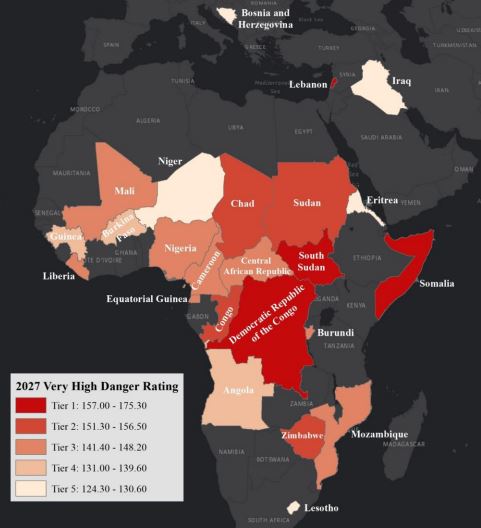 Somalia, South Sudan, the Democratic Republic of the Congo, Sudan, and Chad: these are the top five most dangerous countries for U.S. diplomatic personnel and facilities, according to a new report by the Mercyhurst University Department of Intelligence Studies.
At the behest of the U.S. Department of State, a team of student analysts under the direction of Principal Investigator Dr. Jacob Mauslein, conducted a worldwide study of countries hosting active U.S. Embassies within the past year. They provided individual intelligence summaries on the 50 most dangerous countries determined by their analysis and numeric rankings. (See list below.)
In the five-page report on Somalia, for example, analysts found that Somalia's danger stems from al-Shabaab attacks, government instability, and violent crime. The executive summary on Sudan cited ongoing dangerous activity due to Sudanese military forces dissolving the transitional government, conflict in Darfur, and economic issues contributing to social and political instability.
The 300-page report also forecasts that Lebanon will become the most dangerous country by 2027, severely increasing in danger from No. 16 in 2022. Lebanese citizens lack basic resources and feel neglected by the government for its perceived inefficiency and corruption, causing increased social tension and political instability. Lebanon's tensions with Israel continue to be high due to retaliatory acts on both sides. Lastly, gangs operating in Lebanon began increasing the number of kidnappings of people of influence in 2022.
A non-African country that is projected to enter the top 10 by 2027 is Burma, according to the report's key findings. Ethnic militias continue to clash with each other as well as the Burmese forces throughout the northern province. Violence due to the 2021 military coup continues, and increasingly brutal tactics by the junta suggest prolonged civil conflict. Lastly, competing geopolitical interests from China and the Association of Southeast Asian Nations (ASEAN) are likely to destabilize Burma.
If current trends continue, analysts say six new countries are likely to rise into the top 50 most dangerous countries in 2027. These countries are Belize, Bosnia and Herzegovina, Brazil, El Salvador, Gabon, and Turkmenistan.
The student analysts will present their findings via an online briefing on Thursday at 10 a.m. Attendees are expected to include a variety of State Department employees, many likely from the Office of Intelligence and Threat Analysis through the Bureau of Diplomatic Security, Mauslein noted.
"The students put significant time and effort into this product—it absolutely shows—and I'm extremely proud of the work they've accomplished," he added. "This is also a fantastic opportunity for our students to research and analyze issues that are vital to the security of our diplomatic facilities and personnel.  It's a great example of the unique experience our students receive through CIRAT."
CIRAT—the Center for Intelligence Research Analysis and Training—hones and professionalizes the skills of students in Intelligence Studies and Computer Information Science programs. A nonprofit arm of Mercyhurst University, CIRAT develops opportunities with business and government entities through contracts, grants, and academic partnerships. The initiative is led by Brian Fuller, director of operations for the Ridge College of Intelligence Studies & Applied Sciences. 
The student team on this project is comprised of Lead Student Analyst Violette Hosey and analysts Joshua Drabik, Zach Dumais, Briana Kurutz, Maria Marullo, Alexis Lovewell, Jacob Maynard, and Mark Peckich, and editing assistant Benjamin Rosenthal.
TOP 50 COUNTRIES POSING DANGER TO U.S. DIPLOMATIC PERSONNEL
1. Somalia 2. South Sudan 3. Democratic Republic of the Congo 4. Sudan 5. Chad 6. Central African Republic 7. Zimbabwe 8. Nigeria 9. Haiti 10. Guinea 11. Burundi 12. Mali 13. Burma (Myanmar) 14. Republic of the Congo 15. Eritrea 16. Lebanon 17. Cameroon 18. Iraq 19. Mozambique 20. Angola 21. Niger 22. Liberia 23. Equatorial Guinea 24. Uganda 25. Bangladesh 26. Pakistan 27. Madagascar 28. Mauritania 29. Ethiopia 30. Kenya 31. Burkina Faso 32. Togo 33. Guatemala 34. Papua New Guinea 35. Côte d'Ivoire (Ivory Coast) 36. Honduras 37. Lesotho 38. Nicaragua 39. Sierra Leone 40. Egypt 41. Nepal 42. Kyrgyzstan 43. Zambia 44. Malawi 45. Cambodia 46. Timor-Leste (East Timor) 47. Bolivia 48. Eswatini (Swaziland) 49. Djibouti 50. Solomon Islands.