Mercyhurst Ice Center to christen Erie News Now Lounge
Friday, January 27, 2023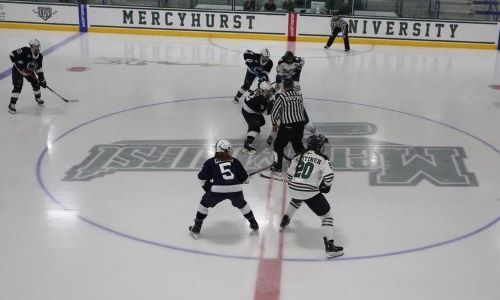 The VIP lounge at the Mercyhurst Ice Center takes on a new name today, thanks to the generosity of Brian Lilly, CEO of Lilly Broadcasting, which operates Erie News Now.
The popular space will be christened the Erie News Now Lounge at a news conference on Friday at 11 a.m. in the Ice Center. Later, Mercyhurst and Lilly Broadcasting representatives will celebrate the lounge opening before the men's ice hockey game against Bentley at 7 p.m.
Lilly, a member of the university's Board of Trustees and big supporter of Lakers hockey, is also a significant contributor to Laker for Life—The Campaign for Mercyhurst Athletics, part of which has funded major upgrades to the Ice Center.
"Mercyhurst is very grateful for the continued support of Erie News Now and Brian Lilly," said Brad Davis, assistant vice president for athletics. "They are great partners for our athletic department, and we look forward to growing and expanding our relationship in the future."
In responding to the renaming, Lilly said, "We are honored to be recognized by Mercyhurst, it gives us great joy to watch our locally based, higher-education institutions succeed and flourish in our community. Supporting higher education, athletics, and giving back to the community will always be a high priority for us; it makes it an easy decision for us to support Mercyhurst and the excellence they deliver to their students."