Mercyhurst hosts 10th Girls & Women in Sports Day interactive event
Tuesday, January 24, 2023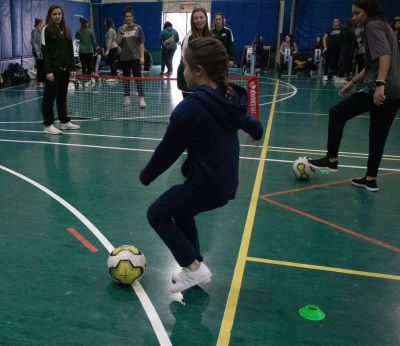 For the 10th year, Mercyhurst University invites girls K-8 to campus for a free sports extravaganza on Saturday, Feb. 11, as it celebrates National Girls and Women in Sports Day. The events take place at the Mercyhurst Athletic Center (MAC) and the adjacent Recreation and Fitness Center.
Participants receive free admission to the 5:30 p.m. women's basketball game between the Lakers and California University of Pennsylvania at the MAC, preceded by an opening reception at 3:30 p.m. at the REC Center. There, girls can enjoy interactive stations run by players from the university's women's sports teams, club sports teams, and athletic trainers.
Giveaways and refreshments will be provided, thanks to the sponsorship of DICK'S Sporting Goods and Connecto Electric, Inc.
Mercyhurst's celebration is one of more than 1,000 events taking place across the country for National Girls and Women in Sports Day, which is Feb. 1. Congress has proclaimed this national day each year since 1987.
"We are thrilled to salute the progress of girls and women in sports and encourage our student-athletes to share the benefits that sports and fitness activities can bring to their lives," said Bethany Woods, co-director of the event.
The day is organized nationally by the Girl Scouts of the USA, Girls Incorporated, National Association for Girls and Women in Sport, the National Women's Law Center, and the Women's Sports Foundation.
Tickets for the event are free for girls K-8. Admission for adults to the basketball game is $5 and $3 for senior citizens. For more information, please call Ally Brace at 814-824-2567.
FILE PHOTO from previous Girls & Women in Sports Day observance at Mercyhurst.