Mercyhurst honors legacy of Trustee Emeritus Bill Sennett
Wednesday, January 25, 2023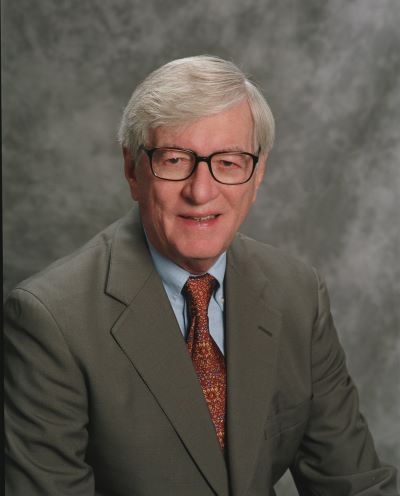 He could be determined; he liked things done right. He could be sentimental; for years he refused to relinquish a weathered old briefcase that he had used as state attorney general.
Mercyhurst University Trustee Emeritus William C. Sennett was a brilliant and complex individual whose contributions to the university helped shape its course for decades. Sennett died Monday at the age of 92.
A gifted lawyer, Sennett shared generously with his colleagues on the Mercyhurst board the insights and wisdom he gained from a lifelong record of achievement. He retired from the board in 2013 after 42 years of service, including 13 years as chairman. In recognition of his commitment, he was granted Trustee Emeritus status in 2014, and the Sennett Board Room in Hammermill Library was also named in his honor.
During his legal career, he served as Pennsylvania Attorney General from 1967 to 1970 and was a partner at Knox McLaughlin Gornall & Sennett law firm. He served as president of the firm from 1985 to 1994.
"Although Mr. Sennett had resigned from the board long before I arrived at Mercyhurst, his influence on our campus is everlasting," said President Kathleen A. Getz, Ph.D. "From the Sennett Institute for Mercy and Catholic Studies to the Sennett Board Room to many less tangible manifestations, we are reminded of his intense love of and commitment to this institution."
Few in Mercyhurst circles knew him as well as Religious Studies Professor Emerita Mary Hembrow Snyder. In her words, "Bill Sennett had an expansive and open mind, a warm and compassionate heart, a witty and endearing sense of humor. Moreover, he was, primarily, a devout Catholic, whose love for and practice of his faith inspired countless others."
Snyder, who retired in 2020, was the first recipient of the Endowed Chair in Religious Studies created by Sennett. She also led the Sennett Institute for Mercy and Catholic Studies, which he established in 2009 to highlight the breadth and depth of the Catholic intellectual tradition, as well as the five critical concerns of the Sisters of Mercy: caring for the poor, especially women and children; caring for immigrants; caring for the earth; promoting nonviolence; and combating racism.
The Sennett Institute for Mercy & Catholic Studies became a premier voice for the mission of Mercyhurst and its Catholic tradition, bringing to the university, the Catholic diocese, and the larger Erie community, an array of some of the finest Catholic thinkers in the country.  "These were women and men who sought to illuminate the depth and richness of the Catholic Intellectual tradition, its interdisciplinary wealth and grace—values Mr. Sennett, himself, radiated to all who knew him," Snyder said.
U.S. Magistrate Judge Richard A. Lanzillo, a Mercyhurst alumnus, former trustee, and board chair, was one of Sennett's closest colleagues. "I came to know and work with Bill Sennett in 1980 when I was the student representative to the board of trustees and then, years later, when I was a young lawyer, he encouraged me to join the board," Lanzillo said. "Bill loved Mercyhurst. He will be remembered as one of the individuals who helped shape the vibrant Mercyhurst we know today and, for me personally, as a terrific mentor and friend."
In a letter former Mercyhurst President Thomas J. Gamble, Ph.D., wrote to Sennett upon his retirement from the board in 2013, Gamble noted: "… Hammermill Library opened in 1971. Five months later, you became a trustee and, by the end of your tenure as chair in 2004, more than 70 other properties had been built or acquired during your tenure and leadership. … I want to assure you that all of us realize full well that we owe you a deep debt of gratitude for your commitment to this institution and its board of trustees."
Sister Joanne Courneen, RSM, who served on the board with Sennett as vice chair, said, "Personally, I respected and admired him and I felt fortunate he was on our side.  And, as a Sister of Mercy, his integrity and the service to which he witnessed were critical to his leadership style."
She went on to say that "As board chair and a man of deep faith, Bill was a true guardian of the mission of Mercyhurst and very loyal to it.  He was a strong leader, a strategic thinker, and well aware of the environment in which we served.  Bill combined a collaborative approach with strong direction guiding the board to crucial decisions when necessary, and he was instrumental in guiding the institution during difficult days, making decisions that certainly set it on the road to strengthening its future."
Sennett and his late wife, Polly, are survived by six children and eight grandchildren, one of whom, Jamie Sennett, is a freshman at Mercyhurst University. Sennett's wife of the past four years, Marlene Braham, also survives, along with her three children and four grandchildren.
Calling hours are Friday, Jan. 27, at Brugger Funeral Homes, 1595 W. 38th St., from 2:30 to 7 p.m., with services to be held Saturday, Jan. 28, at St. George Church, 5145 Peach St., at 10 a.m. View the complete obituary.