Mercyhurst football makes history hiring first female graduate assistant on coaching staff
Wednesday, September 21, 2022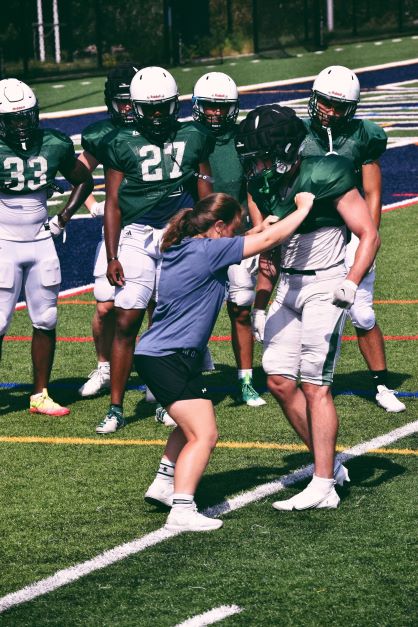 At 4'11", what Mercyhurst University football coach Kalleigh Burke lacks in stature, she makes up for in smarts, skills, and good, old-fashioned moxie.
Lakers head coach Ryan Riemedio did his due diligence—the interview, the resume, the references—but sensed immediately that she would be a keeper.
"She was the most qualified candidate—hands down," he said upon hiring Burke, who is the first female graduate assistant on the Mercyhurst football coaching staff and one of a mere handful in Division II football.
Her qualifications were impressive, but so were less tangible assets like being "a good person, family-oriented, and a good fit for Mercyhurst," all of which Riemedio considered part of the whole package when he hired her.  "She checked all the boxes," he said.
Burke is a 2022 graduate of the University of Notre Dame, where she studied finance, Spanish, and served as senior student manager for Irish football. At Mercyhurst, she is studying Organizational Leadership and coaching the Lakers' defensive line under defensive coordinator Bryce Dempsey.
The Murrayville, Illinois, native grew up on the sidelines, tight on the heels of her dad, who was a Junior Football League coach. It was her younger cousin, however, who triggered what would become her life's passion. She was playing catch with him in the backyard. Having watched several YouTube videos about football, she believed that she could train him. She offered; he obliged; and the rest, as they say, is history.
"Coach Burke is a great teacher, and you can't be a good coach without that," Riemedio said. "She definitely knows what she's talking about when it comes to breaking down footwork and fundamentals, and the guys are really taking to what she is teaching." 
Reaction from the rest of the coaching staff has been enthusiastic. "Kalleigh has been a great addition to our staff," said Dempsey. "In her first few days here, she took the defensive-line room and really transformed it. The culture of that room is about winning as a unit and taking pride in doing the little things correctly. I am very excited to see what else the defensive line can get done this year with Kalleigh's guidance." 
As for the players, feedback has been equally positive. "They've been great," Burke said. "I think because I'm closer to their age, I can talk to them more as peers, and since they've been super respectful, it's been easy to coach them."
Riemedio remembers Burke's first Zoom meeting with the defensive line. "They were all cracking jokes and very comfortable with each other," he said. "Then, when practices began, you could see the respect almost instantly. I mean, it speaks volumes to how our defense is playing right now."
The Lakers are 2-1 on the start of the season. In the second game, against Lock Haven on Sept. 10, the Mercyhurst recap noted that "the 24 yards allowed by Mercyhurst in the third is the fewest they have ever allowed in one period, giving the Lakers one of the more dominant defense efforts ever." 
For now, Burke has found her niche in college coaching. "It's an interesting place to be," she said. "You have a lot of time to engage with your players and, what's nice, is that they are still playing for the love of the game."
Burke's long-term goal is to be a head coach. For now, she's happy at Mercyhurst. Before signing on, she learned bits and pieces about her newly adopted school from Fred Hale, a former Laker football player and current assistant strength coach for Notre Dame football. 
"I knew a little about Mercyhurst from him, but I didn't realize how nice it would be here," she said. "Some of the D II schools I've seen don't look this beautiful or have these great facilities. Plus, I like that Mercyhurst has high academic standards, high moral standards, and good people."
Meanwhile, she thanks Riemedio and Dempsey for looking beyond her petite frame.
"I know I don't look the part, and I knew I wouldn't get a lot of opportunities unless someone was willing to step up and take a chance on me, so I'm very grateful they did," she said.
As for Riemedio's take, "She earned it."
PHOTO: Graduate assistant Kalleigh Burke coaches Lakers defensive line.