Mercyhurst experts hitting the airwaves to share knowledge
Friday, March 03, 2023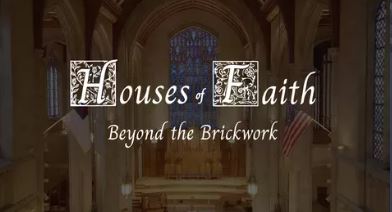 Mercyhurst University experts have been hitting the air waves in recent months, sharing their insights on everything from the history of Erie's churches to the indigenous people of Erie County.
Most recently, Mercyhurst President Kathleen A. Getz, Ph.D., taped a "Business Today" podcast with the Manufacturer & Business Association (MBA). In it, she addresses the topic of "Women in Leadership" as a prelude to her upcoming talk as guest speaker for the MBA's Women in Leadership Impact Luncheon on March 23.
"I am happy to share my insights and experiences on women as leaders of companies, universities, nonprofits, and boards of directors, in ways that help organizations support their own women leaders," Getz said. "I'm also pleased to see that so many of our faculty are sharing their knowledge as well, and I encourage others to register their expertise through Mercyhurst's new Experts Guide." 
Several faculty members have been featured on WQLN's "Chronicles," which is an immersive PBS docuseries showcasing the Lake Erie region's past and present.
Recently, Religious Studies faculty Drs. Verna Ehret and Rob von Thaden talked about Erie's churches for Part I of "Houses of Faith: Beyond the Brickwork." Anthropology's Dr. Will Meyer discussed the indigenous people for whom Erie is named in episode six of "Erielhonan" Those Who Came Before."
History Professor Dr. Chris Magoc, author of "Yellowstone: The Creation and Selling of an American Landscape, 1870-1903," was prominently featured in Wyoming Public Media's podcast, "Revising the Wilderness Tale—The Modern West."  Magoc was also highlighted in a program for the Jefferson Educational Society, "The American Tapestry Project," hosted on WQLN by former Vice President for Academic Affairs at Mercyhurst, Dr. Andy Roth.  In the podcast, Roth interviews Magoc about his latest book, "A Progressive History of American Democracy Since 1945: American Dreams, Hard Realities."
On deck is Lindy Smart, executive director of the Department of Intelligence Studies, who will be the focus of another WQLN program, "We Question & Learn," with Tom Pysz. The interview program features Erie's prominent leaders, businesspeople, and educators. Smart's segment is slated to air on Sunday, March 5, at 4 p.m. on WQLN Radio, 91.3 FM.
During the interview, Smart shares the legacy of the Mercyhurst Intelligence Studies program, what differentiates it from other intel programs, and COVID's role in the proliferation of private-sector intelligence.
To be included in the Mercyhurst Experts Guide, contact Debbie Morton, director of public relations, at dmorton@mercyhurst.edu.