Mercyhurst establishes new project to promote civil discourse
Tuesday, June 28, 2022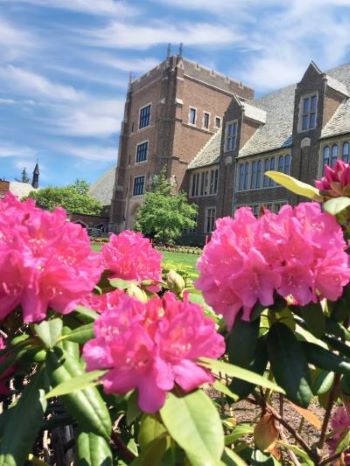 Living in a climate of social divisiveness, where people of differing opinions give each other little room to express their thoughts without judgment, tends to leave only those at the extremes to talk about an issue, contributing to high levels of negativity in civil discourse.
Of all the places where meaningful conversations should be the norm, it's higher education, say educators at Mercyhurst University in announcing a new civil discourse initiative, an offshoot of the university's Presidential Advisory Council on Diversity, Equity, Inclusion, and Justice organized by President Kathleen A. Getz, Ph.D., earlier this year.
Funded by a $10,000 grant from the Stackpole-Hall Foundation, the goal of the initiative is to provide semi-structured opportunities to various groups of 20-30 students and employees to engage in conversation across categories of difference and grow in civil discourse competencies.
This project is co-managed by Multicultural and Inclusion Coordinator Jessica Hubert and Vice President for Mission Dr. Greg Baker.
"Learning how to dialogue across categories of difference and to engage in difficult and contentious topics is crucial for the functionality of our campus and our society," Baker said. "This matters not only for our goals with diversity, but also for learning how to be a presence of Mercy and integrity amid the deeply divisive political climate in the country."
The dialogues will commence fall semester and continue throughout the academic year. After collecting data and identifying effective methods for facilitating civil discourse competencies among young people, the goal for year two is to work through student leaders who have participated in the dialogues to facilitate civil discourse in the city and region, especially through intentional mixing of urban, suburban, and rural student populations.