McAndrew IS Santa to generations of Mercyhurst families
Friday, December 16, 2022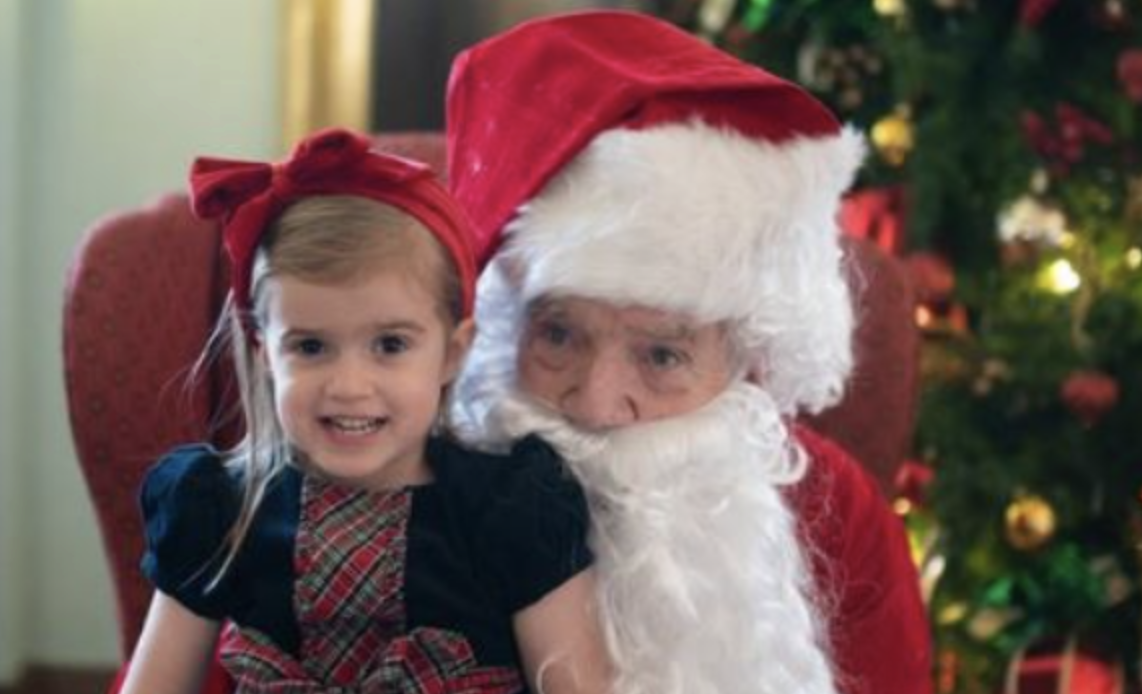 His beard may not be natural or his stature burly, but his laugh is deep and cheery and, for the many children he has greeted at Mercyhurst each Christmas, there's no mistaking: He IS Santa Claus.
This holiday season marks three decades that Barry McAndrew has donned his red velvet suit and cap, black patent belt and boots, and, of course, fluffy, white beard. Whether entertaining at Breakfast with Santa or the university's one-time Christmas on Campus event, he's not been without his weathered copy of the holiday classic, "'Twas the Night Before Christmas."
Generations of children have sat mesmerized as McAndrew, a retired Mercyhurst English professor and popular community theater actor, masterfully delivered the seasonal tale in waves of whispers and bellows. Even in the throes of a pandemic, Santa prevailed.
"Barry has been a fabulous Santa Claus for us for over 30 years," said Lindsay Frank, director of alumni engagement.  "During the pandemic when no one was permitted to come on campus, Barry and I sat in the chapel foyer together and zoomed with alumni and children all over the country."
Mercyhurst alumnus and former admissions administrator Travis Lindahl was equally captivated by McAndrew's performance.
"I'm not sure who was more excited to see Santa McAndrew—my kids or me! Mr. McAndrew was my undergraduate adviser. I'd seen him perform Chaucer and Shakespeare, but the joy in his eyes and smile when he's Santa make me think it's his favorite role of all. Just another example of what a treasure he is to the Mercyhurst community."
Being an actor has served McAndrew well, especially in the art of improvisation.
Once, a little girl queried, "Santa, where's your reindeer?" Clearly on his toes, he remarked, "Well, they're taking a jaunt around campus. They'll be back to get me. Don't worry."
"Santa, I want a new bike for Christmas," another would chime. Scouring the audience for his parents and hoping for an affirmative nod, Santa responded, "Yes, yes, my dear, I'll get my elves started on that just as soon as I get back to the North Pole."
The 82-year-old has seen his share of bloopers. Just this December—a wardrobe malfunction—courtesy of an 11-month-old who managed to upend the breakfast crowd when he pulled down Santa's beard.
"The memories all flood together and it's absolutely spectacular how good they make me feel," McAndrew said. "To see the look in the children's eyes, especially when I'm reading ''Twas the Night before Christmas,' I am no longer Barry McAndrew. I AM SANTA."
PHOTO: Santa McAndrew greets Sofie Frank, daughter of alumni director Lindsay Frank, during Mercyhurst's annual Breakfast with Santa.