Marina Boyle named 2021 Carpe Diem Award recipient
Friday, April 16, 2021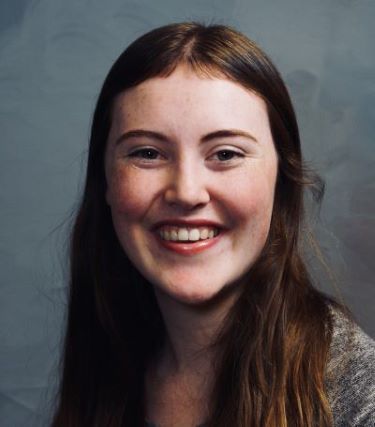 Senior Marina Boyle has been chosen to receive the 2021 Carpe Diem Award, presented annually to the graduating student who has made the most positive impact on the Mercyhurst community and who best exemplifies the university motto, "Carpe Diem" - "Seize the Opportunity."
Boyle, a native of Dublin, Ireland, has completed majors in Business & Competitive Intelligence and International Hospitality & Tourism, as well as a Pre-Law minor.
Coincidentally, her sister, Rhona Boyle, won the same award when she graduated in 2013. A pre-med student while at Mercyhurst, Rhona is now a junior doctor in Aberdeen, Scotland.
Certainly, the Boyle family has made its mark on Mercyhurst. For her part, Marina has served as an as an RA, Merciad editor-in-chief, International Student Association president, and chair of the 2021 Senior Class Gift Committee. During her tenure, she also received the national Jim Mathews Undergraduate Award and Fellowship for Intelligence Excellence. 
More than her academic accomplishments and her extracurricular activities, Boyle is best known around campus for her bright smile and uplifting spirit. 
"Mercyhurst is truly a place that changes lives," she said. "My time at Mercyhurst has been a journey, from a small town in Ireland, or Éire, to Erie, Pennsylvania. Mercyhurst has given me so much, and I'll always remember it as the place where I made lifelong friends, expanded my horizons, and grew in Mercy. My journey with Mercyhurst is not over, and I am honored to be recognized with this award as I continue to go out and seize the opportunities beyond the gates, knowing that Mercyhurst will always be home." 
Boyle has taken a job as a Financial Crimes Investigator with Key Bank in Cleveland after graduation. Eventually, she would like to start her own business and later an NGO that would enable her to use her skills for humanitarian work.
MORE TOP HONORS
Lauren Rogus will receive the Bishop's Award for Academic Excellence. She majored in Early Childhood/Special Education with a minor in Art Therapy. Other top senior awards will go to Braeden Barnett (the Frank Barry Leadership Award); Lucy Belleau (the Sister Carolyn Herrmann Service Award); and Ethan Wagner (the Mother Borgia Egan Honors Award). Two adult undergraduate students will also receive top awards. Mike Shannon will receive the Catherine McAuley Adult Student Award, while James (Trey) Catalano will receive the President's Award for Adult Excellence.
SENIORS HONORED FOR EXCELLENCE
Graduating seniors chosen to receive the President's Award for Excellence by Mercyhurst's colleges are: Clair Orr and Megan Siegfried (Hafenmaier College of Humanities, Arts and Social Sciences), Admir Barucija and Rebecca Dunphy (Ridge College of Intelligence Studies and Applied Sciences); Amanda Costello and Ryan Rebmann (Walker College of Business); and Hannah Buncher and Henley Spracklen (Zurn College of Natural and Health Sciences).
GRAD STUDENTS CHOSEN FOR SISTER EUSTACE TAYLOR AWARDS
Mercyhurst's master's degree programs have selected outstanding graduates to receive the Sister Eustace Taylor Graduate Student Awards for 2021: Stephanie Pintabona (Applied Intelligence), Edgar Halligan (Criminal Justice Administration), Andrew Jackman (Cyber Risk Management), Kirby Devore (Cyber Security), Katherine Cooney (Data Science), Kristine Kortonick (Forensic & Biological Anthropology), Kay Partch (Integrative Nursing Leadership), Kimberly Mosher (Organizational Leadership), Taylor Price (Physician Assistant Studies), Catherine Messina (Secondary Education: Pedagogy and Practice), Casey Main (Special Education and Applied Disability Studies), and Hayley Kloecker (Teaching Excellence). 
ASSOCIATE DEGREE AWARD WINNERS ANNOUNCED
The McAuley Award for Academic Excellence among associate degree graduates goes to Kaitlynn Richardson, a Nursing major. Justin Pettit, a Physical Therapist Assistant major, has been chosen to receive the Robert S. Miller Award, and the Redemptorist Fathers Award goes to Clarissa DeRooy, a Nursing major. President's Awards for Excellence go to the following associate degree recipients: Maxim Khilchuk (Ridge College), Nar Basnet (Walker College), and Jamie Hamm (Zurn College).