Lakers team with 115 colleges to fight stigma associated with mental health issues
Friday, September 30, 2022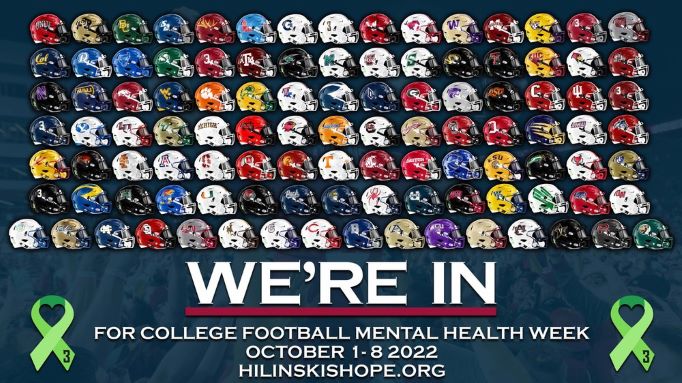 Mercyhurst University is teaming up with a national foundation to better monitor the mental health of student-athletes. 
The university is one of 115 schools participating in the third annual College Football Mental Health Week Oct. 1-8 created by the Hilinski Hope Foundation. The foundation was founded by Mark and Kym Hilinski in memory of their son, Tyler, a quarterback at Washington State who died by suicide at the end of his junior year in 2018. He was 21.
"We are excited to partner with the Hilinski Hope project again this year," said head football coach Ryan Riemedio. "It provides our program another resource that we can share with our team on the topic of mental health. As a head coach of a male-dominant sport, the initiative is very important to breaking the stigma about having mental illness (Suicide is the 10th leading cause of death in the U.S., and 75% of all people who die by suicide are male (NAMI)). This is a great opportunity to let our student-athletes know that their mental health matters and we are here to help."
Already proactive on the issue, Mercyhurst's athletic department staff, coaches, and administrators completed an eight-hour Mental Health First Aid certification last summer, noted Sue Sweeney, assistant athletic director for Student-Athlete Health & Wellness. As part of the Hilinski Hope observance, she said Mercyhurst plans the following:
Dedicate all home games to mental health awareness starting Friday, Sept. 30, with women's soccer and concluding Friday, Oct. 7, with volleyball.
Encourage student-athletes to show their support by wearing green ribbon helmet decals, uniform patches, hair bands, ribbons, or pins. The university has also purchased 500 temporary tattoos so all athletes can show their support. 
Decorate home game venues with green balloons signifying mental health awareness.
Give away Hilinski's Hope bracelets and mental health stickers.
Announce mental health awareness information at home games. Also, play a Hilinski's Hope message after which everyone will be encouraged to hold up their last three fingers in remembrance of Tyler, who wore the No. 3 jersey at Washington State, and all others who may be suffering in silence.
"While conversations around mental illness can be tough and at times uncomfortable, it is absolutely critical for the well-being of our student-athletes," said Kym Hilinski. "We have spoken on dozens of campuses to help encourage these conversations and share Tyler's story. We miss Tyler every day, but we are grateful to know that what we are doing is making a difference and that he would be proud of us."
Mercyhurst also has a couple events of its own planned. On Tuesday, Oct. 4, Athletics, the Counseling Center, and Morgan's Message are sponsoring "Say it Brave!" at 7:30 p.m. in the Student Union Great Room. 
Like Hilinski's Hope, Morgan's Message serves to raise awareness of mental health problems and is named after Morgan Rogers, a Duke University women's lacrosse player who died by suicide. Two Mercyhurst female lacrosse players, Rachel Plumley and Rebeca McGwin, are Mercyhurst ambassadors for the foundation.
Attendees at the Say it Brave! will watch a recorded-live event featuring young adults sharing their mental health stories and will then proceed with a facilitated discussion. 
On Wednesday, Oct. 19, the Social Work Club will sponsor a Suicide Awareness and Prevention Walk beginning at 3:30 p.m. in Trinity Green. 
"Creating a culture of caring and inclusivity are at the center of our mental health awareness events," Sweeney said. "We want our students and campus community to know that it is okay to ask for mental health help and how to access those resources. Our student athletes are blessed with their teammates as an instant family but our message to them is to reach out and support all students when someone needs a friend."