Intel's Suki Fuller receives belated Distinguished Alumni Award
Friday, September 30, 2022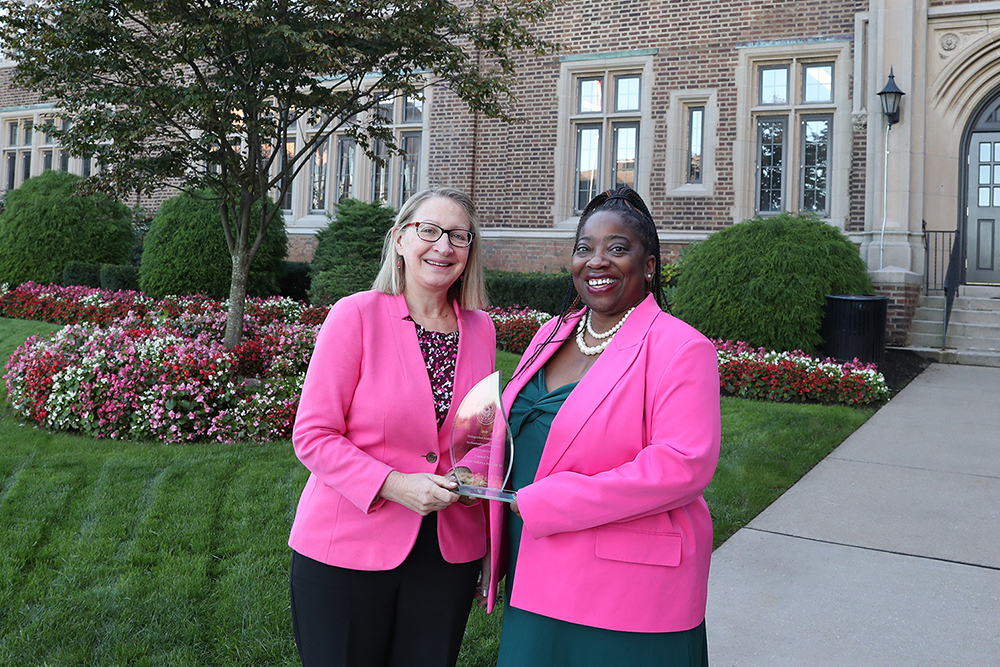 Mercyhurst Intelligence Studies alumna Suki Fuller will do double duty this weekend when she gives two presentations as part of Intel's 30th anniversary celebration and receives the long-overdue Distinguished Alumni Award she earned in 2019. 
Since receiving her degree in 2005, Fuller has been a competitive intelligence adviser in the automotive, advertising, pharmaceutical, technology, and defense industries, working across the United Kingdom, China, the Middle East, and U.S. 
Fuller made the trip from her home in London to her alma mater for this weekend's anniversary celebration, which is part of Mercyhurst's Homecoming. She will moderate an "International Alumni Panel" on Friday, Sept. 30, at 11 a.m. in the Center for Academic Engagement, Room 300.  At 1 p.m., she will cohost a "Fireside Chat" in Walker Reading Room with author and competitive intelligence expert John J. McGonagle. 
Meanwhile, Fuller was named a Distinguished Alumna in 2019 but was unable to attend the awards ceremony. With her return this weekend, Mercyhurst President Kathy Getz decided a special presentation was in order and did the honors Friday morning in her office.
An intrinsic part of London's tech community, Fuller was named by the Financial Times as one of the Top 100 Black/Asian/Minority/Ethnic (BAME) Leaders in UK Tech. Additionally, she was named by Computer Weekly as one of the Most Influential Women in UK IT 2018.
She describes herself as an "analytical storyteller," helping clients to understand the data they've gathered so they're able to make informed decisions about the future. She calls her own business Miribure, a name she coined to describe what she helps her clients do—"Mitigate Risk and Build Resilience." She also heads International Strategic Projects in the United Kingdom office of DC Analytics, owned by Mercyhurst Intelligence Studies alumna Diane Chido. 
Since 2015, Fuller has become even better known for her work mentoring entrepreneurs, including many women, in the fast-growing tech industry. Among many other honors, she's a global judge and mentor at the accelerator, MassChallenge, and was named one of the 30 Change Makers for London Tech Week. She is a board adviser for Tech London Advocates/Global Tech Advocates.
She also joined her friend, venture capitalist Chris Tottman, to launch the FiftyFiftyPledge, an initiative designed to give more women access to venture capital. They're working to improve gender equality in venture capital, noting that only 7% of investing partners at venture capital firms are female and only 2% of venture capital dollars are invested in start-ups with female founders. 
A noted public speaker and trainer, Fuller headlines events around the world in both competitive intelligence and venture capital, including presentations at conferences in the United Arab Emirates, China, India, Austria, and Germany, to name a few. 
In 2019, she was inducted into The Council of Competitive Intelligence Fellows. 
PHOTO: President Kathy Getz presents Distinguished Alumni Award to Suki Fuller '05.