Intel tracks air traffic worldwide with new receiver station
Monday, February 20, 2023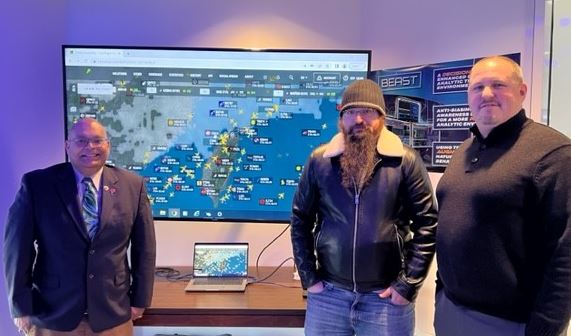 The Center for Intelligence Research Analysis and Training (CIRAT) at Mercyhurst University is a hub of activity with students working on intelligence and cyber security projects for dozens of clients spanning government and private industry. Amid this nucleus of intensive intelligence exploration, a group of students fixates on CIRAT's newest piece of equipment: the AirNav Radarbox, which offers worldwide tracking of commercial, military, and general aviation flights.
Here in the CIRAT lab is a super-sized computer screen peppered with images of miniature planes. On any given day, approximately 9,700 planes are traversing the skies worldwide.
RadarBox offers flight data such as latitude and longitude positions, origins and destinations, flight numbers, aircraft types, altitudes, headings, and speeds. Information is accessed via Automatic Dependent Surveillance - Broadcast (ADS-B) tracking in which electronic equipment onboard an aircraft automatically broadcasts the aircraft's location and other flight-related data to ground receivers via radio waves.
Mercyhurst's newest technology isn't your everyday flight tracking app, of which there are several on the market. Instead, it is a premium-level system that AirNav helped build at Mercyhurst, enabling CIRAT to operate as a ground-based local receiver station, explained CIRAT Director Brian Fuller.
As such, the CIRAT lab has access to advanced flight tracking capabilities like multilayer Doppler weather overlays, aircraft and fleet utilization metrics data, downloadable aircraft flight tracks, and access to priority support from the Radarbox's technical team.
"AirNav was impressed that we wanted to do this as a university and as a way of enabling our Intelligence Studies students to get advance intel on projects they are working on for CIRAT clients," Fuller said. "They helped us build everything we needed to be a receiving station, including erecting antennas on top of the Old Main tower."
So exactly how do students use the system? Fuller said that they regularly monitor the air traffic to notify clients of abnormalities that could potentially affect their operations. "If we start to see anomalies—let's say China reduces or eliminates domestic flights over Taiwan airspace—that allows us to consider that China may be intending some kind of military action in the region and notify our clients of the possibility."
They, in turn, can use that information to develop contingency plans, considering everything from how to manage supply-chain concerns if China were to close a port to how to protect its intellectual property in that domain.
Fuller said Mercyhurst's partnership with AirNav is further augmented by Senior Emergency Management Analyst Sidd Mathur of Erie Insurance, who serves as a consultant for CIRAT on Erie Insurance projects and himself is a self-professed flight tracker.
"We've had a longstanding relationship with Mercyhurst's Intelligence Studies Department and have a great pipeline of talented interns supporting our crisis management program," Mathur said.
Working with Fuller, Mathur derived the idea of using AirNav's newest system, Shipexplorer, to monitor Tall Ships when they are out of port. AirNav was founded in 2001, but Shipexplorer was just introduced last year.
Ideally, Fuller said, Captain William Sabatini, executive director and fleet captain of the Flagship Niagara League, could come to the CIRAT lab at Mercyhurst and follow the course of Erie's Brig Niagara in real time during its out-of-port engagements. Further, in years when Erie would host the Tall Ships Festival, utilizing Shipexplorer would make pinpointing the ships' local arrival time far more precise. 
PHOTO: (L-R) Sidd Mahur, student Jay Dalmaso, and Brian Fuller