Geology Professor Nick Lang 'on loan' to NASA
Friday, August 12, 2022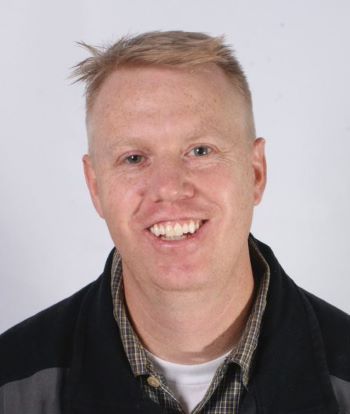 For the next two years, Geology Professor Nicholas Lang is taking leave of his Mercyhurst University classroom to work for NASA.
He won't be doing the kind of research he has honed at Mercyhurst, but he will be exposed to the inner workings of NASA research operations and have a role in choosing what research projects get funded.
The temporary assignment as a "discipline scientist" with the federal agency's Planetary Science Division (PSD) is a genuine manifestation of "living the dream," a dream that Lang has cultivated since he was 5 years old and received his first space-themed LEGO® set. That interest was further piqued as he listened to his dad talk about witnessing the first moon landing on TV in 1969.
"I always knew I wanted to do something related to space exploration," Lang said. "I have been able to do that as a faculty member for over a decade and now I have this incredible opportunity to do that with NASA. So, the chance to work for an organization that is all about the peaceful exploration of space with the goal of answering some of the most fundamental of scientific questions is an incredible professional opportunity."
Lang's current assignment, which he conducts remotely from his Erie home, is to help assess proposals for funding and assemble a review panel of content experts to evaluate them. Based on the panel's feedback, Lang makes recommendations on which proposals should be funded and continues to monitor performance reports for selected projects.
Working on a team within the Planetary Science Division, under which numerous Mars and Venus missions fall, is a perk. Lang's own research has focused on geologic mapping and morphometric characterization of volcanic and tectonic landforms on Earth, Venus, and Mars.
"I'll be working within programs that fund planetary science projects rather than doing my own research, but to be this close to what's happening in the discipline and to understand where it's heading is something I am excited to bring back to my students," he said.
Lang's projects over the next two years will be assigned as they arise. "There are a lot of ongoing and upcoming missions that PSD is involved with, so it is kind of an 'all-hands-on-deck' situation where one needs to step up and serve as needed," he said.
Lang's position with NASA is made available through the Intergovernmental Personnel Act Mobility Program, which provides for the temporary assignment of personnel between the federal government and state and local governments, colleges and universities, Indian tribal governments, federally funded research and development centers, and other eligible organizations.
During Lang's leave of absence, Assistant Professor Scott McKenzie is managing his function as chair of the Geology Department. Associate Professor Dr. Christopher Dolanc will assist with Lang's Environmental Science students and will be the point of contact for the Environmental Science program.