From Royal Wedding to Mercyhurst stage, Kingdom Choir elicits joy
Thursday, February 02, 2023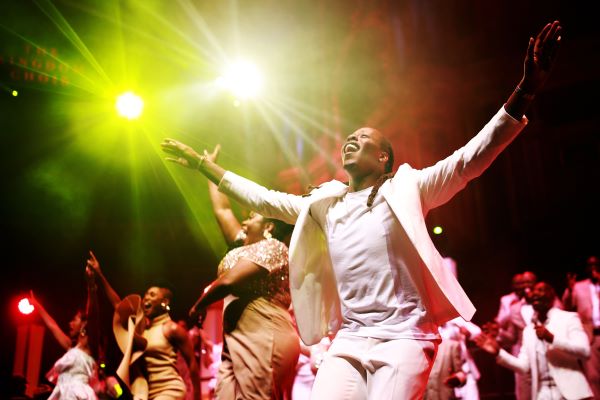 Following their show-stopping performance of "Stand By Me" at the Royal Wedding in 2018, London's The Kingdom Choir will bring their breathtaking artistry to Mercyhurst University's Mary D'Angelo Performing Arts Center on Tuesday, Feb. 21, at 7:30 p.m.
The choir first attracted the world's attention when they performed "Stand By Me" in front of a television audience of over two billion at the Royal Wedding of Prince Harry and Meghan Markle. Since then, their infectious joy and spirit, matched only by their raw gospel spiritual style, has taken them around the world, including a debut North American tour in 2019 and performances on Good Morning America, The Today Show, The Kelly Clarkson Show, and many more.
The Kingdom Choir is composed of extraordinary singers from all over the southeast area of England. Over the years, the group has made many public broadcast appearances on premier religious radio and television broadcasts in the UK. The group has performed alongside artists such as the BBC Philharmonic, Elton John, Luther Vandross, the Spice Girls, Andraé Crouch, and Fred Hammond, among countless other high-profile musicians.
The Kingdom Choir released its debut album, "Stand By Me," in October 2018 featuring covers of classics both new and old including "Halo" by Beyoncé, "All of Me" by John Legend, "Hark! The Herald Angels Sing," and a studio version of their now famous rendition of "Stand By Me."
Conductor Karen Gibson is an award-winning gospel choir leader who is credited on some of the most prestigious, large-scale choirs across the United Kingdom. Gibson is also a judge for BBC's Gospel Choir of the Year Competition. Her prevalence and expertise have brought her work across Europe and into Asia, Africa, and the United States.
In their awe-inspiring concerts, The Kingdom Choir expertly blends gospel standards with contemporary classics for a performance that is as modern as it is soulful.
Tickets, priced $20-$45, can be purchased online at miac.universitytickets.com, over the phone at 814-824-3000, or in person at the Mary D'Angelo Performing Arts Center box office (Tues.-Thurs., 12-5 p.m.). Each order is subject to a $3 per ticket processing fee, regardless of purchase or payment method.
This performance is sponsored by Knox Law. The spring 2023 MIAC Live series is made possible through the generosity of Wm. T. Spaeder Company, and the 2022-23 season is sponsored by Scott Enterprises, Dr. & Mrs. Robert Guelcher, Aetna, Cumulus Media, and the Erie County Gaming Revenue Authority.