Freedom spurs native Iraqi and Mercyhurst grad to serve
Thursday, May 18, 2023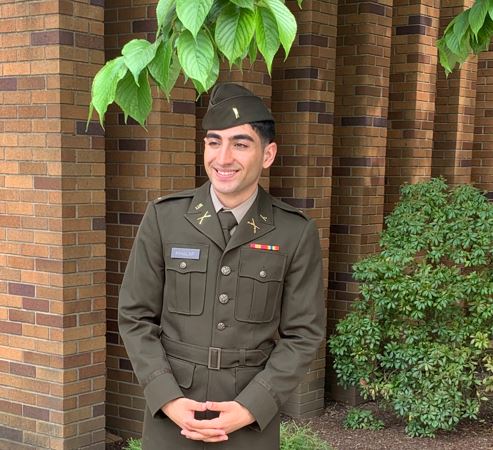 "It is easy to forget the beauty and the freedom of the United States, especially if that is all you have ever known," said Mariz Khalaf.
Khalaf speaks from experience. Born in Sinjar, Iraq, Khalaf and his family sought asylum in the United States in 2013. His father had been working as a mechanic and translator for the U.S. Army in Iraq when mounting hostilities forced them to leave abruptly. They relocated to Buffalo, New York, and Khalaf embraced his new country with gratitude and enthusiasm. 
When it came time for college, he sought out Mercyhurst University because of its Intelligence Studies program, which aligned closely with his interests. Not only did he excel in his studies, but he discovered ROTC and became a U.S. citizen in 2021. He also served as president of the Criminal Justice Association, vice president of the Law Enforcement Intelligence Club, and was an active member of Alpha Phi Sigma and Phi Eta Sigma. 
Earlier this month, Khalaf graduated from Mercyhurst with B.A. degrees in Intelligence Studies and Criminal Justice and was commissioned as a second lieutenant in the U.S. Army. 
"The military has been an intricate part of my family, as it is the primary reason we are here today America," he said. "I feel it's only right to give back to the country that offered me and my family an opportunity at a better life."
Khalaf credited ROTC with helping crystalize what he wants to do with his life, with providing him with genuine friendships, and with discovering people who inspire him to be his best.
"I have been able to apply every lesson I learned to be a better person and to mentor my peers, whom I gladly call family," he said. As such, he will volunteer as cadre for Cadet Summer Training in mid-June before heading to Fort Moore in Georgia for his own leadership training in August.
"When I finish my training and get assigned a platoon, they will be my number one priority," he said. "I will oversee approximately 40 soldiers whose parents entrust me to lead and care for them. I hope to inspire my future soldiers just as the people I work with have inspired me." 
Among those mentors is ROTC Captain Sergio Franco. "I think the definition of a great leader is someone who inspires you to do better, and Captain Franco exemplified that in every way," he said.