Food insecurity on college campuses: 'the silent epidemic'
Monday, August 14, 2023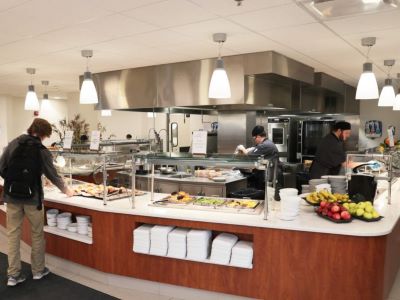 True or False: If students can afford to go to college, they must be able to afford food.
Although a reasonable theory, it is far from true. A 2021 study by the Hope Center at Temple University placed the incidence of food insecurity on four-year college campuses at nearly 30 percent. That is not to say that emaciated students can be seen struggling openly. Rather, food insecurity is the state of being without reliable access to a sufficient quantity of affordable, nutritious food, a situation exacerbated by the pandemic and soaring inflation, which have caused some students to ration food or forgo meals to meet their expenses.
The lack of awareness compounded by the stigma around being low-income and shut out from a communal space like the dining hall has kept the problem of food insecurity on college campuses off the radar for years. Some have called it "the silent epidemic."
Mercyhurst is not immune, but it works hard to maintain and scale the initiatives it has in place to serve struggling students, specifically the Mercy Market, which is the umbrella over programs like Swipe Out Hunger, the MU Pantry, and the Professional Clothing Closet, explained Bethany Woods, director of Academic Community Engagement, who oversees the efforts.
"We have tried to be the catalyst for preventing food insecurity on our campus," Woods said. "Sadly, you don't always know someone is struggling unless they seek help. I would encourage members of our college community, coaches and faculty in particular, to direct students our way. We can help, and we can do it confidentially."
Food insecurity for college students has been known to have long-term implications. According to a 2021 research report, "students who experienced food insecurity during college were 43 percent less likely than their peers to graduate, and the effect of food insecurity on college dropout rates was far worse for first-generation college students than for others."
At Mercyhurst, students are taking advantage of the help, particularly the Swipe Out Hunger initiative by which students and employees with extra swipes on their meal cards can donate them to their peers. Since the program started in 2020, 1,839 meals have been donated along with $587 in dining dollars.
Woods encouraged students in need to visit the Student Hub on the Mercyhurst website, click on Mission, and then on Mercy Market, where all the programs and means of participating in them are explained.
Beginning this fall, Woods said the Mercy Market will be housed in a Briggs Avenue apartment currently being renovated to accommodate a kitchen with nonperishable food items, a room and changing area where students can select professional clothing for internships and job interviews, and bookshelves with textbooks for students who can't afford to purchase their own. All the services can be accessed confidentially by appointment. There will also be regular hours when students can be helped. Woods and graduate assistant Shelby Feirstein will oversee operations.
New this year will be improvements to the Mercy Market offerings, including the availability of fresh produce, thanks to a $20,000 grant from the Department of Education that accompanied the university's designation as a PA Hunger-Free Campus. Also, this year, the Catherine's Club Giving Circle, sponsored by the Sisters of Mercy of the Americas, awarded $500 for books and supplies to each of four single mothers studying nursing at Mercyhurst.
Alumni and friends of the college who wish to gift money for food and necessities, or donate nonperishable and hygiene items, professional clothing, or contribute to the textbook scholarship fund can contact the Community Engagement Office at 814-824-2343 or email bwoods@mercyhurst.edu.