Commencement 2023: Rondale Smith earns Carpe Diem Award
Monday, April 24, 2023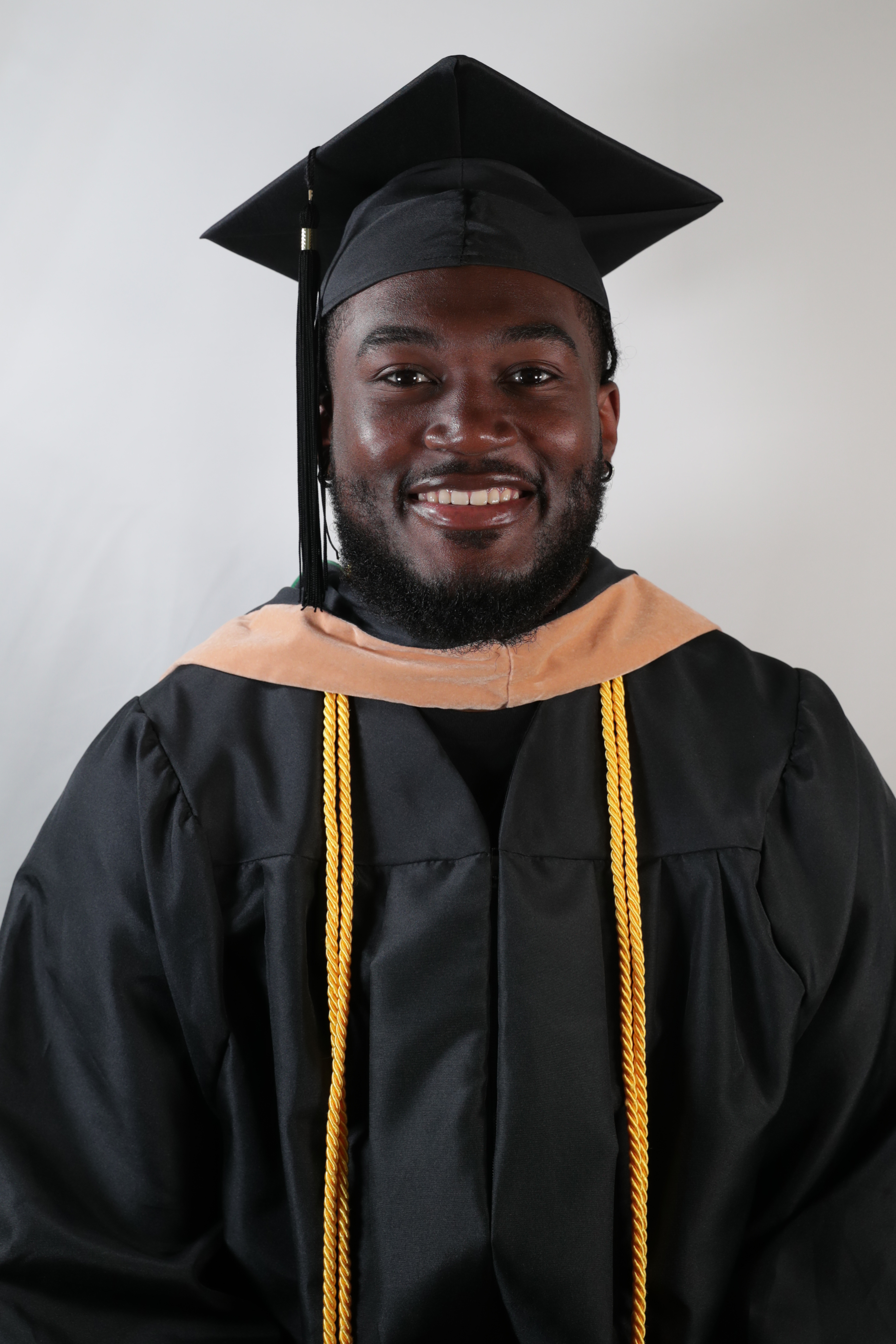 When Rondale Smith came to Mercyhurst University on an official visit five years ago, his first encounter was with a student in a green jacket. "Hmmm," he thought, "I could see myself in that someday."
He was looking to play football and major in psychology, but was immediately intrigued by the cheerful, talkative, and confident student in green who had been assigned to give him a campus tour.
Flash-forward, Smith did choose Mercyhurst. He did play football. He did major in psychology. And he did get his green jacket as an Ambassador. The story could end there, but Rondale went on to carve out an eclectic Mercyhurst career full of unprecedented experiences spanning the seemingly contrasting worlds of arts and athletics. 
It did not go unnoticed. When he graduates on May 13, he will do so as the 2023 recipient of the Carpe Diem Award, which honors the graduating senior who has made the most positive impact on the Mercyhurst community and who best exemplifies the university motto, "Carpe Diem" - "Seize the Opportunity."
Rondale stands as a testament of Mercyhurst's commitment to diversity. He was among the first to serve on the President's Advisory Council for Diversity, Equity, Inclusion, and Justice established by President Kathy Getz in 2021, and he is active in Black Students for Unity.
But diversity is more than skin deep with Rondale; it's his very essence.
With a mind open to new and varied experiences, Rondale pursued his education in Psychology and went on to add a second major in Criminal Justice. As if that wasn't enough, he added minors in Theatre and Sports Studies.
"I feel as though I have taken advantage of what it means to be a liberal arts student," he said. "My studies have formed, shaped, and assisted in developing me as a well-rounded person."
Throughout his years on the Hill, he would mix-and-match interests for his own personal growth and to serve others.
Besides playing football, he acted as a CEO leader of 10 teammates, applying his skills in psychology to mentor and motivate. During the past semester, he interned with the men's club hockey program, providing sports psychology programming, delving into concepts like mindfulness and visualization. 
He took his interests in sports into the community as well, helping with local high school athletic camps, and further embraced service in other ways like working at the local soup kitchen and helping with neighborhood cleanups.
On the flip side, he grew as an actor in university theatre productions, even winning a lead role in last year's production of "Our Town." He also participated in the weeklong workshop with Tony Award winner Betty Buckley. 
His dream is to be an actor, but he's also perfectly happy to pursue a career in sports psychology. 
"The thing about me is that everything I do, I have a passion for," he said. "That's what drives me and keeps me sane when I've got a lot going on."
Born in Fort Wayne, Indiana, Rondale is the youngest of five children. His name is a combination of letters in his mother's (Shalonda) and father's (Roger) names that a cousin put together on a whim. It stuck, although he's been called many a variation, including Ronnie by his mom, Ron by his Mercyhurst family, and Bam-Bam by an uncle who claimed that was the sound he heard whenever Rondale made a tackle.
When he was in sixth grade, his family moved to Columbus, Ohio, where he was bitten by the theatre bug in high school. After the strong sports influence conveyed by his dad, his mom was pleased to see Ronnie developing an interest in her passion—the arts.
Today, he said, "I find myself incorporating lessons from these often-perceived extreme worlds. It has been a gift to take what I learned in theatre into the locker room and visa versa to help my teammates and fellow students grow as leaders and develop a culture of teamwork."
Admittedly, being seen as an example, especially of diversity, hasn't always been easy. There's been much self-discovery during his four years at Mercyhurst, but he walks away far more enlightened and confident than he began.
That green jacket, from its first impression to Rondale's quest to wear it with distinction, is what he'll always look back on with pride and appreciation.