Class of 2023 bestows Senior Class Gift to university
Friday, May 12, 2023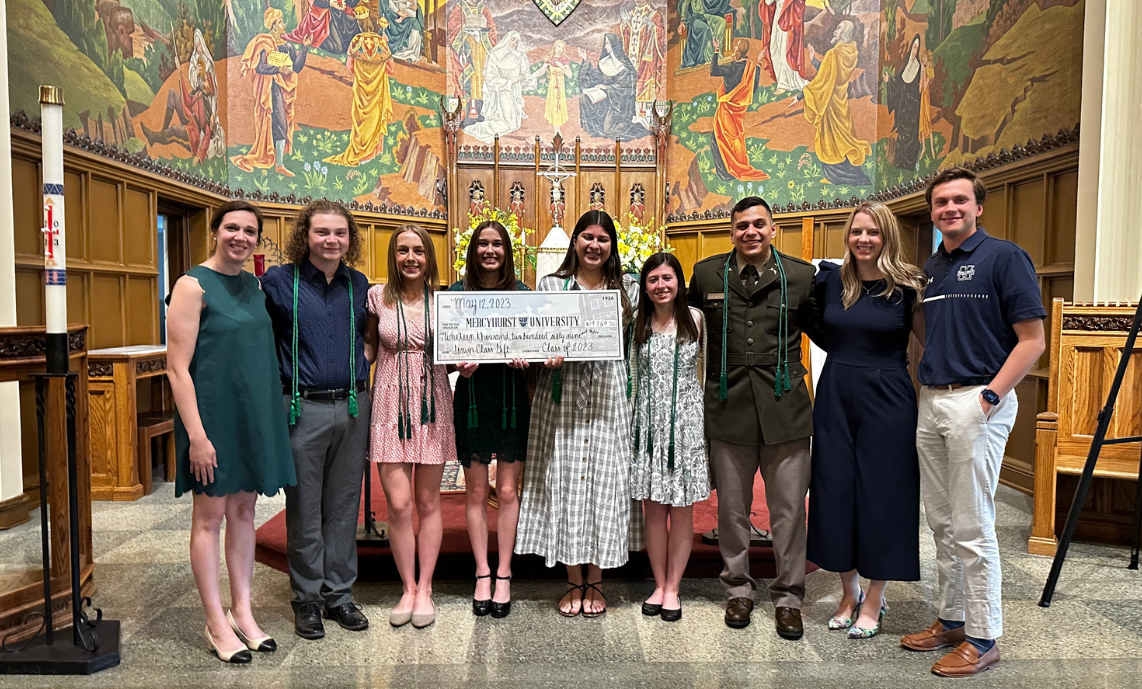 The Mercyhurst University Class of 2023 presented President Kathleen A. Getz, Ph.D., with a check for $19,269.56 to fund "The Magnolia: Bloom with Grace Scholarship" on Friday, May 12, at 1 p.m. in Christ the King Chapel. The new scholarship results from a year of fundraising by the class toward their Senior Class Gift.
Since 1989, each senior class has bid farewell to its alma mater by bestowing a gift upon the university. In 2018, the decision was made to create an annual scholarship as the gift, which is a more sustainable model.
Meanwhile, alumnus and Trustee Lev Kubiak, who for many years has been a generous supporter of Mercyhurst, particularly its students, has agreed to match the students' gift up to $10,000, creating an endowed scholarship.
In naming the scholarship, the students noted: "Just as the Magnolia Tree is rooted here at Mercyhurst and blooms with grace annually, we students are rooted here in our education, and will bloom and blossom into future Mercyhurst alumni, who will leave our gates, and change the world for the better. This scholarship is symbolic of our growth and will annually support Mercyhurst students in tuition aid." 
Members of the leadership team of the 2023 Student Gift Committee include Kailey Pisani, chair, Joey Franz, events chair, and Addie Sedelmyer, marketing and public relations chair. Their work was overseen by advisers Lindsay Frank, director of advancement, and Meaghan Hubert, director of alumni and donor engagement.
Photo: After all their hard work, members of the Student Gift Committee presented their check in Christ the King Chapel on Friday, May 12.