Bethany Woods honors 17-year commitment to Day of Service one T-shirt at a time
Tuesday, August 15, 2023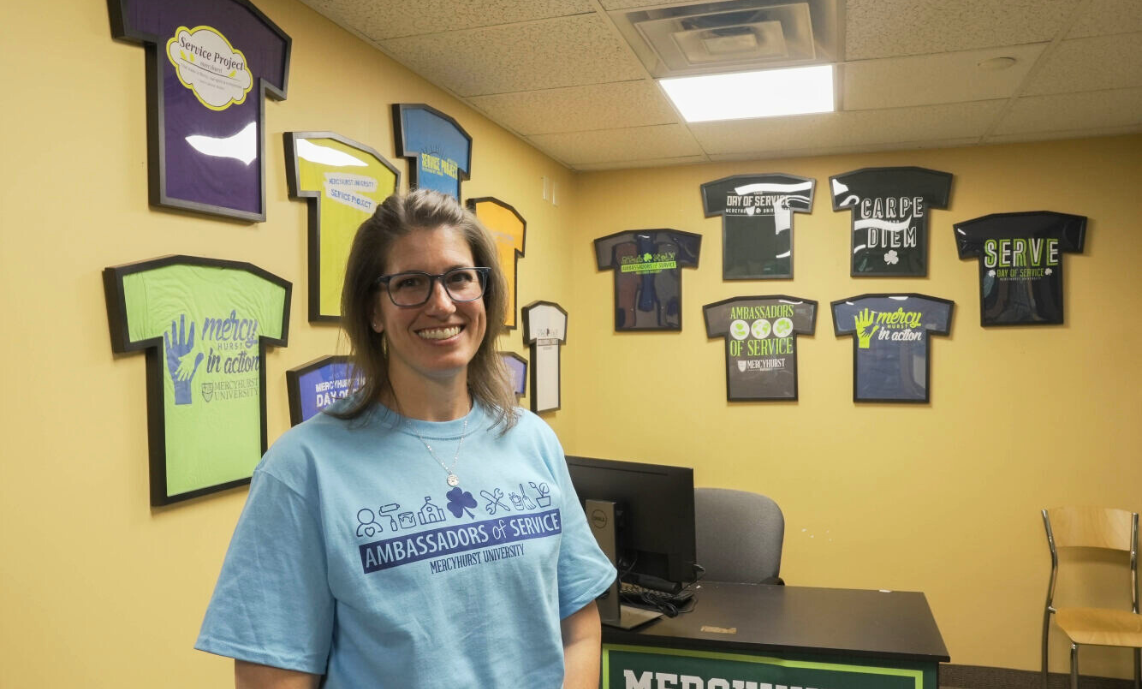 From her days as a student to her tenure as a staffer, Mercyhurst University's Bethany Woods has championed the call for service.
As a freshman in 2007, she participated in her first Day of Service, an annual back-to-school tradition inspired by the Sisters of Mercy affirming their commitment to being Ambassadors of Service.
"I picked weeds at SafeNet's main parking lot for two hours and, at the time, did not understand the purpose behind what I was doing," said Woods, director of Academic Community Engagement and overseer of Day of Service for the past 13 years. "It was not until I started organizing the event that I understood the impact of the work we performed."
You need look no further than her old office in the Student Union to see her passion for the tradition. There, two walls are lined with her own framed Day of Service T-shirts, all in myriad colors and designs. They represent Woods' souvenirs from 17 years of participating in the event, be it as a student, volunteer, or organizer.
The Day of Service provides an opportunity for Mercyhurst's newest students to connect with the Erie community and reaffirms the value of service to students. Led by their Laker Leaders, freshman students are bussed to over 25 different partner organizations across Erie for volunteer opportunities amounting to over 1,400 hours of service in one morning.
Throughout her journey, Woods said the Day of Service has proven to be one of the most "unifying" experiences for Mercyhurst students. Despite each student's unique involvement with different clubs, classes, friend groups, and extracurricular activities, the Day of Service is something every freshman shares.
"The Day of Service sets the tone for the students' experience over next four years," said Woods. "It shows our students and the community that we are part of something bigger than ourselves and we take this demonstration of our core values serious enough to send out our entire freshman class."
As Woods continues to expand the function of Community Engagement at Mercyhurst, she has recruited 70 alumni to participate in a community volunteer group called the Hurst Responders, some of whom plan to participate in this year's Day of Service.
Woods hopes to see the Day of Service evolve into a biannual occurrence down the road with opportunities for more students, staff, faculty, and alumni to partake.
On Monday, Aug. 21, President Kathleen A. Getz, Ph.D., will commence Day of Service 2023 with the official send-off at 9:30 a.m. from The Mary Garden.