AIM students embark on vocational travel experience to D.C.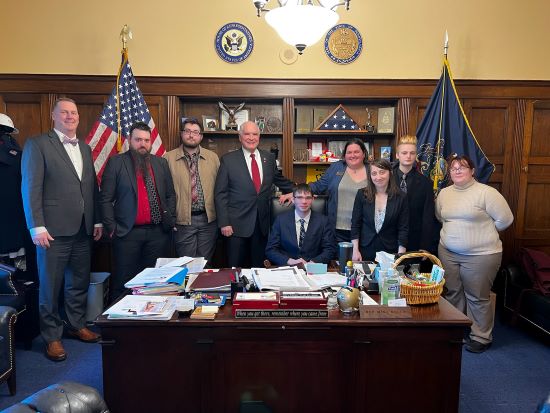 Neurodiverse students enrolled in the Autism Initiative at Mercyhurst University (AIM) are regularly encouraged to step out of their comfort zone in working to achieve independence. A group of AIM students took a large step in that direction when they visited D.C. last week as part of the program's career path training.
Recognizing the growing number of young people on the autism spectrum, Mercyhurst launched AIM in 2008 to support these students in obtaining a college education, learning life skills, and preparing for life after college, particularly in entering the workforce. As part of that goal, AIM works with employers to introduce them to the talents and skills of the neurodiverse and match them with jobs that highlight their abilities.
Led by AIM Director Amanda Mulder and Vice President for Advancement Sam McCrimmon, the students spent March 8-11 visiting government and business organizations as well as exploring the nation's capital.
On the agenda was a visit with Congressman Mike Kelly, who spoke to students about advocacy and government employment. The group also visited the National Institute of Health, PricewaterhouseCoopers, and the Office of Autism Research (OAR), where AIM alumnus Ben VanHook, community support coordinator, provided a program overview of OAR.
PHOTO: AIM students visit Congressman Mike Kelly in his D.C. office. From left are Mercyhurst Vice President for Advancement Sam McCrimmon, Jay Dalmaso, Ben Newlin, Congressman Kelly, Jack Sullivan (sitting in Kelly's chair), AIM Director Amanda Mulder, Vivian Tarbox, Nico King, and Jordan Dickinson.