AIM opens highway to success for autistic drivers
Wednesday, September 21, 2022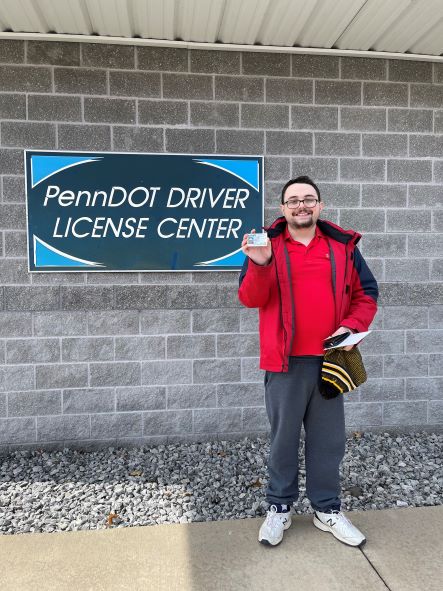 For individuals with autism spectrum disorder (ASD), life can seem like a series of roadblocks. The Autism Initiative at Mercyhurst (AIM) strives to help students overcome them on their way to leading productive, independent lives. Today, the award-winning program, now under the auspices of the Brad McGarry Center for Neurodiversity, is tackling another one of those roadblocks by teaching students on the spectrum to drive.
To date, four AIM students have earned their licenses since the program began last year, Dominic Alfieri among them. Alfieri graduated from Mercyhurst in 2022 with a bachelor's degree in Cyber Security and is now working at Northwest Bank in Warren as an information security analyst.
Upon learning to drive, he said, "I felt a strong sense of independence. It made me feel more like an adult—now having the freedom to go somewhere on my own without having to rely on someone else for transportation. I think knowing how to drive is a valuable skill that everyone should try to learn if they're able to."
For the average person, learning to drive can be both an intimidating and a liberating experience. Those emotions can be further heightened for people with ASD, some of whom may feel overwhelmed at the sheer number of tasks and rules involved in driving. Some can be stressed by loud noises like sirens. Some may need help improving coordination and reaction time.
But in many of these cases, research shows that with the right preparation and individualized training, those with ASD can safely drive a vehicle.
On the positive side, ASD drivers are more likely to adhere to driving rules, obey traffic signs, avoid speeding, and pay closer attention to the driving environment.
AIM strives to help its students obtain rewarding employment after graduation. In doing so, it discovered that being unable to drive was an obstacle for some. So, it reached out to Transportation Solutions, which has special instructional programs for would-be drivers with different types of disabilities.
Their resulting partnership remains in its infancy, but Liana Hicks, AIM student support coordinator, is pleased with its progress.
For AIM students, already dealing with varying challenges, learning to drive is a time-intensive commitment. "They really have to be motivated," Hicks said. "A lot of students have no interest in it, and that's OK, but it is just one more option we offer for those who do want to commit to learning how to drive."
Transportation Solutions President Brenda Bennett agrees. "Probably the biggest challenge for our students with autism is taking the time to master the skills," she said. "They are excellent in mastering one skill at a time, but driving requires multi-tasking, and that's often a challenge for them. What we specialize in is breaking down those skills, having them master one before layering another on top. That's how we've been able to have a high success rate."
PHOTO: Dominic Alfieri '22 shows off his Pennsylvania driver's license.