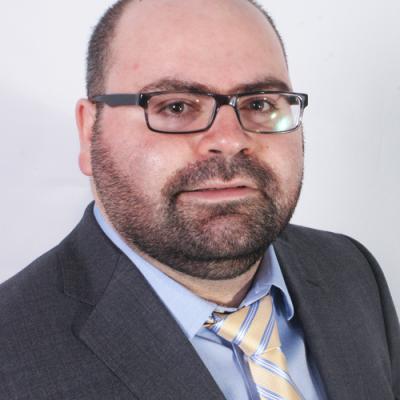 Christopher Mansour, Ph.D.
Chair, Computing and Information Science (Cyber Security and Data Science) Department Assistant Professor 
Education
Ph.D., Engineering, Villanova University, 2018
Certificate in Teaching Engineering in Higher Education, Villanova University, 2017
M.S., Computer Engineering, Villanova University, 2014
Certificate in Cybersecurity, Villanova University, 2014
B.S., Computer and Communications Engineering, American University of Science and Technology, 2012 
Christopher Mansour is the Founding Member and Assistant Professor of Cyber Security Programs at Mercyhurst University. He has been working on establishing reliability, security, and trust for next-generation networks through a layered approach. His areas of expertise include Computer Networks Security, Software Security, Embedded Systems Security, Internet of things, Ubiquitous Computing, Software Defined Networks, Cyber-physical Systems Security, and Trusted Computing. Chris has published numerous articles in international peer-reviewed conferences and journals and has been an invited speaker for multiple Cyber Security talks and workshops. Moreover, Christopher served as an Assistant Editor for the National Cyberwatch Center's Cybersecurity Skills Journal, and he currently serves as technical program committee member and reviewer for multiple international conferences and journals. He also serves as a board of trustee member for the Community Access Media, a non-profit in Erie, PA. Along with his teaching obligations, Chris is recognized as the primary cybersecurity expert for local media outlets, providing insights and commentary on recent threats, incidents, and best practices; conducting numerous key interviews with major channels and publications, offering expert analysis on high-profile cybersecurity events and emerging trends. Chris is a member of the Association of Computing Machinery (ACM) and the Institute of Electrical and Electronics Engineers (IEEE).   
About Dr. Mansour
Cryptography and Information Security
Computer Networks  
Networks Security
Computer Architecture
Trusted Computing and Hardware Security
Secure Software Development 

CIS 100: Introduction to Computer Science
CIS 160: Introduction to Cybersecurity
CIS 200: Linear Data Structures
CIS 230: Operating Systems
CIS 261: Information Security
CIS 365: Cyber Law and Policy
CIS 360: Computer Systems Security
CIS 260: Computer Networks Security
CIS 500: Computing and Information Science Concepts
CIS 510: Algorithm Development
CIS 560: Cyber Networks
CIS 565: Systems and Applications Security
CIS 566: Cloud Security
CIS 502: Penetration Testing 

Applying Machine Learning Approaches for Next-Gen Networks Security
Securing Critical Infrastructure through Hardware and Software Defined Solutions 

TV/Media Subject Matter Expert on Cyber Security Incidents
Board of Trustees Member for Community Access Media
Assistant Editor, Cybersecurity Skills Journal  
IEEE Member
ACM Member 

N. Pape and C. Mansour, "Edge Machine Learning to Detect Malicious Activity in IoT Devices through System Calls and Traffic Analysis," 2023 International Conference On Cyber Management And Engineering (CyMaEn), Bangkok, Thailand, 2023, pp. 123-127, doi: 10.1109/CyMaEn57228.2023.10051091. • D. Chasaki and C. Mansour, "Detecting Malicious Hosts in SDN through System Call Learning," IEEE INFOCOM 2021 - IEEE Conference on Computer Communications Workshops (INFOCOM WKSHPS), Vancouver, BC, Canada, 2021, pp. 1-2 • D. Chasaki and C. Mansour, "SDN Security through
Chasaki, Danai, and Christopher Mansour. "SDN Security through System Call Learning." 2021 11th IFIP International Conference on New Technologies, Mobility and Security (NTMS). IEEE, 2021.
Chasaki, Danai, and Christopher Mansour. "Improving Efficiency in Attack Detection through Real-time Processing Monitoring and Machine Learning." 2020 International Conference on Computing, Networking and Communications (ICNC). IEEE, 2020. 

Statler Foundation Grant - $50,000

Ken Schiff Legacy Award Recipient – 2022 faculty member of the year for going above and beyond to support students of the AIM (Autism Initiative at Mercyhurst) program