Yahn Student Art Show reception slated for March 14
Thursday, February 28, 2019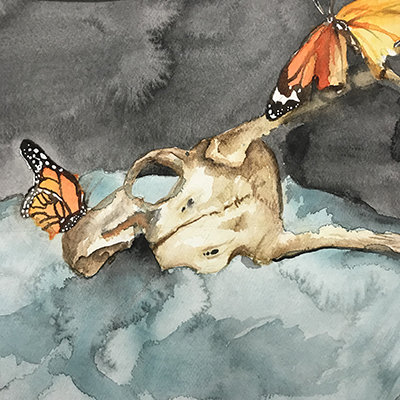 EDITOR'S NOTE:
During the March 14 reception,  juror Christine Palotas Bowler announced her award selections. First place went to Kimberly Bennett for her digital rendering "I Create Therefore I Am"; second place to Demerise Eadie for "Fairy Tree," watercolor and charcoal; and third place to Claire Orr for her mixed media sculpture titled "Jellyfish." The top three awards carry cash prizes, and the works will be purchased for the Mercyhurst University Permanent Art Collection. In addition, Honorable Mentions went to Allison Brusk for "This Boot is Made for Walking," graphite drawing; Samantha Sherwood for "Home," photography; and Savanna Ciciarelli for "Activism Poster," graphic design.
Juror Christine Palotas Bowler chose 46 outstanding works from 118 submissions by Mercyhurst art students for inclusion in the 2019 Patricia S. Yahn '50 Juried Student Art Show now hanging in Mercyhurst's Cummings Gallery.
She'll announce her choices for awards during a reception for the featured artists on Thursday, March 14, from 5 to 7 p.m. in the gallery. The top three awards carry cash prizes, and the works will be purchased for the Mercyhurst University Permanent Art Collection. All are welcome to attend the reception.
The annual exhibit, made possible by a gift from fine artist and Mercyhurst art alumna Patricia S. Yahn '50, will feature works in a variety of media, including watercolor, sculpture, photography and graphic design.
Gallery Director Jessica Stadtmueller says a strong feature of this year's exhibit is the variety of beautiful watercolors, many using creative techniques.
Grace Pyszcek combines charcoal with watercolors in her piece "Saguaro National Park," creating beautiful lines and textures within her landscape and cacti.
Demerise Eadie uses the same materials in a different way. Gestural, abstract lines are drawn over a background of watercolor, resulting in playful rhythm and non-repeating patterns, in her two works titled "Fairy Tree" and "Carousel Horse."
Three large-scale sculptures anchor the floor, wall and ceiling of the gallery this year. Reclining in the corner is a mixed media figure study in plaster, "Lucy," by Katie Kiszka. Meticulously covered in two colors of feathers, its pose and surface treatment express a haunting, surrealistic dichotomy.
Suspended from the ceiling floats a large violet and green jellyfish, constructed by student artist Claire Orr using a variety of wire, ribbon, and textile scraps.
Eric Olson's oversized "Red-eyed Tree Frog" clings to the gallery wall in mid-motion, peering at all who enter the space. Although unintended, its placement and curious nature might be a great candidate for a favored selfie spot.
A wide variety of photography is represented, from black and white to color, industrial to organic. Curtis Waidley creates a thought-provoking image with his photograph "Preachers" by staging figures with unexpected props within a traditional family portrait arrangement.
A standout graphic design piece is the surreal self-portrait "I Create, Therefore I Am" by Kimberly Bennet. Her digital rendering uses a sophisticated spiraling composition with complex layers, colors, and elements that lend a subtle shamanic theme.
An Erie native, Christine Palotas Bowler graduated summa cum laude with a B.A. in Art Education from Mercyhurst College in 1981, and received the Sister Angelica Senior Art Award. She earned her Master of Art from Edinboro University in 1999.
She taught art at St. Benedict Academy for six years and at Mercyhurst Prep for 17 years. During her time as moderator of the National Art Honor Society at MPS, she painted eight murals for local nonprofits with her students. She also coordinated a student art exhibit for the Maritime Museum using discarded plastic. She taught arts and crafts classes at Gannondale for eight summers and is currently teaching watercolor painting to the students of the Neighborhood Art House in Erie.
Bowler has had her sculptures and paintings exhibited locally and in private collections around the country. She was the featured Guest Alumna for the 2018 Annual Art Faculty Exhibit at Mercyhurst University.
The 2019 Patricia S. Yahn '50 Juried Student Art Show will be on display through March 26. Cummings Gallery is open weekdays from 11 a.m. to 5 p.m. and Saturdays from noon to 3 p.m.; closed Sundays.
For more information, contact Gallery Director Jessica Stadtmueller at jstadtmueller@mercyhurst.edu or 814-824-2092.